NEWS
Simon: Idol's Just Not the Same Without Paula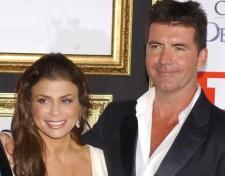 American Idol meanie Simon Cowell has never shied away from poking fun of his former fellow judge Paula Abdul and her odd behavior in the past, but now that she's left the hit Fox show, even he has to admit that he misses her.
"I miss her, of course," he confesses to Extra's Terri Seymour, adding that he's been quiet on the subject of Paula's exit because he "doesn't want to get in the middle" of her fight with the Idol producers.
Article continues below advertisement
The irritable Brit also reveals that the chemistry between the remaining three judges is now different than in previous seasons. "It's like comparing a carrot to a banana," he says cryptically.