NEWS
Simon Monjack: Warner Brothers "Killed" Brittany Murphy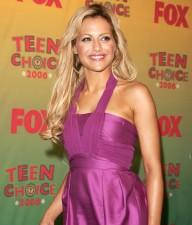 In the wake of young actress Brittany Murphy's sudden death, her husband Simon Monjack comes forward to reveal that he plans on suing Warner Brothers for causing her death and attempts to shatter the drug rumors surrounding himself and his late wife in new reports.
According to the Daily Beast, Simon claims that it was the stress placed on Brittany after she was fired from the Warner Brother's sequel to Happy Feet that played a role in her unexpected heart attack.
Article continues below advertisement
"She was devastated," Simon reveals, "They killed her… I am tough. I litigate when somebody does something wrong to me. That's one of the reasons I make enemies."
And when Simon speaks of enemies, he is not kidding. After the death of his 32-year-old wife in December, found dead in the bathroom of the pair's Hollywood Hills home, rumors began to swirl that Simon was a drug user and a liar.
"I've been grieving for my wife, at the same time, I'm reading on the Internet crazy stories like I robbed old women of their pensions," Simon tries to set the record straight to the Daily Beast, "Every story needs a villain, and everyone has decided it is me."
Simon even guarantees that Brittany's heart attack, recent weight loss, and trouble staying hired on the set of films such as The Caller in Puerto Rico had absolutely nothing to do with drugs.
"In all the time I've known her, she has never, and I repeat NEVER, done drugs. Not a line of cocaine, not a hit from a joint, nothing. She was anti-drugs. There are no drugs involved. If any were, I would not be on the phone with you," the agent explains.
Article continues below advertisement
Simon also comes to his own defense for his recluse actions while in Puerto Rico and defends the Clueless Starlet telling the Daily Beast that, "The reports about the Puerto Rican set are fantasy. I was never, ever drunk there... I was 'difficult' because I was the enforcer to protect Brittany. She was far too nice to stand up to directors and producers who wanted her to work to exhaustion."
But if no illegal substances were involved in Brittany's odd actions, then how can the hordes of prescription medication found in the couple's bathroom be explained?
Brittany's mother, Sharon Murphy, explains to the Daily Beast that her daughter was diagnosed with a rare heart condition, mitral valve prolapse, and suffered from hypoglycemia, but was only taking Sarafem for menstrual symptoms and Klonepan for anxiety.
The only other lingering factor is Simon's refusal to do an autopsy, but he claims that it was not to hide anything.
"It was nothing sinister at all. I just looked at Sharon's grieving face, and there was no way either of us wanted them to cut open this perfect 32-year-old girl," Simon gushes to the Daily Beast, "It wasn't about hiding anything; it was just the horror of thinking of what they would do to her body."
At the end of the day, Simon, who claims that the couple split all of their assets during their marriage even though Brittany, "Hadn't earned millions in years, and when we met she was struggling financially, from a series of bad investments. She trusted some people who she shouldn't have."
Regardless of drug rumors, money woes, and an actress who went too soon, Sharon reveals that Simon loved her daughter as she explains to the Daily Beast, "Simon was her soul mate, the love of her life. They don't understand that in Hollywood because it was something real."