NEWS
'Smash' Recap: And Tonight, Playing the Role of Marilyn...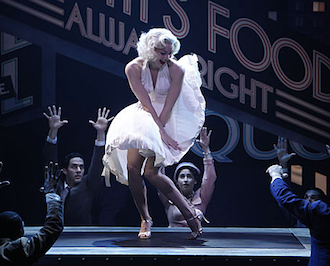 Well, here we are, folks. The season finale. Congratulations on making it this far! And if you haven't made it this far, congratulations on finding something better to do.
We opened with a scene that was circulating the Internet all last week as a preview, and we thought, "Oh, sweet! Smash isn't going to make us wait until the very end to find out who is playing Marilyn." And then, boom! Title card: 12 Hours Earlier.
Article continues below advertisement
Karen (Katharine McPhee) has been engaged for three seconds, yet she's gotten used to referring to Dev (Raza Jaffrey) as her fiancé. This is totally annoying. Her phone rings while the cast is sitting around together. "It's my fiancé," she says to no one in particular. Everyone knows Dev! Shut up, Karen.
OK! NEWS: SMASH RECAP: "BOMBSHELL PREVIEWS, UMA THURMAN EXITS"
Derek (Jack Davenport) has more visions of Karen as Marilyn, so he grants her the part. They've got to get started, and fast, because Karen doesn't know half the show, Julia (Debra Messing) hasn't finished the lyrics for the new ending number and they go on tonight. Tonight! But first, Karen must call her "fiancé" again. We hate to nitpick (that's a lie, we love to nitpick) but we're pretty sure it takes more than a day to get used to calling someone your fiancé.
Ellis (Jaime Ceparo) demands that Eileen (Anjelica Huston) overrule Derek and make Ivy (Megan Hilty) Marilyn. Ellis is wearing a red suit, because he's the devil. Eileen tells him he doesn't get a say. Ellis tells Eileen that he didn't poison Rebecca Duvall for nothing, and that his quick-thinking should guarantee him the power of a producer. Yeah, you read that right. Ellis is a murderer. Or at least, he tried to be. And he thinks this is one of his positive attributes. Eileen is justifiably horrified and fires Ellis. We imagine she will also be getting all her own drinks from now on. Ellis is all, "You haven't seen the last of me, bwahahaha!"
Article continues below advertisement
Michael Swift (Will Chase) — who we can never just call Michael, for some reason — tells Julia that his wife left him and took their baby when he told her about the affair. Well, duh. She gives him a sympathetic arm pat, and Frank (Brian d'Arcy James) sees. He goes tearing out of the theater, and she goes after him. Surprisingly, they have a reasonable discussion on the sidewalk about how he wants to trust her, but it's difficult. She says that they have created more good than bad in their marriage, and they will focus on that and eventually things will get back to the way they were. We think that's about what it amounted to, anyway. This good outweighing the bad thing becomes the inspiration for that finale number that still isn't finished.
Rehearsal time! Karen singing about being curvy is laughable. Katharine McPhee is so skinny. If she were really playing Marilyn Monroe, she would need to be padded, or something. Secondly, it was really annoying when, after running through "Never Met a Wolf That Didn't Like to Howl," everyone told Karen how amazing she was.
Ivy asks Derek why he chose Karen over her. Derek says he "sees" Karen in his head. "She just has something... that you don't," he says. "Sorry." He actually sounds sincerely apologetic.
Article continues below advertisement
Dev is also there in the theater, because he needs to ask Ivy if she found the engagement ring. Ivy says she didn't. She's clearly lying, but Dev is too stupid to realize this. Then, Ivy goes backstage and stares at the pictures all over Karen's mirror, pictures of Karen's perfect Iowa friends and perfect fiancé and perfect life! (Side note: we don't think everyone would have their own individual mirror backstage, and we don't think most people would adorn their mirrors with pictures, high school locker-style... it just doesn't seem this would serve an actress, who's trying to pretend she's someone else, well.) Rather than have a sweet Renée Zellweger in Empire Records-style meltdown ("And your perfect, perfect future!"), Ivy stares at the photos, stares at the ring box, stares at the photos.... We get it! Ivy is mad because Karen took this role away from her, so she's going to take something away from Karen. Sheesh, Smash. Ivy leaves the ring at Karen's mirror. First, Karen thinks Dev snuck backstage and left it there, but then Ivy tells her plainly that he left it in her room, and Karen figures out that they slept together. Ivy says it was a mistake. "A mistake? Is that what they're calling it now?!" Karen wails. No, Iowa, they've actually been calling it that for a long freaking time. Karen runs out to Dev and returns the ring. Anti-climactic breakup scene? Check! She's called back onstage.
OK! NEWS: SMASH RECAP: TECH TROUBLE WITH UMA THURMAN
Jerry (Michael Cristofer) shows up. It's pretty ridiculous that he would be there, but we like his interaction with Eileen, so we'll let it slide. "Oh, wonderful!" Eileen says. Anjelica Huston is this show. Eileen is by far the most interesting character, and we are consistently amazed and amused by what Anjelica can do with two words. We really hope we get more Eileen next season. More Nick (Thorsten Kaye) would not be a bad thing, either. Jerry tells her she's doing everything wrong.
Article continues below advertisement
Julia throws up. Who else groaned, rolled their eyes, and yelled,"Of course she is!" Then, because Smash thinks we're stupid, Julia says, "I haven't thrown up since I was pregnant with Leo." You haven't thrown up in 16 years? We know burned toast and cereal can't be that hard on the stomach, but still. Still.
Nick Jonas shows up with Eileen's Degas painting. The point of this scene? So he can ask what happened to Ivy and why she's not playing Marilyn. Finally, Eileen's brain starts working. Yeah, why isn't Ivy playing Marilyn? She was fabulous, wasn't she? And she's been a professional actress on Broadway for 10 years, hasn't she? And she has Marilyn-esque curves, doesn't she? And she's not a freaking Pollyanna, is she? Hmmm.
Eventually, Karen becomes overwhelmed, and she rips off her wig and flees. One of those chorus boys says this is "paramount" to quitting. Yeah, he means tantamount. Idiot. No one questions his vocabulary. Idiots, too. Derek finds Karen, in just her bra and uh, knickers, behind a garment rack (did it make anyone else angry to see her dress on the floor?). They have a little chat, and Karen believes in herself again. Also, she tells Derek he doesn't understand love. Derek acknowledges Karen understands love. This is one of Smash's typical sledgehammers (smashhammers?). They head back to the stage and find Ivy, all Marilyned out, and Eileen, Julia and Tom (Christian Borle) about to ask her to fill the role. Burn.
Article continues below advertisement
Ivy's mom (yay, it's Bernadette Peters!) shows up with a bottle of champagne. To be fair, she doesn't know her daughter had a bit of a substance abuse problem going around episodes 8 and 9. But her visit is still unwarranted, because Ivy told her mom on the phone earlier that she probably wasn't going to be stepping into the lead.
The show obviously goes off without a hitch (and the death scene is way better). Right before the final number, Derek zips Karen's dress (creepy) and whispers in her ear that tonight, she is a star. And that he does actually understand love, thankyouverymuch. Wait, what? Derek is in love with Karen now? When and how did that happen?
The final number, "Don't Forget Me" is about the good that came out of Marilyn's death. We suppose that if she hadn't died young and beautiful, we might have forgotten her. Or at least, we wouldn't obsess over her like we do. Oh, and Ivy stares at a handful of pills backstage. With the roar of applause from the theater and the pain of her own inadequacies clouding her better judgment, she contemplates whether or not to kill herself. Unfortunately, Ivy's internal struggle has been so painfully ignored throughout the season that this scene resonated more as a laughable contrivance rather than a poignant juxtaposition.
That's a wrap, Smashketeers! We're dying to hear your thoughts on the finale and the season as a whole. Our show is not expected to return until winter, and with new powers-that-be at the helm. We hope that means more showing, less telling. Will you be tuning in?