NEWS
'Smash' Recap: Bombshell 'Previews,' Uma Thurman Exits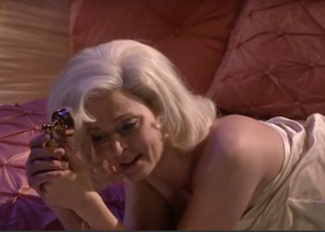 Smash spared us an Ivy and Dev (Megan Hilty and Raza Jaffrey) sex scene (which probably would have been set to music), but instead we got a lame opener: Dev in bed, slowly turning around to reveal: Ivy! Oh, alcohol. Look what you did.
They slept together after Karen (Katharine McPhee) turned down Dev's marriage proposal last week and Ivy mistakenly thought Karen knew Derek (Jack Davenport) and Rebecca (Uma Thurman) were having an affair. We never understood why Ivy thought that, because Smash neglected to create any real tension between Karen/Rebecca and the rest of the group. We did think that Rebecca was trying to manipulate "Iowa," but we were not sure why. Was this why? So Ivy could have a thin reason to want to sleep with Dev? Fail. Anyway, Ivy and Dev agree to never speak of their indescretion. Later on, Dev and Karen make up and she coerces him into proposing to her again. He left the ring in Ivy's room, but he says he left it in New York (so, yes, Karen believes Dev returned to New York the night before, and then returned to Boston the next day. That magic Metro North train must be fast! And there must be strippers.). Ivy and Derek break up. Forgive us for not going into any more than that, except to say, Derek's a creep.
Article continues below advertisement
OK! NEWS: GOSSIP GIRL SHOWRUNNER TO TAKE OVER SMASH NEXT SEASON
Julia (Debra Messing) and her chaperones, Frank (Brian d'Arcy James) and Leo (Emory Cohen), run into Michael Swift (Will Chase) outside the theater. Well, that would be awkward if anyone still cared. Julia enters to theater, and Tom (Christian Borle) says, "You came!" Well, duh, Tom. That's what got her into this mess.
Nick (Thorsten Kaye) arrives. "You came," Eileen (Anjelica Huston) says. No, really. He also has a broken arm, presumably courtesy of one of those undesirables he does "business" with. Amazingly, Eileen doesn't ask any more questions about it.
The first preview show begins, and about, oh, 15 seconds into it, Tom says, "So far, so good." Idiot.
We actually found the next sequence kind of enjoyable: The back-and-forth between what was going on onstage and backstage had a nice pace to it. We just wish we cared — even a little — about what was going on backstage. The new "I Want to Be Your Smash" number wasn't our favorite, though.
The Marilyn death scene! We see it for the first time. Rebecca crawls across a giant bed, lamenting about how no one really sees her for who she is, or something, and she dies. And no one claps. Just like when people die in real life! Except, this is a show within a show, and there was supposed to be applause.
Article continues below advertisement
Everyone is upset. They discuss whether or not it's okay to end the show with a death scene. Julia argues that Marilyn did actually die, so the show should end that way. Everyone else wonders if it is too depressing. No one wonders if it is okay to take liberties regarding Marilyn Monroe's last words, or decide the mood of her final moments.
Dev is there when the show ends. "You came!" Karen says (Smash, are you freaking kidding us?).
Eileen, Nick and Ellis (Jaime Ceparo) go out for a drink. (Why are Eileen and Nick hanging out with Ellis?) Nick awesomely tells him to go away, and then Eileen tells the pianist she likes the song he is playing. Then he invites her to sing! The same exact thing happened on several episodes of The Golden Girls. Dare we say Dorothy Zbornak was a better singer than Eileen?
Article continues below advertisement
Karen walks by Rebecca's enormous room. Dressing room? No way it could be that big in that theater. Hotel room? No, why would the door be wide open? Well, whatever, the movie star is in a room, calling her shrink with the door open, because she's the dumbest movie star ever. She thinks people didn't applaud because she sucked, and Karen is all, "No way, it's not your fault." Rebecca was also sucking on a smoothie, and then started choking before Karen unconvincingly yells for help. (We try to stay away from critiquing actors' performances — you're welcome, Leo — but come on. Any acting teacher worth his or her salt would say she wasn't going after her objective.) "Help, help. Guys. Help."
Turns out Rebecca had an allergic reaction to peanuts. We thought that was just the lame cover story told to the cast, but then Rebecca's agent is seen crying foul play. Clearly someone poisoned the smoothie! Side note: Ellis made the smoothies. Ellis knows Rebecca is allergic to peanuts. OK! told you this might happen, but we were joking.
Rebecca will be fine, but she won't be returning to the show. So, the only question is, was Ellis acting alone or was Ivy in on this? We think it would be more fun to watch those two plotting to kill someone than it is to, well, wonder what the heck is going on.
Who will play Marilyn now?! We vote for Ivy. We weren't so solidly Team Ivy until Karen took a call from Rebecca when Dev so obviously wanted to tell her something very important. She is so rude to him. Dev can do way better.
Oh, also there is a scene in church that has no purpose except to see Katharine McPhee do some American Idol-style arm waves.
Next week: Ellis gets fired (attempted murder can do that to a person) and it's the season finale! Will you be watching?