NEWS
Snap Happy! The 'Teen Mom' Snapchats You Need to Follow Right Now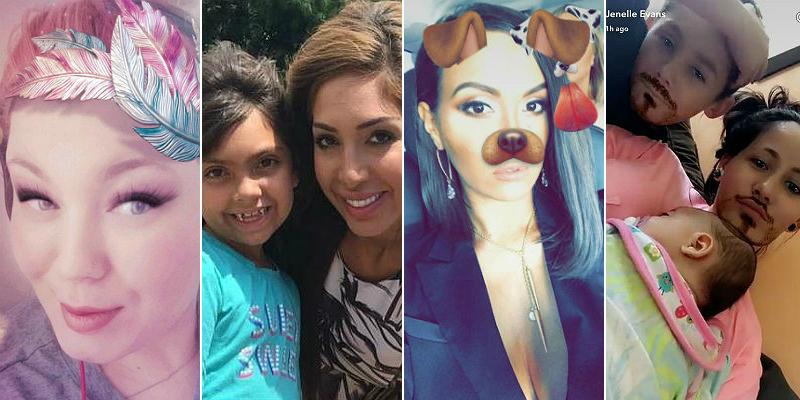 Oh, the Snapchat drama! When MTV first premiered the show 16 and Pregnant in 2008, they didn't know what a juggernaut it would become. The original reality TV series, which spotlighted teenage girls dealing with unplanned pregnancies, has since launched two spin-off shows Teen Mom (now known as Teen Mom OG) and Teen Mom 2. Most importantly, the shows made celebrities out its leads such as Jenelle Evans, Catelynn Lowell, Amber Portwood and Farrah Abraham, and naturally, Snapchat is one of the ways they love to express themselves.
Article continues below advertisement
More: 67 Of Your Favorite Celebrity Snapchat Accounts You Should Follow Immediately!
They regularly Snapchat their growing families with cute vids of the kid, puppy-dog earred or flower-wreathed photos and the ever-popular face swapping. They also show off their new hair styles or rock some deadass sexy poses. And yes, they spill some tea every once in awhile, responding to whatever backlash is aimed at them or commenting on a feud they might be engaged in at any given time. In other words, a typical Friday.
Article continues below advertisement
1. Catelynn Lowell Baltierra
Snapchat Username: catelowell71506
Why follow? Even as she continues to struggle with depression, letting fans know she is seeking help for it, Teen Mom OG star Catelynn Lowell still loves sharing photos and vids of her life with her supportive husband Tyler Baltierra (Snapchat username: tyler.baltierra) and her ridiculously adorable daughter, Novalee (who looks just like her mom).
Here's a snippet: Did we mention how freaking cute Novalee is? OMG, this little one already has personality to spare... take a look!
Article continues below advertisement
2. Maci Bookout McKinney
Snapchat Username: unknown
Why follow? While Maci Bookout is definitely on Snapchat, judging from her Instagram pics with all those fun filters, as of now, the Teen Mom OG's Snapchat name has remained private. Ah well, maybe she'll let fans know at some point because you can bet she's snapping away with her cute kids, son Bentley (with ex high school boyfriend Ryan Edwards), daughter Jayde and son Maverick (her two children with husband Taylor McKinney).
Here's a snippet: As mentioned, Snapchat filters are Maci's hobby, and she likes to post pics using them, especially with one of her besties, Catelynn Lowell.
Article continues below advertisement
3. Jenelle Evans
Snapchat Username: pbandjenelley_1
Why follow? As one of the Teen Mom 2 stars, Evans has had a pretty turbulent life, dealing with a heroin addiction, drug arrests and public feuds with her mother. Now she's happily married to David Eason, is building her dream house and is a doting mom to three (sons Jace and Kaiser and daughter Ensley)—all of who are featured prominently on her Snapchat.
Here's a snippet: This Snapchat vid compilation shows a collection of Jenelle's life, from her kids to her dogs to her cosmetics line.
Article continues below advertisement
4. Chelsea Houska
Snapchat Username: chelshouska
Why follow? Teen Mom 2 mama Chelsea Houska is living a pretty lit life with handsome husband Cole DeBoer. She's got her sweet daughter Aubree (whose father is Adam from the teen years), as well as Chelsea and Cole's young son, Watson. Expect loads of Chelsea and Cole's sexy chemistry and face swapping between Cole and Aubree.
Here's a snippet: Oh yeah, and you gotta follow Chelsea for the peeks at her pet pig, Petey. Come on, he's a pig!
Article continues below advertisement
5. Farrah Abraham
Snapchat Username: farrahabraham1
Why follow? Definitely one of the more controversial of the Teen Mom OGs, you never know exactly what you're going to get when you snap along with Farrah Abraham. She posts many sexy pics of herself, while also showing sweet videos with her daughter, Sophia. Farrah likes to push the envelope and keep her fans on the edge of their seats, like when she Snapchatted while at the OBGYN office, getting her IUD replaced. TMI, much?
Article continues below advertisement
Here's a snippet: That time Farrah got a miniature pony named Starburst for her daughter's birthday. Yeah, that happened.
6. Leah Messer
Snapchat Username: leahdawn0913
Why follow? The West Virginia country girl of Teen Mom 2 fame has had her fair share of ups and downs since having twin girls as a teenager, especially after her daughter, Aliannah, was diagnosed with a rare form of muscular dystrophy. But that hasn't stopped the now mother of three from posting all kinds of crazy cute pics of her daughters, including Ali's twin sister Aleeah and their baby sister, Adalynn, Leah Messer's child with second ex-husband Jeremy Calvert.
Article continues below advertisement
Here's a snippet: Along with behind-the-scenes of TM2, Leah also snaps things like her agreeing to a date! Watch it here...
7. Kailyn Lowry
Snapchat Username: kaillowry
Why follow? Teen Mom 2 star Kailyn Lowry has a pretty chill life, if we're being honest, and she'll post it all on Snapchat for fans to see. From her workouts, to getting Starbucks, to BTS of her podcast with Lindsie Chrisley of USA Network's Chrisley Knows Best. Then, of course, there are her three boys: Isaac (with her first baby daddy, Jo); Lincoln (with her ex-husband Javi Marroquin); and son Lux (father is ex-boyfriend Chris Lopez) and all their shenanigans.
Article continues below advertisement
Here's a snippet: Speaking of her kids, here's the most adorable Snap-vid of Kailyn giving her two older boys a trampoline—and then follows that with shot of her precious puppy dog, Penny.
8. Amber Portwood
Snapchat Username: realaportwood
Why follow? Teen Mom OG staple Amber Portwood is another fiery former pregnant teen just too colorful not follow. Her run-ins with exes, as well as the law (she even went to prison for over a year for drug possession), pepper her personality—and she's not afraid to speak her mind. She'll post snaps of her cute-as-a-button daughter Leah and her Forever Haute makeup line, but Amber will never be called boring. She may take hiatuses from posting on social media to gain "peace," but no doubt she'll be back snapping in no time.
Article continues below advertisement
Here's a snippet: Amber loves dem filters—and looks forward to doing all kinds of crazy stuff with Leah.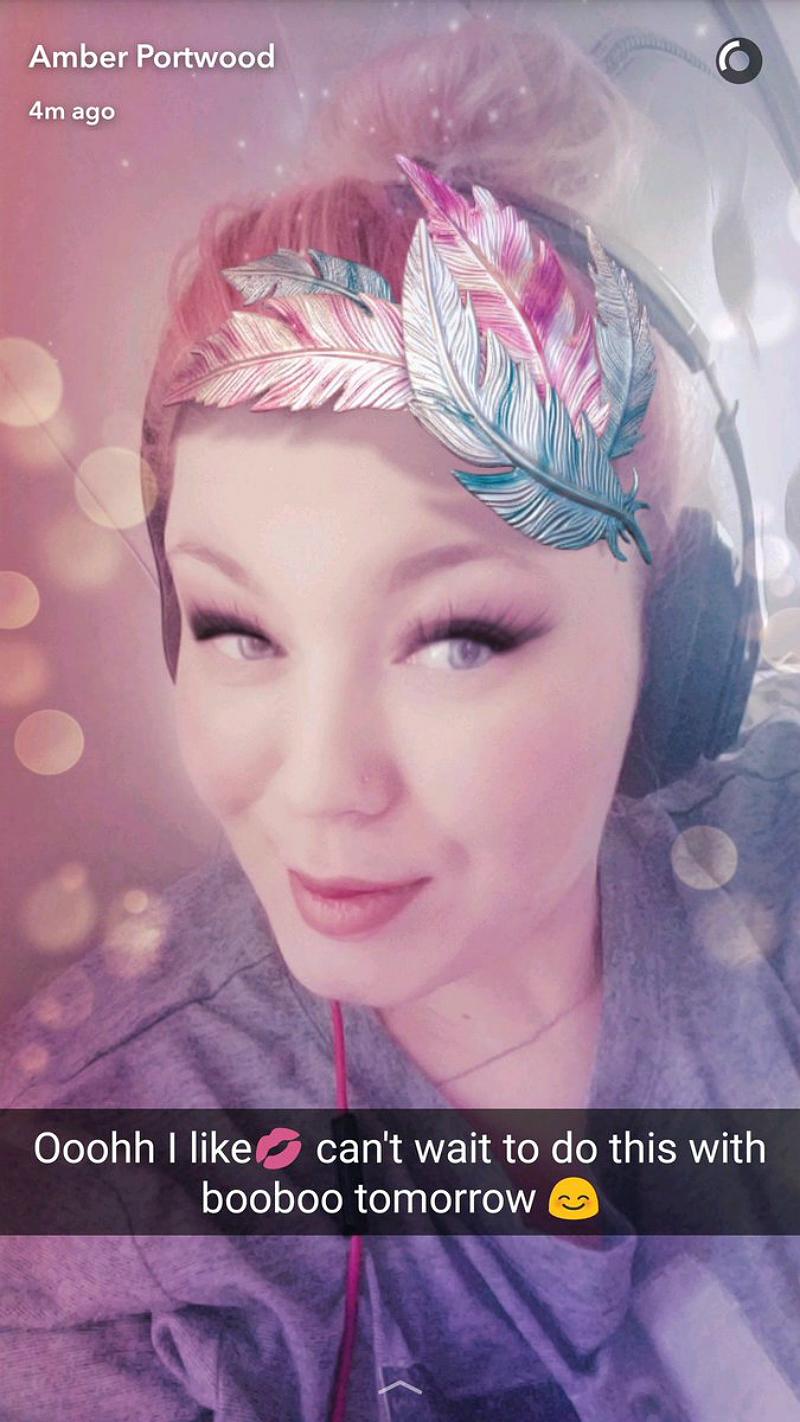 9. Briana DeJesus
Snapchat Username: brianadejesus
Why follow? Joining the Teen Mom 2 cast last July, Briana DeJesus has two gorgeous daughters to show off on Snapchat—Nova Star (whose baby daddy is Devoin Austin II) and Stella (her child with Luis Hernández)—along with her crazy lovelife. Briana stepped in it a little when she started dating Kailyn Lowry's ex, Javi Marroquin (Snapchat username: Javim9), but things are always ever changing with her, so you best keep up!
Here's a snippet: Along with kiddlings, Briana likes to snap a myriad of sultry poses using puppy dog-eared filters and getting her hair done with a wreath of flowers.