NEWS
Sports Illustrated Cover Stars Chrissy Teigen, Lily Aldridge and Nina Agdal's Secrets To The Perfect Butt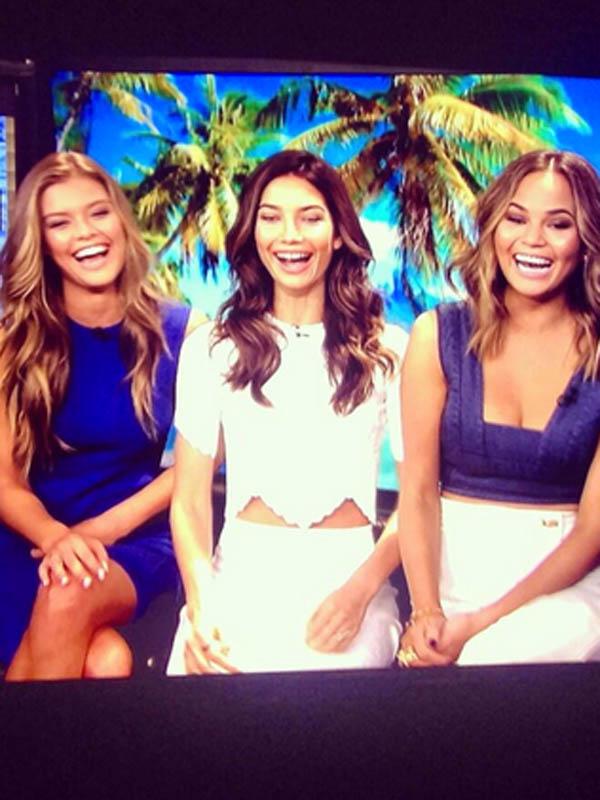 Chrissy Teigen, Lily Aldridge and Nina Agdal greet each other with smiles Tuesday at the Swimsuit Beach House in NYC, where they celebrate the launch of the 50th Anniversary issue of the Sports Illustrated Swimsuit edition. On the cover, the trio poses suggestively as they show off their most-talked-about asset: their butts.
Watch: The Sports Illustrated Models See The Cover For The Very First Time
Article continues below advertisement
What would Nina tell those who don't believe their butts are natural?
"I think it looks pretty natural to me," the supermodel, 21, tells me. "I mean, that's the real thing. You can definitely tell a difference between the three of us. It's all three different, beautiful kinds of butts."
In fact, the three of them have different routines for keeping their backsides in tip-top shape.
For Nina, it's all about "lots of squats, lots of running, and that's it. I go to Barry's Boot Camp, and they have a whole workout routine for your butt and your legs. It will help you out that way."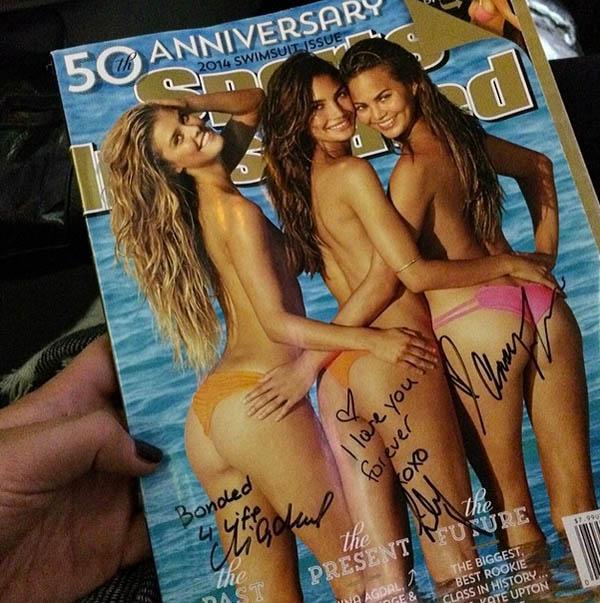 "I do a lot of Ballet Beautiful," Lily, 28, tells me. "It's a great, really effective workout, and I love it. It's about the booty! I do it four times a week for an hour, and it's just different moves that ballerinas do, targeting muscles. It keeps me toned—long and lean."
Article continues below advertisement
Of course, working out changes the way Lily eats.
"I love working out," she says. "It's so important—it makes you feel good, feel healthy and feel happy. When you start your day by working out, you are happier, more motivated, and then it's easier for you to eat healthier because you're working hard for your body, so you want to eat good food, and put good food into your body."
Photos: 12 Celebrity Instagrams That Will Motivate You To Work Out
In fact, she has found that doubling up on healthy foods helps her eat less junk food.
"If you eat a lot of good food—larger portions—of fish and vegetables, you don't have that urge afterwards to order dessert, and you're not going to grab potato chips because you're hungry between meals. You satisfy yourself, and you're full. For the next meal, you do the same thing—you're not tempted to go for those unhealthy snacks."
Article continues below advertisement
Does she have any special diet secrets when it comes to getting sexy?
"I eat healthy—eat good food for your skin, like avocadoes and salmon," Lily says. "I drink a lot of coconut water. Anything that will make me feel healthy and happy. Avocado has so many good oils and fats in it that are good for your skin and your hair, so it's full of good nutrients."
As for beauty secrets?
"I sleep with oil on my face—I love rosemary Swiss oil and Linda Rodin's oil—I think it makes your skin supple and nice. That's my beauty trick."