NEWS
Sundancing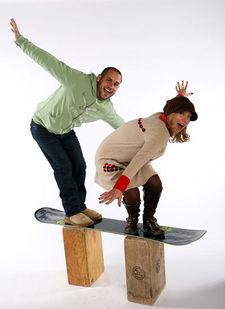 A jack of all trades, a master of none.
That pretty sums up how I felt this year at Sundance -covering events and hosting events, working and playing, stressing (making deadlines) and relaxing (getting a massage).
But, as the stress of making it through a sleepless Sundance fades and the knowledge that eight hours sleep is only a few sentences away, I can already reflect happily on another great, memorable festival.
Article continues below advertisement
This year Paris was back, making out with multiple boys, posing for the cameras, spending the week partying and gifting in Park City without a movie screening at the festival…Sadly she's become as consistent a staple of Sundance as skiing and snow.
Consistent for me this year – I still have yet to see a movie or snowboard in Sundance. Different was hosting a portrait studio that had me spending a lot of time in one place. A classy way to cover Sundance and a great way to make new relationships (I think Brittany Murphy and her husband Simon Monjack are my new BFF), it was an experience being on the other side of the tables – having to do everything from invites to music - a detail I forgot and I had to resort to plugging in my ipod - which led to having to explain that while I'm not embarrassed I like "The Little Mermaid," "Nickleback," "The Beatles" and "Phantom at the Opera," why they came on successively.
The studio was at new concept space Village at the Yard, a former lumber yard that was converted into a winter wonderland of sorts as imagined by my friend Tony Berger who through his company Relevent produced the little 'village.' The escape from Main Street housed the T-mobile Diner (a converted garage painted pink where they served free food and had walls lined with laptops), a drugstore, where you could grab necessities from toothpaste to Airborne (compliments of drugstore.com), our studio that turned into hotspot Hyde at night and a sled hill – where I went tubing to revive every morning and watched my friends sled on less than sober after the bar at night.
It was a lot of work, but a lot of fun, and why choose work if it isn't fun. Pictured, Tony and I having fun while at work. Does that even make sense? I'm still tired. ;) xo