NEWS
Super Bowl XLV MVP Aaron Rodgers: What's Up With the Title Belt?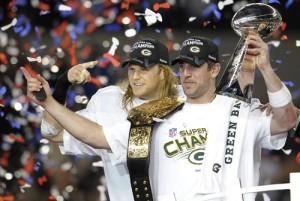 Last night at Cowboys Stadium in Arlington, Texas, Green Bay Packers linebacker Clay Matthews III handed his buddy and Super Bowl XLV MVP, Aaron Rodgers, a big title belt to go along with the team's big win. So what's up with a football player getting at title belt, when the Vince Lombardi Trophy is already a pretty big deal?
Football fans might be familiar with Aaron's signature move when he scores a touchdown — he pantomimes the donning of a wrestling title belt around his waist. One reason for the celebratory gesture? Green Bay is know as Title Town, USA, as the team has earned 13 titles overall in their 90 years as the Green Bay Packers. That includes four Bowl championships and nine other titles before they even joined the NFL.
Article continues below advertisement
OK! GALLERY: CELEBRATING THE SUPER BOWL — HOT QUARTERBACKS OF THE NFL!
It started when Aaron was playing back-up in practices to Brett Favre.
"A lot of times, on the scout team, you've got guys who wish they were starters, or older guys who aren't playing, or important backups who might not want to put as much effort into the scout team as you do as a quarterback trying to make that your whole game," Aaron explained in an ESPN special on his belt. "So I just tried to make it fun. So the celebrating kind of grew and the guys enjoyed it."