NEWS
Teen Mom: Gary's Mom Speaks to OK! About Charges Against Amber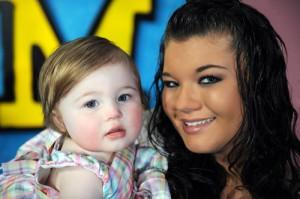 As the news hits that Teen Mom's Amber Portwood is being charged by the Anderson Police Department with three criminal charges for allegedly battering Gary Shirley three times, she's got support from what some might see as an unlikely source — Gary's mother, Carol Zizak, who spoke to OK! today.
OK! NEWS: AMBER PORTWOOD ON FELONY CHARGES: "THERE'S NOTHING AGAINST ME"
"This is all so sudden," Carol revealed to OK!. "She knows I love her as if she were my own flesh and blood and the door is always open to her to come over and cry on my shoulder or come over for no reason at all."
Article continues below advertisement
Carol explains that the family had a meeting yesterday, before news of the charges hit, and they all talked about how to be productive with the couple's daughter, Leah, and to stay positive with each other, instead of "bashing" people.
OK! NEWS: TEEN MOM AMBER PORTWOOD CHARGED WITH TWO FELONY COUNTS; ONE MISDEMEANOR
Amber, according to August 14, 2009 police documents, "shoved Shirley against a wall, slapped him on the face and choked him. The incident was witnessed by the couple's one-year-old child who sat in a child seat on a nearby bed."
Then, on July 14, 2010, she was "videotaped slapping Shirley five times, punching him three times and kicking him at least once" and on July 18, 2010, "Portwood is again videotaped in the presence of their child slapping Shirley in the face, and punching him several more times in the face and upper-body."
OK! VIDEO: MARKAI EXPLAINS HER RELATIONSHIP WITH JAMES IN LAST NIGHT'S 16 AND PREGNANT
Amber said today that she thinks "there are no charges," and that none of what the police say is true.