NEWS
Is There Drama Behind-the-Scenes of 'The Voice?'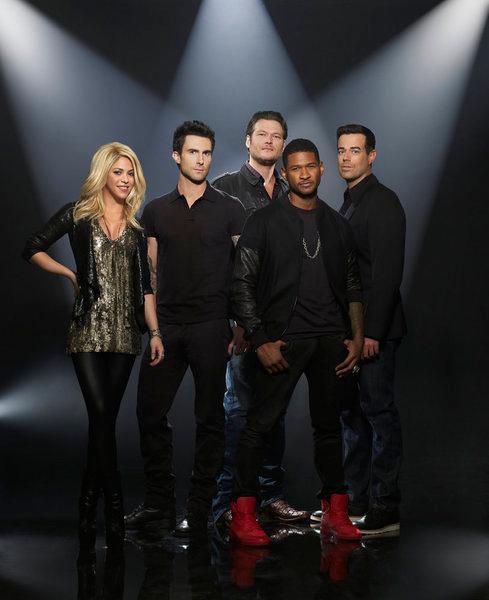 Now in its fourth season, The Voice shook things up a bit this go-round with Shakira and Usher taking the place of previous coaches Christina Aguilera and Cee-lo Green. While producers aren't willing to spill the beans on what the mentoring panel will look like next season, the current lineup proved they're hitting it off while fielding questions from reporters at NBC's Summer Press Day in Los Angeles on Monday.
Article continues below advertisement
OK! News: Who Got Knocked Out of the 'Dancing With the Stars' Competition?
"I don't think we were nervous," says Adam Levine, of adding Shakira and Usher to the mentor lineup. "We were certainly curious to see what the chemistry would be with the new guy and new gal. But I think we're beyond happy and pleased to…it's obvious if you watch the show there's a lot of chemistry. You never know. It could have not been there. It could have not existed but it does. We're very thankful that it does. It's a very different chemistry than before but we're happy it's there."
OK! News: Jenelle Evan Back Behind Bars
Blake Shelton is equally as happy with the new faces on the panel.
"I was a little bit nervous because I knew how well the show was doing and it was beating the odds," he admits. "It's a music talent show in a world where there's a lot of those. We knew we had something that worked and I had never met either one of these two before. The one thing that you can't fake is chemistry. I'll be damned if it's not as strong as it's ever been with the four of us. I'm lovin' it. I'm proud of that. Whether it was NBC or Mark (Burnett), whoever picked these two (Usher and Shakira) knew they weren't dealing with artists with egos, they were dealing with really good people and that's what makes it work."
Article continues below advertisement
OK! News: Nick Cannon Says Super Sweet Things About Wife Mariah Carey
For their part, Shakira and Usher are simply thrilled with the "realness" of the show.
"Something that's very distinctive about this show is how real it is," says Shakira. "There's nothing fake about it. And, honestly, I didn't get any kind of preparation for this show. At one point I felt like I was being thrown to the lions with no rehearsal time. There was really no guidance whatsoever. The producers told me, Shakira, just be yourself. There are no posers here, it's just all about being spontaneous and that's what I think is so awesome about this show. I was actually telling the guys before that I usually hate watching myself on TV. I don't enjoy listening to my own music or seeing myself in videos or any of that, but I do enjoy on Mondays and Tuesdays watching the show because I think it's so entertaining and that is because there is so much authenticity in it."
Catch The Voice on NBC every Monday and Tuesday at 8/7c.
Who's your favorite celebrity coach on The Voice? Tell us in the comments below or tweet @OKMagazine.