NEWS
This Week's OK! Magazine Cover Story: Duchess Kate—Inside Her New Home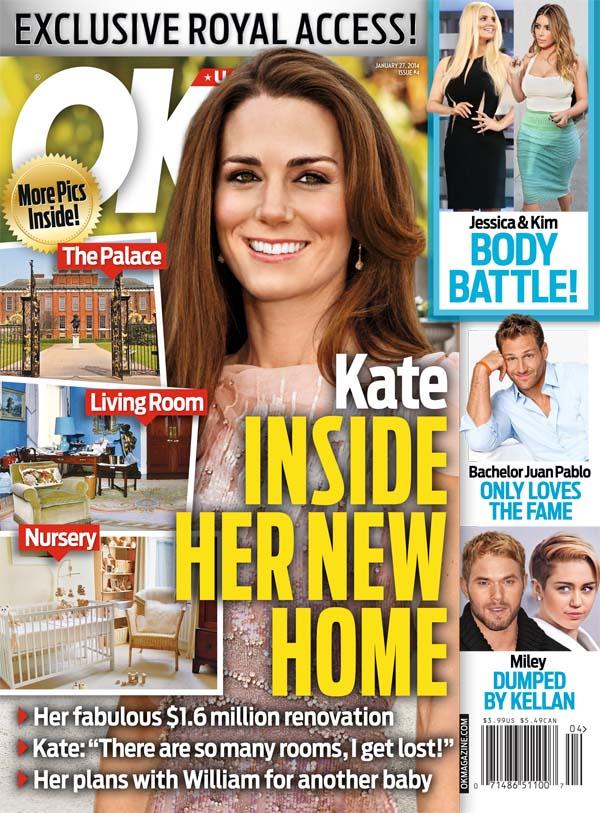 Make sure to pick up this week's issue of OK! Magazine! Can't make it to the newsstand? Don't worry! You can download it right HERE. It's available on virtually every platform including iPad, Kindle, Nook, Google Play, Magster & Zinio. Even better, it costs ONLY $1.99 (that's 50% off the newsstand price)!
Here's what you can expect this week:
OK!'s got the scoop inside Prince William and Duchess Kate's 20 room palace! See their favorite rooms and the piano they can't play!
The Bachelor's Juan Pablo: Show insiders say he's not looking for a soulmate, he's just in it for the fame!
Why Kellan Lutz dumped Miley Cyrus so soon after their hook-up!
Jessica Simpson vs. Kim Kardashian—which new mom is going too far to lose the baby weight?
Relations are still so frosty between Tori Spelling and her allegedly unfaithful husband Dean McDermott that she's moved another man into their house!
The View's Jenny McCarthy tells OK! why she's not quite ready to marry boyfriend Donnie Wahlberg.
How do you like to read magazines? Do you have a digital subscription yet? Download HERE and tweet us @OKMagazine.
Article continues below advertisement