BABIES
Kellan Lutz And Wife Brittany Are Expecting After Suffering Heartbreaking Miscarriage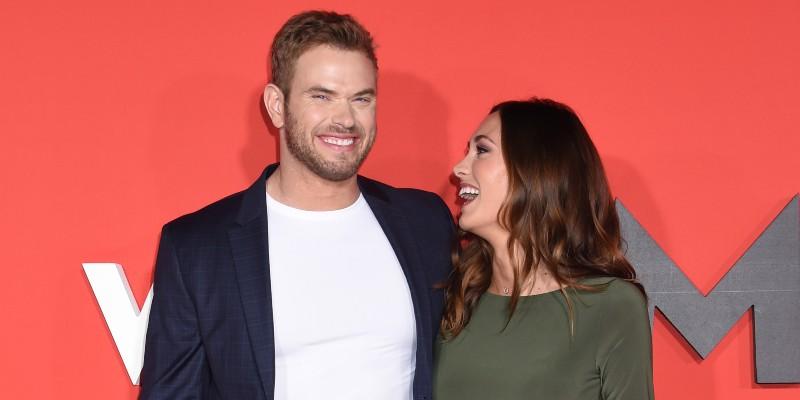 The Hollywood baby boom continues as Kellan Lutz and Brittany (née Gonzales) announced they are expecting!
The Twilight star shared the news of his wife's pregnancy on Friday in a sweet Instagram video..
"Tiny little bump!" Brittany says in the clip, showing off her belly in an orange dress. "A little promise baby! This is not a drill. This is not a throwback. This is another promise being fulfilled."
Article continues below advertisement
"This is real life," the actor added. "We're pregnant again. If you guys don't know, we are pregnant again
The joyous news comes nearly seven months since the couple miscarried. On February 6, Brittany revealed via social media that she suffered a miscarriage six months into her pregnancy.
"Baby girl, It was my absolute honor and pleasure to be your mom these last 6 months," the TV host and model wrote on Instagram, accompanying a photo of herself cradling her belly. . "I did my best and it was an absolute joy seeing your little face all those times on that screen and feeling your tiny kicks."
Article continues below advertisement
"I am SO grateful for the most amazing husband who's been by my side the entire time. I have the best most supportive family. The prayers from friends have meant everything," she wrote.
The California native also made the shocking reveal that she that almost died in during the process and thanked the medical team who saved her life.
"My incredible doctor and the amazing team at UCLA Medical Center who kept me alive are the real MVPs. And to all of you who donate blood- I have never been more grateful for you. Without you people like me wouldn't be here."
At the time, Kellan also took to social media to reflect on the couple's difficult loss.
"My Wonder Woman. It's been a crazy rollercoaster of a week with a lot of emotions. Taking heartbrokenness to a whole new level but Grateful for these past 6 months and the journey itself," the 35-year-old wrote as he shared his wife's emotional post. "In life we might not get the answers to all of our questions but we will always remain faithful! God will restore."
Article continues below advertisement
Congratulations to the beautiful family!