NEWS
Tiger Woods' Caddie is Not a Happy Camper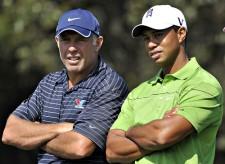 Tiger Woods' caddie, Steve Williams, wants to clear his name — he says he didn't know about Tiger's affairs and is sick of everyone assuming otherwise. Although he's "mad" at his boss, he also said he will continue to support him.
OK! NEWS VIDEO: TIGER WOODS SAYS "I FELT THAT I WAS ENTITLED"
Steve has been Tiger's caddie for 11 years, which to some may indicate he should have known what Tiger was trying to keep hidden, but that's not the case.
Article continues below advertisement
In an interview with New Zealand's 60 Minutes, Steve said the scandal has "been the most difficult time of my life, no two ways about it, because every single person believed that I should know or did know or had something to do with it," TMZ reports.
"I knew nothing, that's my answer," he said. "I don't have to clarify or extend that answer. I knew nothing."
If he had known anything, he claims he would have called Tiger out on it.
"Of course I'm mad at him, why would you not be?" he asked. "I'm close with his wife, and he's got two lovely children."
OK! EXCLUSIVE: ELIN BETRAYED BY TIGER... AGAIN
However, when you've been friends with someone for 11 years, Steve said, you don't just walk away when they need your support.
"When you're a true friend of somebody, that's when somebody needs your support and needs you the most," he explained. "That's when you don't walk away. Tiger's one of my closest friends and he needs my support right now and I'd never think of walking away."