NEWS
Tina Fey Says '30 Rock' Co-Star Tracy Morgan's Homophobic Standup Act Was "Disturbing"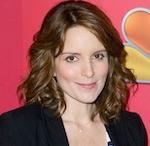 Although 30 Rock star Tracy Morgan went too far with homophobic jokes at his standup comedy show last Saturday in Nashville and officially apologized afterwards, co-star and executive producer of the NBC comedy, Tina Fey, recently released a comment regarding the controversy.
"I'm glad to hear that Tracy apologized for his comments," Tina explained via Deadline on Friday, "Stand-up comics may have the right to 'work out' their material in its ugliest and rawest form in front of an audience, but the violent imagery of Tracy's rant was disturbing to me at a time when homophobic hate crimes continue to be a life-threatening issue for the GLBT Community."
Article continues below advertisement
OK! NEWS: TRACY MORGAN ANGERS GLAAD WITH HOMOPHOBIC STANDUP ROUTINE
Trying to maintain an open and equal workplace on set of 30 Rock, Tina does want to move forward from the incident, especially after Tracy expressed regret for his actions.
"I hope for his sake that Tracy's apology will be accepted as sincere by his gay and lesbian coworkers at 30 Rock, without whom Tracy would not have lines to say, clothes to wear, sets to stand on, scene partners to act with, or a printed-out paycheck from accounting to put in his pocket. The other producers and I pride ourselves on 30 Rock being a diverse, safe, and fair workplace."
OK! NEWS: TRACY MORGAN ALLEGEDLY SAYS HE WOULD "STAB" SON IF HE WERE GAY IN HOMOPHOBIC STANDUP
Earlier on Friday, Tracy issued an official statement to apologize for his standup rant on June 3.
"I want to apologize to my fans and the gay & lesbian community for my choice of words at my recent stand-up act in Nashville. I'm not a hateful person and don't condone any kind of violence against others. While I am an equal opportunity jokester, and my friends know what is in my heart, even in a comedy club this clearly went too far and was not funny in any context."