NEWS
Toddlers & Tiaras Goes Bollywood—And You Wont Believe The Cray Cray Results!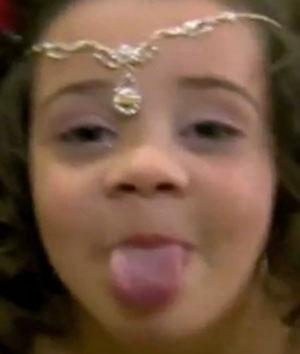 Wednesday night's episode of Toddlers &Tiaras really put the cray cray in crazy!!
The hit TLC show followed a Bollywood inspired pageant theme—and it seems a lot of the parents were a little confused—to say the least—by the whole concept!
"A lot of the parents were kinda confused with the whole concept of Bollywood," the pageant director says. "They kinda thought Native American with the things on their heads…the Navajo Indian.."
Article continues below advertisement
Over to the long suffering pageant director once again!
OK! News: Watch The Craziest Scenes Ever In Dance Moms!
"A lot of them thought of India as genies," she shares. "A lot of them were associating cows with India…..errrr…. no…. this is going to be the most ridiculous thing ever!"
Little Khloe is definitely loud, but we're not sure about outspoken, as every time she is asked a question she replies with a "squark"—that's a scream to you and me.
Article continues below advertisement
Despite her heartstopping prettiness, four-year-old Brooklyn is obviously a little terror.. at one point howling with laughter as she throws a poor, terrified cat down a slide backwards.
Finally, we meet Ma'Leeh, whose mom seems at the end of her tether when it comes to her sassy little six-year-old!
"My other daughter Nadia is my good child," mom says over the background noise of a child wailing. "She lets me rest, Ma'Leeh just burns all my energy.
"It's like her crying now—it doesn't bother me—I'm like, 'shut up.' If it was Nadia I'd probably be like, 'Oh my God, oh baby, what do you want?' But with Ma-Leeh hush it up!"
Article continues below advertisement
Finally, the pageant, where Ma-Leeh redeems herself in the eyes of her mom (after almost choking on her 'flipper' mouth piece.)
"Ma-Leeh did Bollywood wear and she did great," tearful mom says. "I cried 'cos it's like now she doesn't need me."
Watch the clip below to meet Khloe and go to Gawker to watch a video from last night's insane episode!
Tune in Wednesday nights to TLC at 9/8 central to catch all new eposes of Toddlers & Tiaras.
Would you encourage your children to compete in pageants? Sound off in comments below and tweet us @OKMagazine