NEWS
Trey Smith Says Parents Will Smith & Jada Pinkett-Smith Divorce Rumors "Not True At All"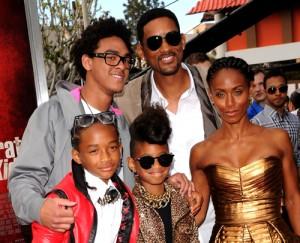 Will Smith's son from his first marriage, Trey Smith, has turned to his Twitter to deny a recent magazine report claiming that his dad is splitting from wife of 13 years Jada Pinkett-Smith.
Trey responded to the hashtag #WillandJada trending on Twitter.
"Did #WillandJada split? No they did NOT split ! False information ..its not true RETWEET!!!" he wrote.
Article continues below advertisement
He then posted another Tweet, urging his followers to spread the word that the report is false.
"Will and Jada getting a DIVORCE ..NOT TRUE AT ALL !! RETWEET" he Tweeted, adding, "Everyone can think what they want ..even if its not true #Lame"
Will and Jada are also proud parents to Jaden, 13, Willow, 10.
The powerhouse Hollywood couple was also spotted in Miami together last Friday and went on a family vacation July 20 to Hawaii.
The report claimed the couple made the decision to separate after thirteen years of marriage.