NEWS
Unauthorized 'Oprah' Biography Claims Oprah Has Secrets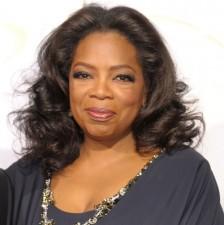 A new tell-all unauthorized biography written by Kitty Kelly, claims Oprah Winfrey has hidden her true self from the public in order to gain ratings including her relationship with Stedman Graham, her impoverished childhood upbringing, and her rumored lesbian crushes.
OK! NEWS: OPRAH WINFREY TO ANNOUNCE NEW PRIMETIME SHOW
The new book goes into great detail discussing how Oprah reportedly created stories about suffering from sexual abuse as a child and the poverty she grew up in, Fox 411 reports.
Article continues below advertisement
Winfrey tells her childhood story as growing up so poorly in Kosciusko, Miss. that she had to make cockroaches be her pets and named them Melinda and Sandy.
"Where Oprah got that nonsense about growing up in filth and roaches I have no idea," Katherine Carr Esters, Oprah's cousin said. "I've confronted her and asked, 'Why do you tell such lies?' Oprah told me, 'That's what people want to hear. The truth is boring.' "
A friend of Esters' added that the manipulation of her past is a key to her success.
"Every move is calculated to further her brand and lift her image, which is why she does good works," Jewette Battles, Esters' friend added.
OK! NEWS: RIELLE HUNTER WILL OPEN UP TO OPRAH ON JOHN EDWARDS AFFAIR
In order to seem more like an everywoman, the book alleges Oprah even paid people off to keep her "lesbian affairs" a secret and used Stedman as mask.
Article continues below advertisement
At one point, the rumors included seamy talk at ABC about a relationship between Oprah and Diane Sawyer when Oprah worked there.
Employees at ABC described "giggly late-night phone calls" and a series of lavish gifts from Oprah to Diane, including a 1-carat diamond toe ring.
However, Kelly concludes Oprah is "asexual," but still paid her ex-boyfriend Tim Watts $50,000 to stay quiet about her alleged lesbian affairs and that her brother, who died of AIDS, was gay.
As for Oprah's relationship with Stedman, that was also very calculated, the book alleges.
James van Sweden of Oehme, a landscape architect, spent four years working for the couple.
"Oprah keeps Stedman around because she wants her audience to accept her as a normal woman with a man in her life, but from what I saw during those four years, I can tell you there's nothing there with Stedman," he said. "Nothing at all."
Article continues below advertisement
OK! NEWS: OPRAH OPENS UP ABOUT GOING OFF THE AIR
Oprah's employees also say her entourage, including Gayle King, worked hard to keep Oprah out of the tabloids.
"I thought I would be working for the warm and fuzzy person I saw on television," a former employee at Winfrey's Harpo production company said. "But, God, I was conned. It's a cult at Harpo. So oppressive it's frightening."
Vernon Winfrey, Oprah's mother's former lover, is listed on her birth certificate as her father, but the book alleges that Oprah does not know who her father really is.
"She may be admired by the world, but I know the truth," Vernon said. "So does God and so does Oprah. Two of us remain ashamed."