NEWS
VIDEO: Angelina Jolie Makes Cameo in Refugee Documentary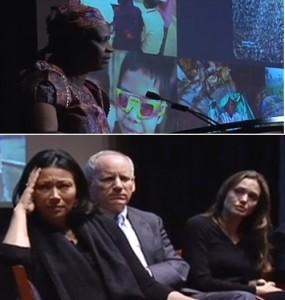 Angelina Jolie makes a cameo appearance in the new documentary Pushing the Elephant, which gives viewers a first person account of Congolese refugee turned human rights activist Rose Mapendo, who is reunited with her teenage daughter after a decade of separation. Rose reunited with her daughter Nangabire in the U.S. and faced the task of building a new future. The documentary follows Rose and Nangabire over the course of a year as they make up for lost time. So how does Angie tie in?
Article continues below advertisement
In the documentary, Mapendo commends Angelina, 35 —who serves as a UNHCR Goodwill Ambassador — for her humanitarian work during a 2009 UNHCR event in Washington D.C.
"My daughter told me, 'Watch out, she wants to break your record. Because I have 10 children,'" Mapendo jokes of Angie and her brood of six children with Brad Pitt, which Angie admits she may add to in the near future.
Pushing the Elephant is playing Aug. 6-12 at IFC Center in NYC and at the Arclight in L.A. on Aug. 13-19
Pushing The Elephant - Trailer from beth davenport on Vimeo.
FOR THE LATEST ON ANGELINA & BRAD'S RELATIONSHIP — INCLUDING JEN ANISTON'S PLAN TO GET BRAD BACK — PICK UP THE NEW ISSUE OF OK!, ON SALE EVERYWHERE!