NEWS
VIDEO: Dominic Monaghan On Kissing Megan Fox — "It's All Right"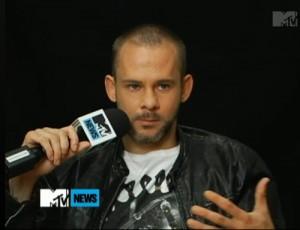 It was a no-brainer for Lost star and avid Eminem fan Dominic Monaghan to star in the music video for the rap star's chart-topping hit with Rihanna "Love the Way You Lie." And the added bonus — getting some serious face time with young Hollywood beauty, and recently married, Megan Fox. The duo had to share some intense chemistry on the scene and Dominic opened up to MTV about what is was like kissing the gorgeous star!
Article continues below advertisement
The actor shared with MTV one of the first things he said to Megan on set: "Look, I know that you're married and I don't want to do anything inappropriate. And she said, 'It's all kind of inappropriate, huh?' "
The concept of the clip is centered around domestic violence and Eminem's turbulent relationship with his twice-ex wife, Kim.
Article continues below advertisement
"It's the story of them getting to know each other and it's the story of their tumultuous relationship and it's the story of the breakdown of their relationship," Dominic explained of the video. "We're supposed to be desperately in love, like Sid and Nancy, John and Yoko ... Eminem and Kim."
"Though I tried as hard as I could to make her laugh and have fun with her. I think we got on pretty well."
Catch the premiere of the video tonight on MTV!