NEWS
VIDEO: Levi Johnston Takes Back Apology to Sarah Palin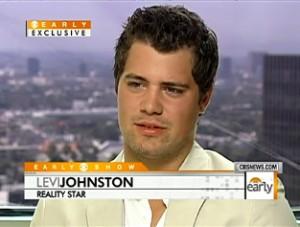 Levi Johnston made an appearance on CBS' The Early Show on Friday and made an announcement directed at Sarah Palin: "I wish I hadn't put out that apology."
OK! GALLERY: LEVI JOHNSTON GOES TO LEVI'S IN L.A.
"That was something I did to make my fiancée happy. She wanted it so we wrote something down and we sent it out because that's what she wanted," Levi explained of Bristol Palin on The Early Show about the public apology he made to Sarah and her family. "Together we put it out there."
Article continues below advertisement
So why did the 20-year-old make the public apology if he didn't really mean it?
"Trust me it's easier to make them happy. If you gotta live with them, you gotta make them happy," he said. "I wish I hadn't put out that apology, it makes me look like a liar. The rest of stuff I can live with."
OK! NEWS REPORT: BRISTOL PALIN JOINS DANCING WITH THE STARS CAST
And hopefully the lie he told will not effect his run for mayor of Wasilla since Levi is basing his campaign off of personality rather than experience.
"I really don't think mayor is about qualifications," he explained. "It's about people liking you and believing in you. At the end of the day it is popularity, and whoever the people love most they're going to vote for."
OK! NEWS: LEVI JOHNSTON TALKS PLANS TO RUN FOR MAYOR
But Levi said his decision to run for mayor was not to seek revenge.
"I don't care what she did or where she was," he said. "I'm doing it because I want to."
And he'll continue to take whatever press he can get.
"I don't think I'm any more obsessed with making a career out of this than she is," Levi explained. "Obviously she Bristol's doing Dancing With the Stars. I wouldn't say I'm obsessed, I'm just taking opportunities as they come."
OK! NEWS: LEVI JOHNSTON PUTS HIS POUT ON A POSTER
Watch the interview below!