NEWS
VIDEO: Ryan Gosling Gets Into His Own Meme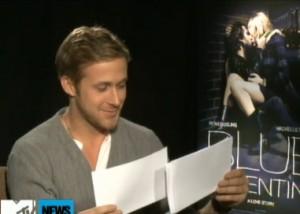 Much like Paul Rudd, Ryan Gosling can do no wrong in our eyes. So many people feel the same way, that there is a popular Tumblr blog devoted entirely to Ryan and the way he just gets each and every girl. Ryan collided with his own "Hey girl..." meme recently while talking to MTV News.
MTV asked Ryan to read aloud from a few posts featured on "F**k yeah! Ryan Gosling!" (Asterisks ours).
Article continues below advertisement
The Blue Valentine star had a tough time keeping a straight face while reading such gems as "Hey girl. Happy Thanksgiving. I'm grateful for your yams and sweet potato pies."
CHECK OUT RYAN CRACKING UP BELOW!: