NEWS
The Voice's Adam Levine Chats it Up With Ellen About Christina Aguilera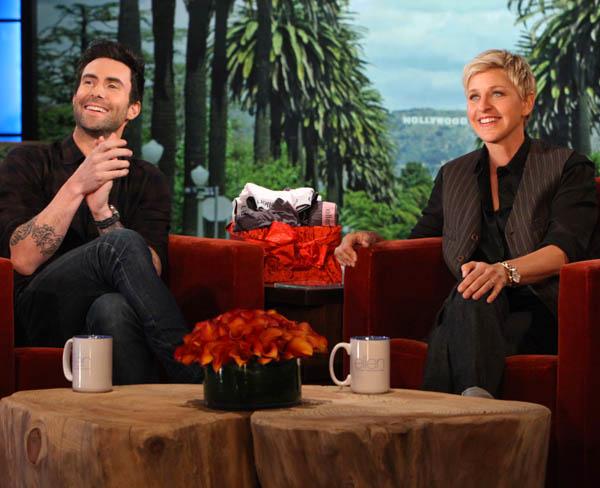 Article continues below advertisement
Make sure to check out the video below and his appearance on Ellen!
Ellen: It seems like everyone is getting along a little bit better this season.
Adam: Yeah, I mean listen; the Christina thing was what it was. There were some squabbles and things like that but were fine now…Very, very, very close.
Ellen: You actually defended her, I read. Somebody was making some comment about her weight and you defended her…
Adam: Yeah, just leave her alone. I mean, come on. It's a very basic thing. She should be left alone. No one should bother or haggle her about her weight or anything that she does or says. So, that's it. That's how I feel about that.
OK! GALLERY: ADAM LEVINE AND GIRLFRIEND BEHATI PRINSLOO GO GROCERY SHOPPING IN HOLLYWOOD
Ellen: Good for you. That's one of the many, many things that I love about you. Is that you do stand up for things that you believe in. A lot of people go, oh, I'm not going to get involved, it's none of my business. And you do and I like that. So, let me get this straight. You're shooting season three and season four at the same time of "The Voice?"
Article continues below advertisement
Adam: Super confusing.
Ellen: So you're two-timing your co-stars (with Usher and Shakira)
Adam: I am. I'm cheating on the original fabulous four a little bit.
Ellen: Yes.
OK! GALLERY: CHRISTINA AGUILERA ROCKS HER CURVES AT THE AMA NOMINATIONS EVENT IN L.A.
Adam: We're doing season three now obviously, which has been really fun. But now also shooting the beginning of season four, which is really funny because we shot with Usher and Shakira the other day. And, that was the first time we did that, which was trippy cause it wasn't the original people, which it was also a lot of fun. I remember thinking to myself I love these guys, but just miss Cee Lo and Christina. And then I realize it's ok though because I'm going to see them in a week from now.
Ellen: I don't know Shakira that well. Usher, I adore. Usher, I love he's just a great guy, great human being… Shakira, how is she to work with?
Adam: Amazing, she's so sweet. The only thing, Shakira and Blake have a hard time because they don't understand each other's language. Even though Blake is speaking English surprisingly enough. He just kind of says, what are you talking about? What are you even saying? I don't even know. So, they just don't understand the accents that they have. It's funny.