NEWS
Watch the Adorable Music Video for Taylor Swift and Ed Sheeran's 'Everything Has Changed'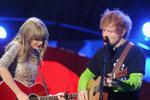 Disclaimer: Before you watch the music video for Taylor Swift's "Everything Has Changed" featuring Ed Sheeran, you should brace yourself for four minutes of a ridiculously adorable storyline that somehow leaves us with major goosebumps every time we watch.
OK! News: Do You Suffer From 'The Taylor Swift Syndrome?'
The video tells the story of two little children (who look shockingly similar to Taylor and Ed, btw) who have a friendship so strong that it makes us wish we had that type of bond with someone other than our favorite Beanie Babies when we were that age.
Article continues below advertisement