NEWS
Watch LeAnn Rimes' Dishiest Interview Ever—the Affair, Rehab, Brandi Glanville and Joining 'RHOBH'!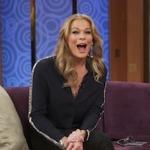 Article continues below advertisement
One of the things the singer did reveal is that it wasn't all rainbows and butterflies when she and Eddie first met. In fact, she said, "It was kind of awkward. We started talking, and he is incredibly smart. And the dimples are awesome, but I love his hands."
LeAnn also noted that she and Eddie trust each other even though he snuck around with her behind the back of his wife at the time, Brandi Glanville. "Maybe because of the way we got together and how honest we've always had to be, he's always been very open and honest about the past and anything that's gone on," she said. "I've never actually had this kind of trust with anyone."
OK! News: Find Out Why a Heartbroken Brandi Glanville Just Fired Her Nanny
And LeAnn insisted that Brandi's account of how she found out the two were hooking up is "a complete lie." Brandi writes in Drinking & Tweeting and Other Brandi Blunders that LeAnn smeared cake frosting on her shirt at the wrap party of the Lifetime movie she was working on with Eddie. According to Brandi's story, LeAnn then asked Eddie if he wanted to lick it off, unaware that Brandi was standing right there. "That never happened in a million years," said LeAnn.
MORE ON:
real housewives of beverly hills
Article continues below advertisement
Article continues below advertisement
Oh, and LeAnn admitted she would do reality TV! Maybe not Real Housewives of Beverly Hills, but she might consider starring on a show under one major condition: "Only if I can take it and make it funnier and make it crazier because that's when I have fun with it," she said.
Sounds good to us!
Though it was reported LeAnn and Eddie were to do a reality show together, the singer confessed she jumped the gun and it isn't a done deal just yet.
Which part of LeAnn's interview with Wendy did you find most interesting? Tell us in the comments section or on Twitter @OKMagazine.