NEWS
Welcome to The Cho Show!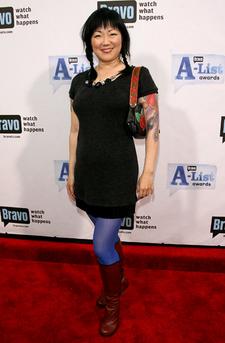 Margaret Cho admits her parents are putting the pressure on her to have a family.
"They are constantly on me about having children," the comic tells OK!. "That's one of our main arguments, that's what we discuss or fight about. But what's great is that i have my assistant, Selena Luna, and I just pretend she's my daughter."
OK! caught up with Cho at the Television Critics' Association gathering in Beverly Hills on Wednesday, where she was eager to talk about her new reality TV show, The Cho Show, which follows Margaret's wacky life and features her personal assistant Luna, who is a little person, and her folks. Cho's husband won't be on the show because "he's not a performer. I want to keep that separate," she says.
Article continues below advertisement
The outrageous comedienne, who married Al Ridenour in 2003, turns 40 in December. She tells OK! that age doesn't really bother her. Her upcoming birthday is, on the other hand, a big deal to her parents, who freely speak their mind on the show when it comes to their daughter starting a family.
"They just really want grandkids," Margaret says. "I understand that but I don't know if that's going to happen. I might at some point. That's certainly something I would like to do--but maybe not for a while. I don't really think too much about age."
The funny girl, who has had to put up with comments about her weight from execs in the past, says her new reality show allows her to be herself.
"It was really hurtful," she recalls about dealing with weight remarks in the past. "It was really hard at the time but now I'm excited. I'm so proud of this show. It's a totally different world."
By: Carole Glines