NEWS
Wesley Snipes Faces 3 Years for Tax Conviction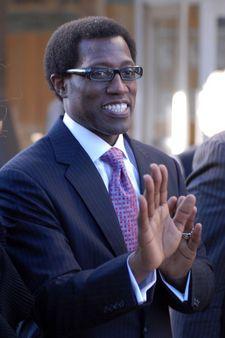 On Friday, a Florida judge found Wesley Snipes guilty of three misdemeanors for failing to file his tax returns. The 45-year old actor now faces up to three years in federal prison.
Snipes was facing a much longer jail time — he was charged with six misdemeanor counts of failing to file tax returns and felony counts of tax fraud and conspiracy. He was, however, acquitted of the more serious charges which could have put him behind bars for up to 16 years.
Article continues below advertisement
According to the A.P., prosecutors sought tax refunds totalling more than $11 million for taxes paid in 1996 and 1997, and allege that Snipes failed to file returns for the years 1999 to 2004. He was convicted of not filing tax returns for three of those years.
On Friday, the actor's lawyer said Snipes didn't file his tax returns because he was waiting for the Internal Revenue Service to answer his inquiries about the need to file them, and always stood "ready to pay and file."
Snipes' co-defendants, well-known anti-tax activist Eddie Ray Kahn and former accountant Douglas Rosile, were both found guilty of conspiracy and filing false claims for tax refunds for Snipes and could face up to 10 years in prison.
As Snipes left the courthouse Friday he said of the verdict, "it does feel good,it feels great."
But prosecutor Robert O'Neill was more grim, saying, "Filing tax returns is not optional. It is a legal requirement. Mr. Snipes now faces up to three years in a federal prison for his willful failure to comply with the law."
Sentencing was set for a later date to determine how much Snipes owes in back taxes.
"Wesley Snipes is committed to making all the amends he's required to do," the actor's lawyer said Friday.