NEWS
What It's Like Taking a Jillian Michaels Class (Without Dying!)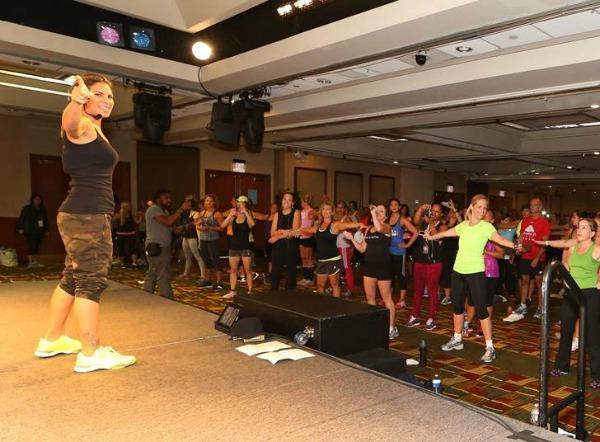 There are two kinds of people in the world—those who would be psyched at the idea of a fitness conference,and those who would rather run screaming. I am in the latter camp, but with dreams of looking like Gwyneth Paltrow in a bikini. So I decided to buckle down and go to Atlantic City for Sweat AC, a conference dedicated to all things exercise.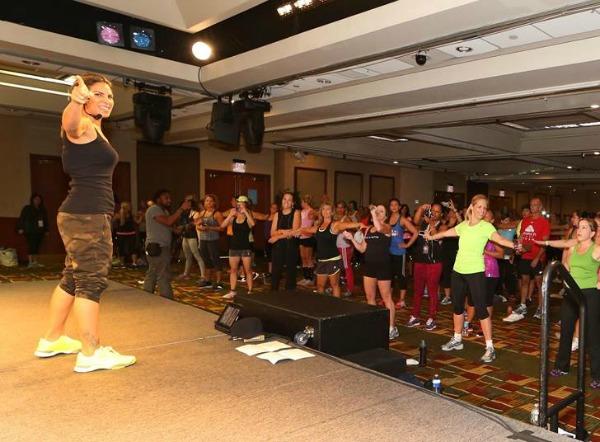 I will start by saying I was terrified. Obviously. I can't remember the last time I worked out, and the weekend featured famous trainers like Jillian Michaels and Shaun T (who invented the "hardest workout ever been put on a DVD"). But I got really jazzed once I was in the same room as Jillian. She's a tiny powerhouse with capital C charisma. She could have convinced me to jog back to New York City, she was so convincing.
Article continues below advertisement
OK! News: See which trainer First Lady Michelle Obama is working with now!
I even got to ask Jillian questions, so I started with the obvious: If you're out of shape, where do you begin? "For me, I was a fat kid. I got into martial arts," she explained. "I'm not an athlete. My point is, I will never show up to the gym and be like, Oh, I love this. That day is not going to happen." So she gets through by trying different things that she likes more, like yoga, boxing, and spinning. "Without fail, every time I go to a class, 30 minutes in I'm like, What was I thinking?! But when it is over, I feel great. I feel strong, more confident, better about my body," said Jillian. "If it's something you don't love, you've got to think about the results. And that's what pushes me through it."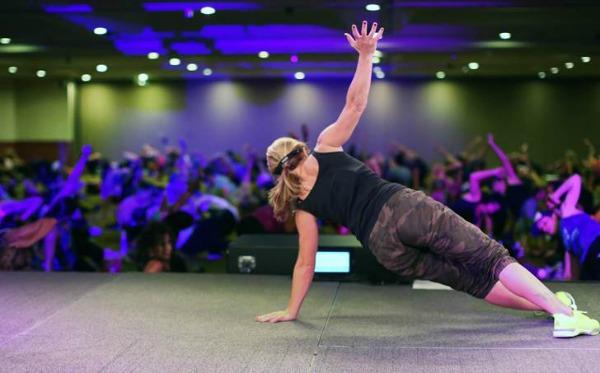 With that in mind, I took her class right after our interview. It was only 30 minutes long, so how bad could it be, right? Truth be told, it really wasn't! Sure, there were moves I loathed (see the side plank crunches she's demoing above), but I looked around and saw other people were suffering right along with me. So I did burpees to Avicii songs and just tried not to puke.
Article continues below advertisement
The next day, I took a two-hour yoga class at 8am. I'll let that sink in. Two hours. Allie Conover of Grace & Glory Yoga taught a class full of slightly elevated, cardio-fast sequences, and I was sweating in no time. After that, I chatted with Shaun T, the trainer who put the Insanity method to DVD.
Like with Jillian, I had an immediate crush on Shaun T. Maybe this is why they're both world-famous trainers? I never wanted to leave his side. I asked him about someone can keep themselves from eating a giant meal after a big workout (which was exactly what I wanted to do, after Jillian's class!).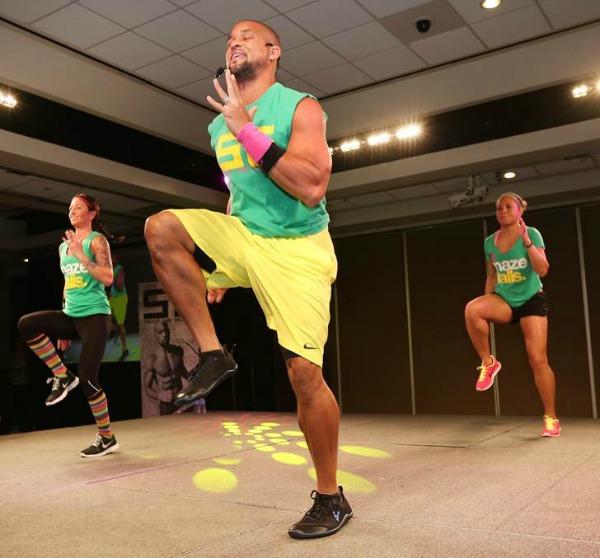 "People gain weight because they don't eat enough. You wake up, you're not going to eat, you're good, you put on a front of 'I'm going to eat this small salad, even though I didn't eat breakfast.' Then you go home and devour everything," Shaun said. Um, guilty. I do that all the time! "It's about eating throughout the day, eating every 3 hours, so I'm not dying at night." Eating more? I can do that.
Article continues below advertisement
OK! News: Wendy Williams explains how she pulled off her major weight loss!
It's been 3 days since I returned from Sweat AC, and my abs and calves are still insanely sore. And I have three Reese's peanut butter cups sitting next to my keyboard to help me till dinner. But I am super proud of myself, and I think I'm going to give running another try. Or at the very least, print out a pic of Jillian Michaels for my desk.
Have you ever watched Jillian Michaels on The Biggest Loser? Have you tried her workouts? Would you ever attend a fitness conference? Tell us in the comments below or tweet us @OKMagazine.