NEWS
What We Learned From Last Night's Real Housewives of Miami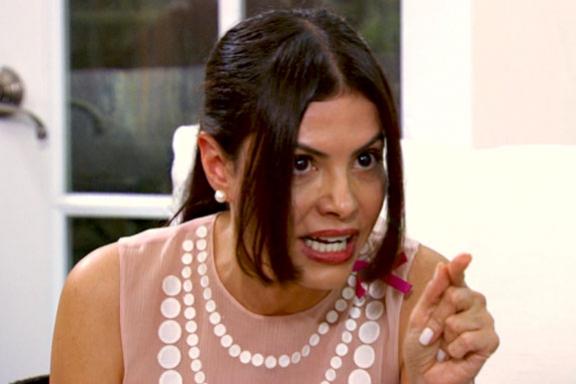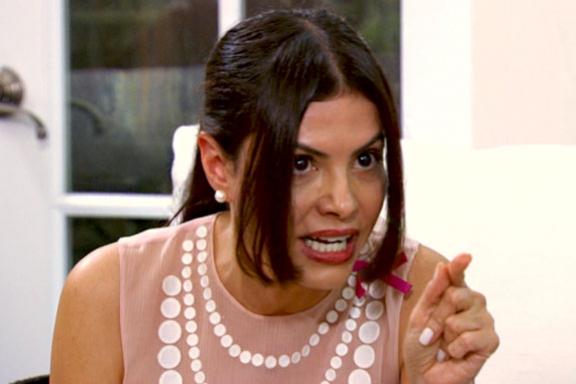 Joanna and Romain enjoy breakfast in bed. Does a better looking couple exist? They talk about buying a house and where they should hold their wedding. Talk turns to Joanna's sister Marta, who she's asked to be her maid-of-honor, and Romain is skeptical because he feels she puts too many negative ideas in his bride-to-be's head. The pair also debate getting a prenup—with Romain all for it and Joanna against it. Even pretty people have problems.
Article continues below advertisement
OK! News: Everything You Need To Know About the RHOOC Reunion, Part 2
Marysol briefs Alexia on her mom's medical condition while they go for a run. This is serious but I'm way too distracted by how well Alexia's sunnies and headband match her workout gear—so Miami fabulous.
Frederic attempts to talk to Adriana to get himself out of the dog house for this whole "We've been married for five years and now everyone knows" business. At least she's not making him sleep on that boat. That boat makes me sad. Adriana tells Frederic Lea has invited her over to her house to hash things out but she'd rather endure Chinese torture. Still, she's willing to give it a try because their sons are besties. That's right, think of the children, Adriana!
OK! News: Tia Mowry Reveals The Craziest Thing She Did For Love
Lisa is taking some random photos of her housekeeper Daysy in tiny French maid's costume. I don't get it. After gifting Daysy with some plastic surgery and giving her time off, Daysy did some soul searching and is now leaving the Hochsteins to start her own business where she hires out other people to clean for the rich. I like Daysy—she's a smart cookie.
Article continues below advertisement
Alexia is getting a closet makeover. I'm so jealous. I want her shoes—particularly all of those gorgeous YSL pairs.
Adriana meets with her wedding planner. She's talking angels, hot air balloons, gondolas…and she wants it all in six weeks. Good luck with that, sister.
Lisa and Lenny check in on their Star Island home which they're finally getting permission to tear down. Creepy baby dolls, urine-soaked mattresses and cockroaches, oh my! Lenny gives Lisa a hard hat so she can start doing demo on the property. That sledgehammer looks like it weighs more than Lisa does.
MORE ON:
The Real Housewives of Miami
OK! News: Dania Ramirez Reveals Devious Maids Finale Is a Shocker
Adriana, Alexia and Marysol head to a bridal shop to check out dresses while Joanna, Lea and Lisa are shoe shopping for J's big day.
Joanna asks her crew what they think of Romain wanting a prenup. Lisa is all for it and admits she signed one before she married Lenny. Lea is against the idea and says she didn't sign one when she married Roy because they were both equally as successful.
Article continues below advertisement
Back at Adriana's dress shopping excursion, the women talk about whether or not Frederic is really ready to get married and, ahem, backstabbing friends (aka Lea).
Cut to Lea telling Joanna and Lisa her side of the story and feeling betrayed by Adriana never telling her she has been married to Frederic all along. She has invited Adriana to her home but has no intention to apologize to Adriana for anything.
The clouds roll in as Adriana arrives at Lea's house. Adriana gives Lea her spiel about not really being married despite having the marriage license. I'm really struggling to buy Adriana's story. It doesn't quite add up. And she says she thought anything Lea did give her was from the bottom of her heart, not that she'd have to owe her anything. But it seems like the only thing Lea is asking for in return is honesty and loyalty when Ana started to bash her at the reunion. And what school is Adriana's kid going to that it cost $350,000?
Adriana insists on standing out in the rain while she calls for a cab. Someone wants to be a martyr here.
Next week Lisa and Lenny discuss their infertility issues, Team Adriana crashes Lea's night out and Joanna and Romain still aren't having enough sex.
Whose side are you on—Adriana's or Lea's? State your case in the comments below or tweet @OKMagazine.