NEWS
What We Learned From Last Night's 'Real Housewives of Orange County'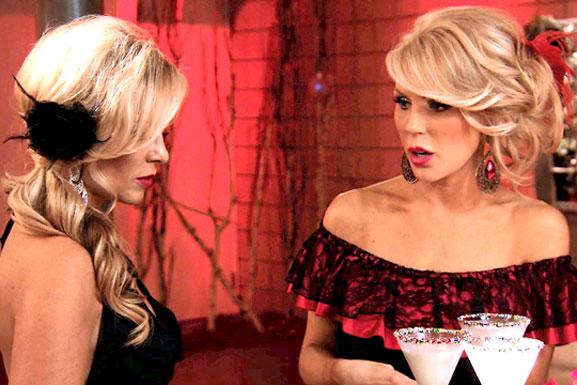 Article continues below advertisement
Now that Vicki and Tamra are buddies again, we see Gunvalson trot into Tamra's office to show off their new Wines by Wives vino. Vicki proceeds to reiterate to Tamra the many reasons she doesn't like Gretchen, namely because she's self-centered and wants everything to be about her. This is verrrry interesting coming from a woman who seems to make everything about herself. Then they dabble in some Brooks talk. Yadda Yadda.
Heather meets up with Alexis for coffee. I have a feeling Alexis is expecting the same sort of 180 turnaround from Heather that she shockingly received from Tamra, but Heather isn't budging. She wants to be civil and move on, but she's not about to give Alexis an apology (and I'm still trying to figure out what Alexis wants an apology for—how did Heather wrong her?). We flash back to the reunion where we revisit one of my favorite Heather one-liners, "If everyone says you're dead, it's time to lie down."
Article continues below advertisement
Watch: Gretchen Rossi Opens Up About Frienship With Alexis Bellino
Gretchen has a heart-to-heart with her mom about Slade and their future. G asks the dangerous question of whether or not her parents would approve of them having a baby and getting married. After an awkward hesitation, mom says yes and everyone's happy, for now…
Cut to Briana, Ryan and baby Troy over at Casa Gunvalson. Little Troy in his camo jammies are killing me. That kid is adorable. Ryan is leaving the next day and will be deployed to Afghanistan after combat training so it's a sad night. Vicki offers to help however she can. I like this Vicki and feel for Briana and Troy. Briana has always been one of my favorite of the Housewives' kids because she seems to level-headed.
Photos: Tamra Barney Marries Eddie Judge in Gorgeous Ceremony
Gretchen, Slade, Heather and Terry are headed to Lydia's salsa party together, while Alexis and Vicki take a car of their own. With a little egging on from Heather and Gretchen, Terry calls Brooks to find out if he's planning to salsa as well.
In her confessional interview, Lydia says she's still trying to figure Gretchen out, unable to decide if she likes her or doesn't want to have anything to do with her at all. When did this become pick on Gretchen season? Lydia is desperate to make everyone else friends but she's going to gang up on G? And what was up with getting all defensive over Slade's cheeseburger joke? Chillax, Lydia.
Article continues below advertisement
OK! News: Heather Dubrow Answers Your Burning Qs
Lauri Peterson's in da house and I'm wondering how long it takes for a blowup between her and Vicki amidst the craziness she revealed to Gretchen two episodes ago.
Dum, dum, dummmm…Brooks arrives. Man, he creeps me out. Tamra bites her tongue to avoid drama with him. Lauri and Tamra mutter sleazy rumors about him to one another. This is not looking good for Vicki's love tank.
OK! News: Catch Up With 'The Biggest Loser's' Mike Dorsey
LOL Moment of the Night: When the gang is dancing and rotating salsa partners and Tamra says, "I got Brooks? What's next? Jim Bellino?," I can honestly say I literally laughed out loud. Amazing.
Gretchen and Slade get into it with Lydia. Slade revisits Lydia's skinniness (why, Slade, why?) and Lydia accuses Slade of saying things that make people (Vicki) get surgeries (a nose job). The tide is turning, folks, and it's leaving Gretchen and Slade behind.
What do you think of the shifts in friendship in the OC this season? Tell us in the comments below or tweet @OKMagazine.