NEWS
What Would the Countess Do?: Blabbermouths & Packing on Pounds!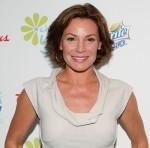 When it comes to etiquette, manners and overall good behavior, even celebrities need help navigating the rough waters of stardom! It's a good thing Countess LuAnn de Lesseps of the Real Housewives of New York is joining forces with OK! to school them on the right thing to do! In a rough situation, we just ask, "What Would the Countess Do?" This week the Countess tackles the problem of blabbermouths and blubber!
Article continues below advertisement
Reports have surfaced that a leader of the Church of Scientology used Tom Cruise's confessions to him as a source of mockery in front of others. How do you learn to trust others when you're in the public eye?
Tom Cruise put his trust in Church of Scientology leader David Miscavige when he gave confidential confessions as part of his spiritual journey. When Miscavige used Cruise's most private self revelations as a party joke, he committed an act of spiritual treason. Tom Cruise is always in the public eye and he needs to be able to trust the people closest to him. He made a mistake in trusting his church's leaders apparently but he had no reason not to trust them initially. With most people, I talk about things that I don't mind being repeated because I know that people love to gossip. If something is very important to me, I only share it with people I have known and trusted for years.
MORE ON:
Countess LuAnn De Lesseps
Tip: Be careful who you trust. Gossip spreads like a weed, friendship blossoms like a flower.
WHAT WOULD THE COUNTESS DO?: CONFRONTING SEX TAPES; MAKING BAD JOKES
Dennis Quaid packed on the pounds to play Bill Clinton for a new movie. Can you give us some tips on keeping up appearances, or when to stop worrying about how you look and just be yourself?
Playing Bill Clinton could be the role of a lifetime for Dennis Quaid. Putting on a few pounds for authenticity is what Quaid is willing to do to pursue his craft. One has to take chances to live life to its fullest. There's a lot to be said about satisfaction that comes from within. Confidence is key.