NEWS
What Would the Countess Do? Dating a Coworker; Children with "Anger Issues"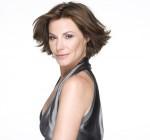 When it comes to etiquette, manners and overall good behavior, even celebrities need help navigating the rough waters of stardom! It's a good thing Countess LuAnn de Lesseps of the Real Housewives of New York is joining forces with OK! to school them on the right thing to do! In a rough situation, we just ask, "What Would the Countess Do?" This week Luann discusses dating a coworker and helping young superstars through family troubles.
Article continues below advertisement
Dating a coworker — lots of stars like Halle Berry get involved with people on the set of their movies. How would you handle a work place romance?
Movie stars spend most of their days and nights in exotic locales working with beautiful co-stars, so it's not surprising when romance flourishes on set. It's generally not a great idea to get involved with co-workers and is usually a recipe for disaster if things go bad. If you do get involved with a co-worker, discretion is key.
MORE ON:
Countess LuAnn De Lesseps
Tip: Don't make honey where you make money.
WHAT WOULD THE COUNTESS DO? BRINGING HOME THE BOYFRIEND; COPING WITH DIVORCE
Two of the Gosselin kids were reportedly expelled from their school for having "anger issues." How would you deal with such a situation? What would you tell your kid and how would you help them?
I believe that children need routine and structure in their lives and parents must not be afraid to say the word "no". Kids need to know that you will not break down even if they throw a tantrum. I realize that it's difficult to be a consistent disciplinarian and I have only two kids, while Kate Gosselin has eight. Nonetheless, it is a parent's responsibility to control their children and to seek help if they aren't successful managing their children's anger. My children know that I will not change my decisions even if they whine and cry and they learned this at a very young age.