NEWS
Whoopi: No Trouble in View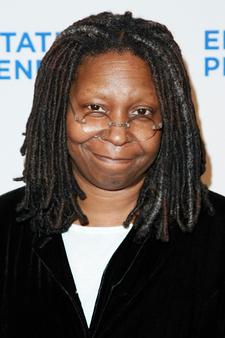 Despite heated on-air election arguments between Republican Elisabeth Hasselbeck and her more liberal co-hosts, Joy Behar, Whoopi Goldberg, Sherri Shepherd and Barbara Walters, one of the ladies on ABC's The View says the political feuding isn't personal.
"What we want the viewers to understand.is that you can disagree with your friends, loved ones and not make it personal," Whoopi tells Extra at a signing for her new children's book, Plum Fantastic: Sugar Plum Ballerinas. "In spite of what anybody reads or says, there are no personal digs taken at that table."
Article continues below advertisement
Whoopi goes on to add that she hopes viwers will "stop listening for trouble and hear what we are talking about."
Attacking someone else on-air because of their beliefs isn't what The View is all about, Whoopi reiterates.
"If we had personal things to deal with we would talk on a one-on-one basis," she says. "Listen to us as we speak, not as other people interpret us."