NEWS
Wyclef Jean to Sean Penn: I'm Not Absent in Haiti, Just Absent in Your Tent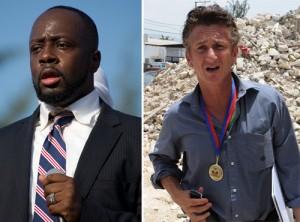 Wyclef Jean has an answer to Sean Penn as to why the actor hasn't seen him in Haiti — It's a big country.
OK! NEWS: SEAN PENN SLAMS WYCLEF JEAN FOR HAITI PRESIDENT
Wyclef is practicing his debating skills by responding to Sean's comments.
The actor said on CNN that Wyclef's bid for presidency of Haiti was "suspicious" and that the musician has been a "non-presence" in Haiti.
"The first thing I'd like to say to Sean Penn is that the area which he operates in Haiti is one area in particular," Wyclef said on The Gayle King Show today.
Article continues below advertisement
"He hasn't seen me for six months — I've been going to Haiti for over five years…I am not absent in Haiti, maybe the tent city you're in, maybe I'm absent in that."
OK! NEWS: WYCLEF JEAN TALKS HAITI PRESIDENCY
But, Wyclef had more to say to him than that!
"My country is not a city of tents, meaning I can't use the excuse of people living in tents to say that I'm going to make Haiti a better place. I would like to tell Sean Penn I do not react on emotions when it comes to the Haitian people. I do not have to sacrifice my life and live inside of the tents to prove I am for the Haitian people."