NEWS
Your Afternoon "Aww": Can You Guess Which Pretty Little Liar Star This MaltiPoo Belongs To?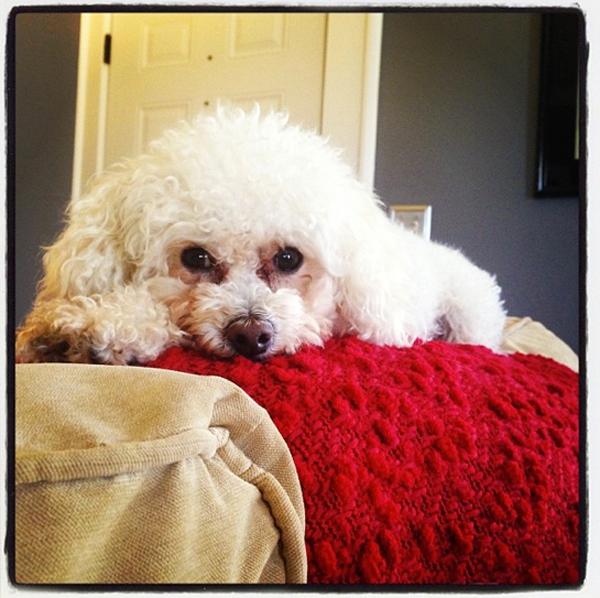 You know and love her on ABC Family's Pretty Little Liars, but how much do you really know about the celebrity outside of the show? From her taste in music to lovable pets, think you can pinpoint the mystery star were talking about? We'll give you a few hints (which can be found below), along with an adorable photo of her MaltiPoo, Jack. Once you've landed an answer, scroll down to the bottom of the page to see if you guessed correctly!
Article continues below advertisement
1. In 2005, she was one of the winners of FOX's reality show, American Juniors.
2. Has appeared on guest spots for shows like The O.C., How I Met Your Mother and Wizards of Waverly Place.
3. Played Alexis Bledel's younger sister in The Sisterhood of the Traveling Pants 2.
4. Successfully Punk'd Ian Harding, Vanessa Hudgens and Josh Hutcherson in April 2012.
5. Co-hosted the 2013 Teen Choice Awards with Darren Criss.
Head down for the answer.
If you guess Lucy Hale you are correct! Thanks for playing and come back Monday through Friday for new installments of Afternoon "Aww."
Photos: See Yesterday's Afternoon "Aww" of Dwayne "The Rock" Johnson's Adorable French Bulldog
Is Lucy Hale is your favorite actress on Pretty Little Liars? Tweet us at @OKMagazine and comment in the section below.