NEWS
Zach Galifianakis to January Jones: "Be Nice" Because "Everybody's Going to Forget You"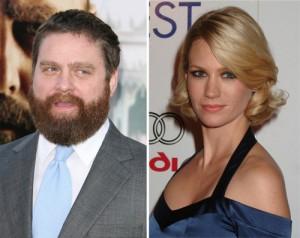 Article continues below advertisement
"That's really funny because, if I remember correctly, she and I were very rude to each other," Zach revealed to Short List. "It was crazy. I was at a party — I'd never met her — and she was like, 'Come sit down.' So I sit at her table and talk for 10 minutes, and she goes, 'I think it's time for you to leave now.' So I say, 'January, you are an actress in a show and everybody's going to forget about you in a few years, so f***ing be nice,' and I got up and left."
MORE ON:
Zach Galifianakis
Whether she was rude or not, we think some men would still want to participate in that scene!