EXCLUSIVE
CEO and Founder of Afro Unicorn April Showers Reflects on Breaking Barriers in the Retail Industry: 'Overwhelming Joy to See My Dream Realized'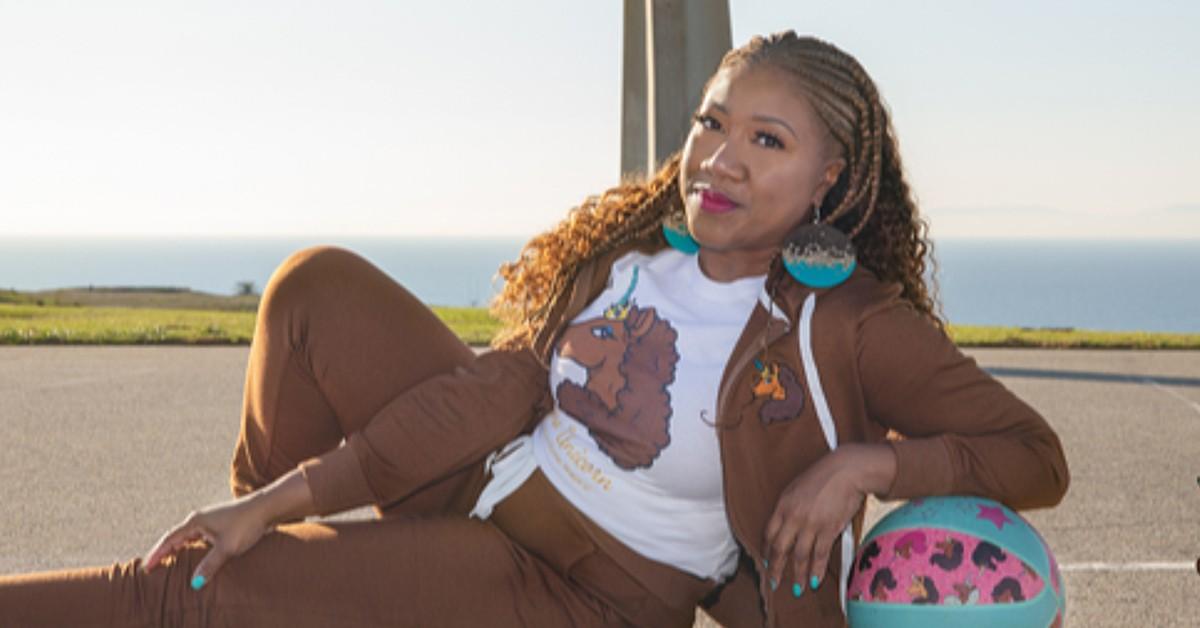 April Showers has a lot to be proud of these days, as she is the first Black woman to enter major retail when her character brand Afro Unicorn® hit Walmart shelves in 2022.
"It was a surreal experience. Overcome with emotions; I was shaking, I cried, and I felt overwhelming joy to see my dream realized," the CEO and founder exclusively tells OK!.
Article continues below advertisement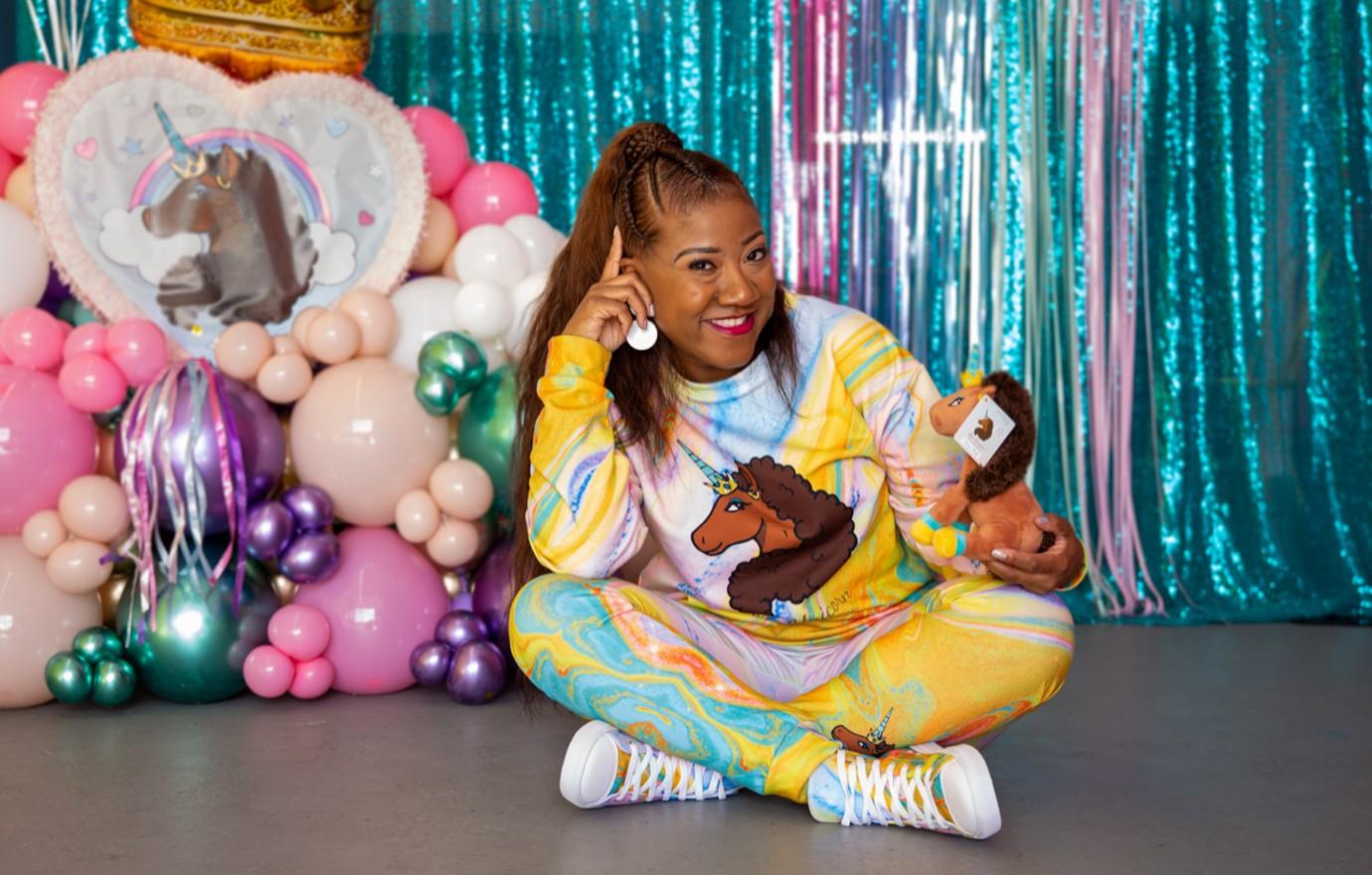 "Afro Unicorn® is a conscious brand that has upheld its mission to uplift and impact women and children of color. The brand represents the beauty and uniqueness of vanilla, caramel and mocha complexions," she notes of how it all began. "The name Afro Unicorn signifies two ideas. The first is to empower and elevate emerging entrepreneurs. The second is an homage to Africa and a promise to amplify representation through my fully-licensed character brand. Building the brand from the ground up, Afro Unicorn started in the e-commerce industry in 2019. Back then, it was an organic, grassroots brand, and I was pressing shirts and selling them through my eCommerce store, adding logos to T-shirts and bags at my customers' request."
"Afro Unicorn burst onto the scene as a brand in August 2021 after a video of a little girl wearing an Afro Unicorn shirt went viral. Then, I received an email from Walmart with the subject title 'Afro Unicorn x Walmart' collaboration, marking my start with Walmart as one of the first Black Women to enter the party supplies/celebration category, with Afro Unicorn gaining prime shelf placement next to Marvel characters and Disney princesses," she continues.
Article continues below advertisement
Now, the brand has 25 categories, and she hopes to be "bigger than Hello Kitty."
"I have always believed that Afro Unicorn® would become a household name. Afro Unicorn is a movement to create representation in everything children touch. It's a fantastic feeling," she says. "Askia Fountain, my extraordinary brand manager, is a creative genius, and he asked me to create unicorn characters named Unique, Divine and Magical and define their characteristics. I am delighted that these distinct characters are debuting in my new line of original Afro Unicorn® books under the Random House Books for Young Readers imprint. My first original book A Magical Day launched at Walmart on May 16, 2023, and the book will be released widely in the fall of 2023."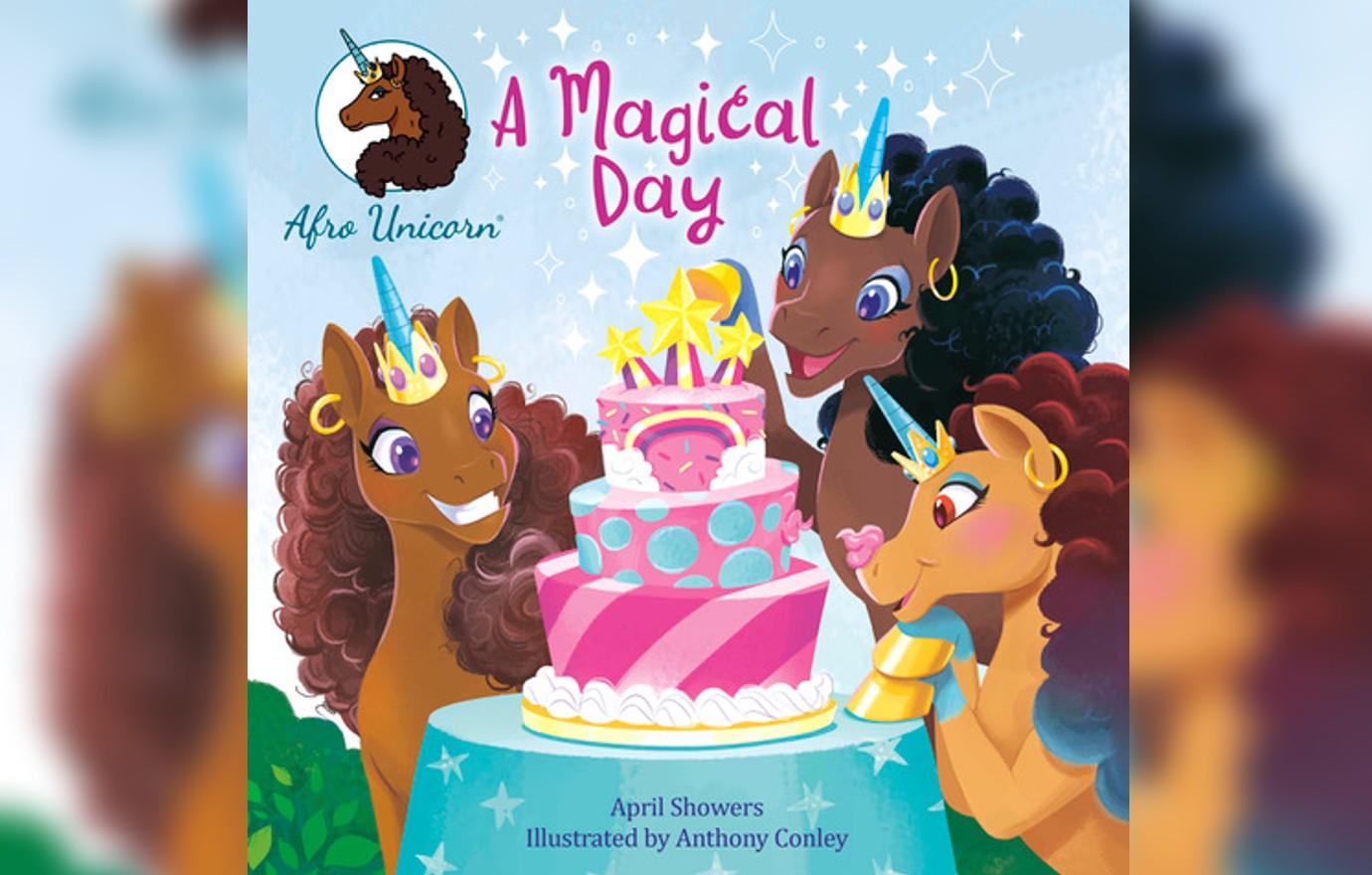 Article continues below advertisement
In June 2022, the Afro Unicorn® party supplies line launched in Walmart stores nationwide. Going forward, Showers points out that the brand will remain "faithful to our roots," as they "continue expanding our line of consumables with snacks and sweets," she says. "We attended the Sweet and Snacks Expo in May, and we are currently in conversations with candy-making and cookie companies. Today, you will find beautiful Afro Unicorn cakes with edible icing art at Walmart and major grocery chains across the U.S.; we are excited to introduce Afro Unicorn fruit snacks this July."
She adds, "Our goal is for Afro Unicorn cakes to be enjoyed at every birthday party and for our fruit snacks to be put in every lunch pail."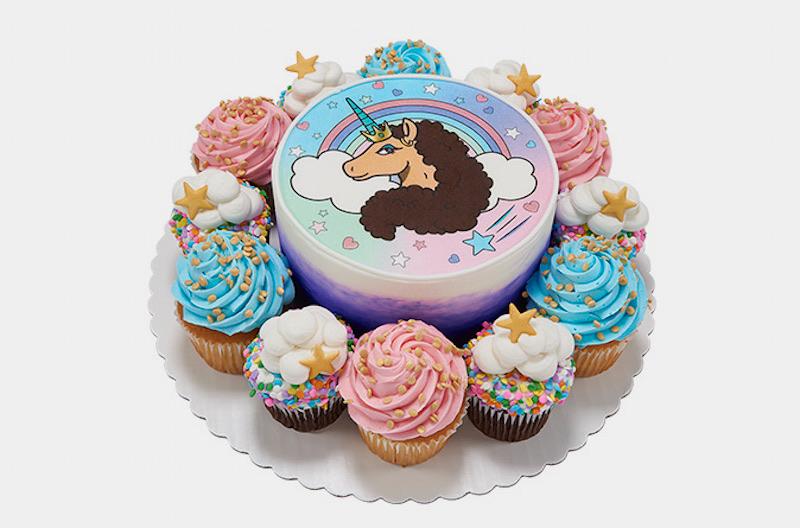 Article continues below advertisement
Additionally, Showers has been busy as a new line of books will also be released. "When I realized my favorite emoji — the unicorn — was only available in white, I was inspired to create a more inclusive brand for children of color to celebrate how magical, unique and divine they truly are," she shares.
"In partnership with Random House Children's Books, we are expanding into the book world with a new publishing program that kicks off this fall with the publication of the first three books in the series: A MAGICAL DAY, a picture-book adventure, WE ARE AFRO UNICORNS, chronicling each Afro Unicorn's superpowers and our first Little Golden Book — and THE MOST MAGICAL TIME OF THE YEAR, the first holiday book in the Afro Unicorn line completed with a countdown calendar and stickers."
"My inspiration comes from my followers. They are my community, constantly encouraging me to go further by reminding me that I inspire them. Beyond serving as a source of encouragement, my followers inspire new ideas, such as creating a kite!" she notes. "My mantra in life is to help enough people get to where they want to be so I can get where I need to be. I am proud that my vision and ideas have positively impacted others. As the founder and CEO of Afro Unicorn®, I have created a brand designed to instill women and children of color with the confidence they need to embrace who they are – unique, divine and magical. Afro Unicorn is an homage to Africa and a promise to amplify representation. We deliver a product that feels 'true and right' and celebrates Black beauty. Additionally, I have made it my mission to empower and elevate emerging entrepreneurs. My early challenges as a multi-business owner taught me many valuable lessons that I have imparted to other entrepreneurs and business students."
Article continues below advertisement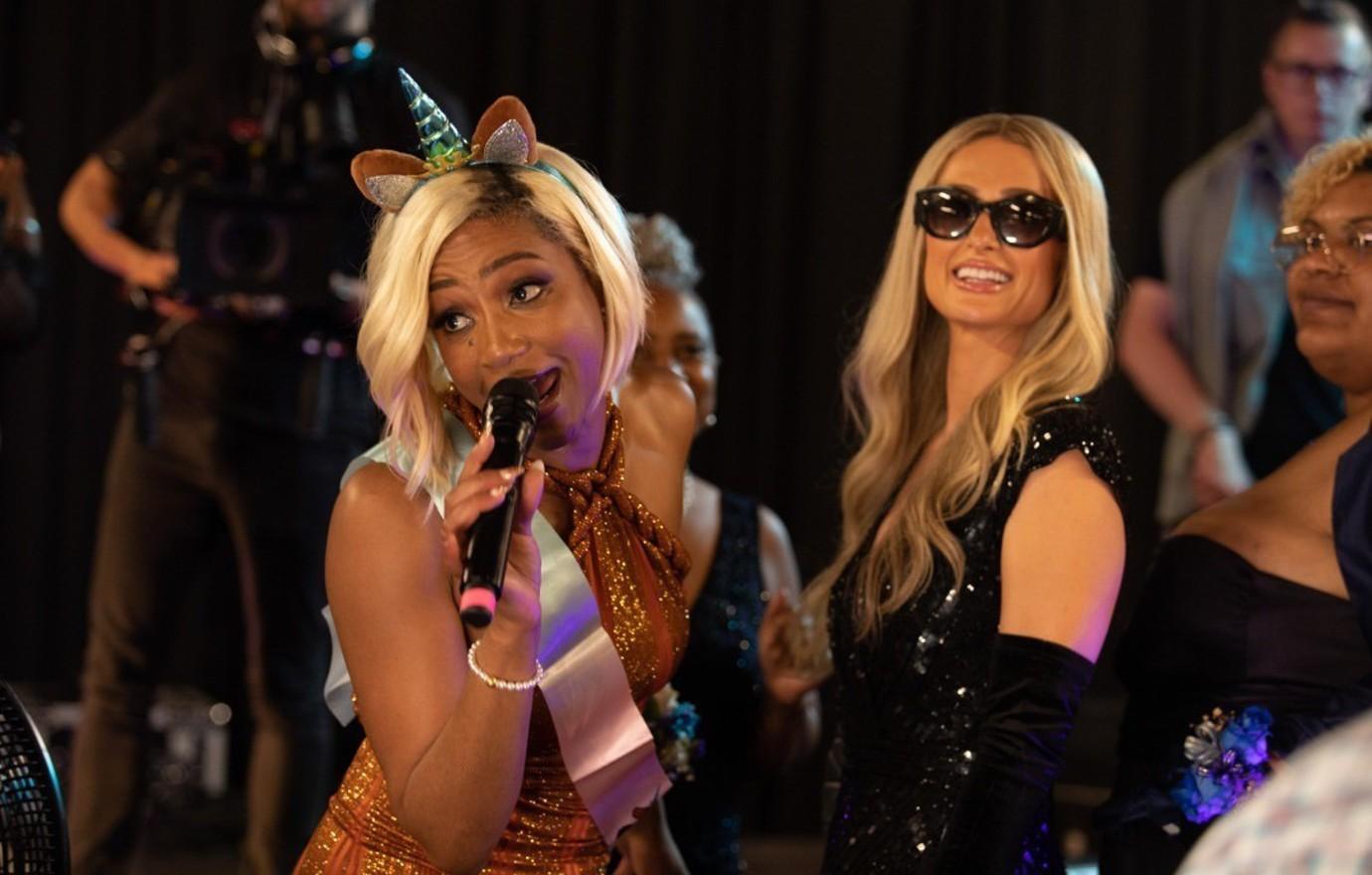 The cherry on top of everything is that Oprah, Alicia Keys, Gayle King and other A-listers have given Showers' products the seal of approval.
"It's a big deal! For me, when Alicia Keys, with 26.4 million followers, only follows 2,185 including Afro Unicorn, that's affirmation that the brand has become a powerful movement. Gayle King had me join for a segment on CBS Mornings during Black Business Month. Tiffany Haddish has 7.4 million followers and follows Afro Unicorn and my personal account @gotaprilshowers among her close friends," she insists.
"This May, Afro Unicorn was one of only a select few invited to do a brand activation titled 'Afro Unicorn Birthday Party' for Tiffany Haddish's 1st Annual Prom: A Night Under the Stars, a fundraiser for the She Ready Foundation, an organization dedicated to protecting and providing for youth impacted by foster care, which is also a cause we strongly support. Celebrities in attendance included Jason Lee, Mario, Lil Rel, Joe Koy, Chris Spencer, Paris Hilton, and Snoop Dogg!" she adds. "Paris Hilton loved our backpacks, and Jimmy Kimmel and his wife, Molly McNearney, enthusiastically shared, 'YES! We love Afro Unicorn — our daughter Jane loves to read A Magical Day at bedtime!'"
Article continues below advertisement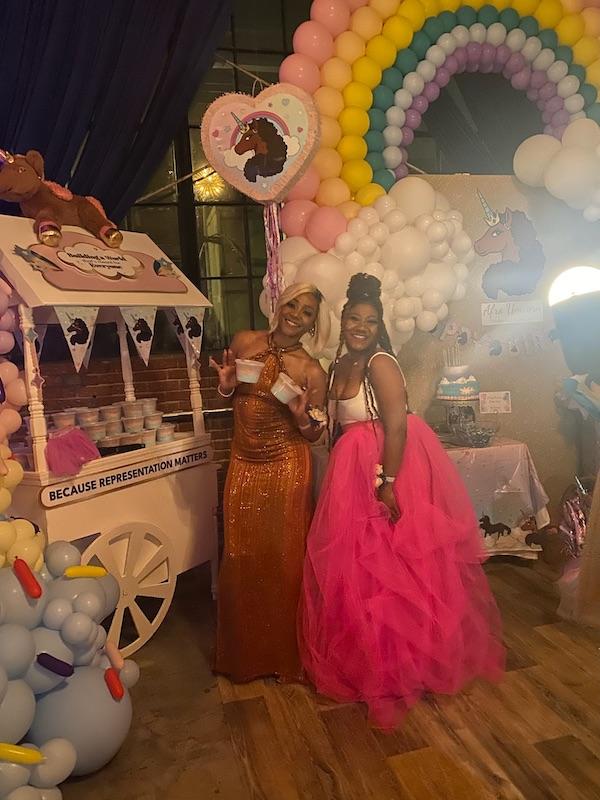 Ultimately, Showers knows she is changing the industry one step at a time.
"I am proud to help shatter the glass ceiling as the first Black woman to own a fully licensed character brand with a presence in seven major retailers across the United States and Canada with 25 categories. Afro Unicorn is history in the making as our brand starts in the toddler category through adults," she shares. "The goal from the get-go was to normalize Black Beauty — to give our Black and brown girls a unicorn that represents them and encourages them to love the skin that they are in and embrace the crown on their heads."
She continues, "More than a brand, Afro Unicorn has created a movement by upholding its intentional mission to uplift and impact women and children of color. The brand represents the beauty and uniqueness of vanilla, caramel and mocha complexions, and children of color will grow up with a brand that touches every aspect of their lives. Children will soon be able to live and play in a world of Afro Unicorn with plushies, collectibles, games, puzzles, books, playsets, ride-ons, outdoor play, middle-grade graphic novels and live animation in the works."
Article continues below advertisement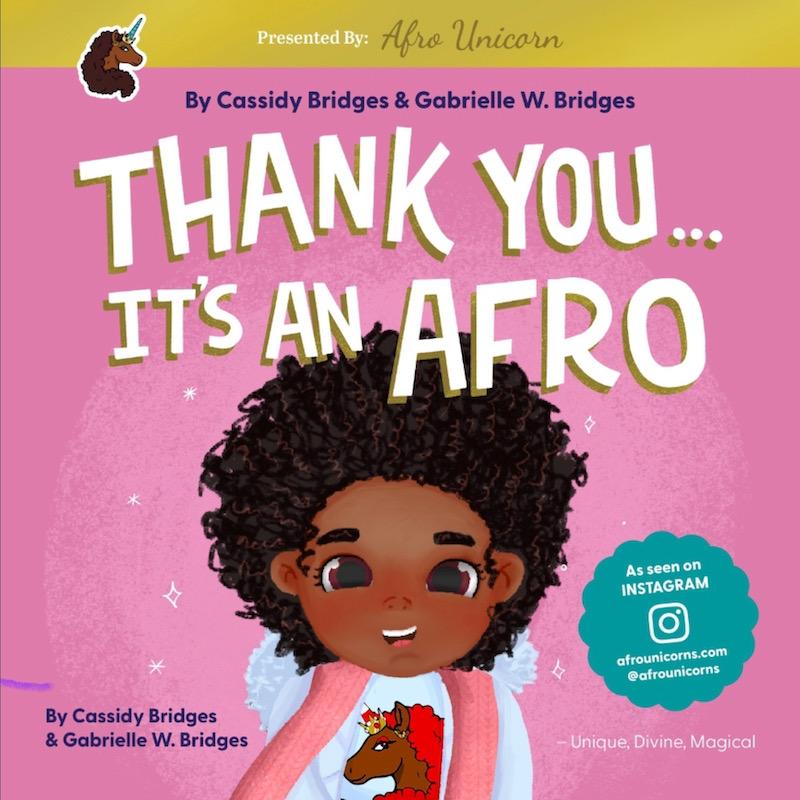 Showers would love to be able to create an agency to "help other minority brands get into the licensing space" since she now has experience. "Only a few people look like me in the licensing world, and I plan to be the change I want to see. It's a close-knit community where everyone knows each other. I am reaching back into my community to lift other entrepreneurs," she declares.
"As mentioned earlier, as part of my brand's unique origin story, when a video of kid influencer Cassidy Brianna wearing an Afro Unicorn® T-shirt went viral, Walmart contacted me about a collaboration. Today, I am proud to say that things have come full circle, and we are managing urban brands such as Cassidy's via Afro Unicorn Entertainment. Her first book, Thank You, It's An Afro, presented by Afro Unicorn, was released on May 16 and debuted as number one in New Releases in Children's Social Skills on Amazon!" she adds.
"My hope for Afro Unicorn is to become a fully-licensed entertainment brand that includes location-based experiences from hotels and restaurants to amusement parks. Afronia is an empowering and impactful physical space for authentic representation where children can be themselves, bringing self-esteem and motivating them in a positive light," she concludes.
Article continues below advertisement