NEWS
Amelia Hamlin Responds To 'Blackfishing' Accusations Following Controversial Instagram Post, Claims She 'Went On Vacation To The Sun'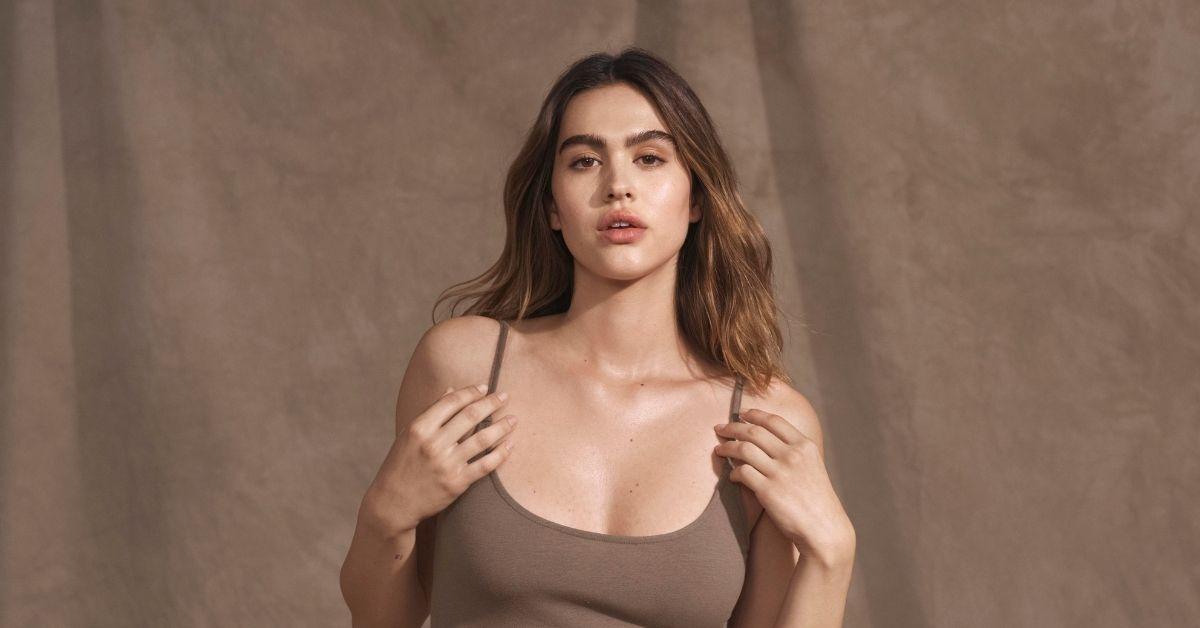 Model Amelia Hamlin has addressed the allegations that she was "blackfishing" in a recent Instagram post.
Article continues below advertisement
The 19-year-old shared several photos on Thursday, February 25, where her complexion looked darker than usual. Hamlin donned a high-braided ponytail and a brown top in the pic. "Whiplash got me like......" she captioned the post.
The brunette beauty turned off comments on the post following a negative response to the picture.
Article continues below advertisement
Hamlin addressed the controversy on her Instagram Story.
"Im receiving a lot of comments in regards to my latest photo. I am being told that I am 'black fishing' — thank you all for educating me on this topic. I recently went on vacation in the sun, and with my Italian heritage I tan very easily."
Article continues below advertisement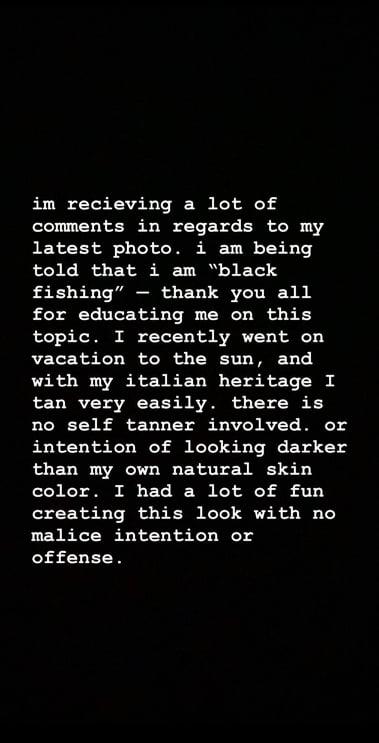 Article continues below advertisement
The term "blackfishing" refers to people using "artificial tanning (spray tanning and tanning booths) and using makeup to manipulate facial features in order to appear to have some type of Black African ancestry," according to Urban Dictionary.
"The general point of blackfishing is for a female of European descent to appear of African, Arab or Hispanic ancestry."
MORE ON:
Amelia Gray Hamlin
Article continues below advertisement
"Completely losing my mind over Amelia Hamlin going on vacation to the SUN," one Twitter user commented on Hamlin's response.
"When Amelia Gray Hamlin issues that little BS notes app apology, you all can do what you want with it but I'm not falling for it. She knew what she did," another said.
Article continues below advertisement
"No fake tan all from Italian heritage what planet is this girl on that's orange not tan .. it's morphing into a kardashian then trying to defend this choice, they have Armenian heritage hence the darker skin please educate yourself Amelia," a third wrote.
Hamlin was criticized earlier this month when a troll called a photo set of her in lingerie "disgusting."
"What is wrong with you? This is my child," mom Lisa Rinna shot back.
Article continues below advertisement
Hamlin has also garnered attention since she was first linked with Scott Disick in October — from everyone including her sister!
"They've been competing with each other for years, and now that they both have celeb boyfriends, they're convinced the other is trying to hog the spotlight," an insider previously told OK! about Amelia and her sister, Delilah, clashing when it comes to their love lives.
Since Amelia was first spotted with Disick, Delilah has been "annoyed because her sister's getting way more attention than she is."
"Scott does everything he can to make Amelia happy," OK! previously reported.
The 37-year-old father was previously linked to Sophia Richie and shares children Mason, 11, Penelope, 8, and Reign, 6, with ex Kourtney Kardashian. Disick and Kardashian called it quits for good in 2015.
Kardashian has since gone Instagram official with new flame Travis Barker.