NEWS
'I Was Just Trying To Keep Warm': Bernie Sanders Laughs Off Meme Madness After Masked Inauguration Photo Went Viral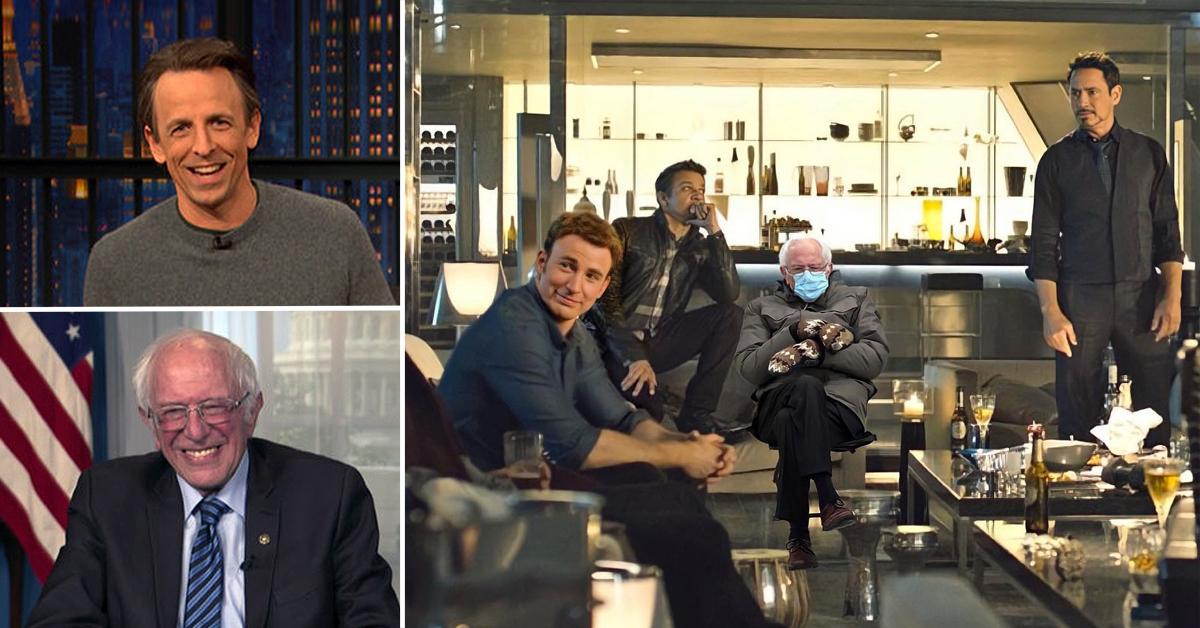 After becoming a viral meme star in the span of 24 hours, Bernie Sanders joined Late Night with Seth Meyers to share his reaction to the comical content that has been posted all over the internet.
All eyes appeared to be on Sanders during Joe Biden and Kamala Harris' inauguration. He was seen sitting alone in a fold-up chair, all bundled up in a parka and multicolored mittens — and people couldn't get enough of the hilarious pic.
Article continues below advertisement
Social media users instantly took the photo of the Vermont senator and photoshopped him into different cultural, historic and artistic locations.
When Meyers asked if Sanders was aware that he became the "meme of the day," Sanders responded: "Not at all. I was just sitting there trying to keep warm, trying to pay attention to what was going on."
Article continues below advertisement
The show host then pulled up a meme that Sarah Jessica Parker posted on Instagram of Sanders featuring the cast members of the Sex and the City reboot. "Yeah, I've seen them," Sanders said as he let out a chuckle.
The 79-year-old explained that the woman who made his gloves from Vermont has been "somewhat overwhelmed by the kind of attention that has been shown to her mittens."
Article continues below advertisement
Since Sanders and his colorful mittens made headlines on Wednesday, January 20, the woman who made them has been getting an abundance of requests for the very pair Sanders wore.
Fans immediately rushed to the Late Night with Seth Meyers account's comment section to praise Sanders and gush over how "cute" he is in the short clip. "Bernie is the man 👏," one user wrote. "HES SO CUTE PLSSS," another fan commented while a third added: "LOVE me some Bernie!!!!!!❤️😍❤️😍❤️😍."
Article continues below advertisement
Everyone appears to be in good spirits since the transition of power. Besides celebrities like Parker and Ryan Reynolds taking part in the Sanders meme fun, Chrissy Teigen has also been on cloud nine after receiving a follow from the President's Twitter account.
"OH MY GOD !!!!!!!!!!" she tweeted after seeing that Biden followed her back, since Donald Trump blocked her in 2017. "My heart oh my god lmao I can finally see the president's tweets and they probably won't be unhinged."