NEWS
Another Dig At Kim Cattrall? Sarah Jessica Parker Finds Fourth 'Sex And The City' Member: Masked & Mittened Bernie Sanders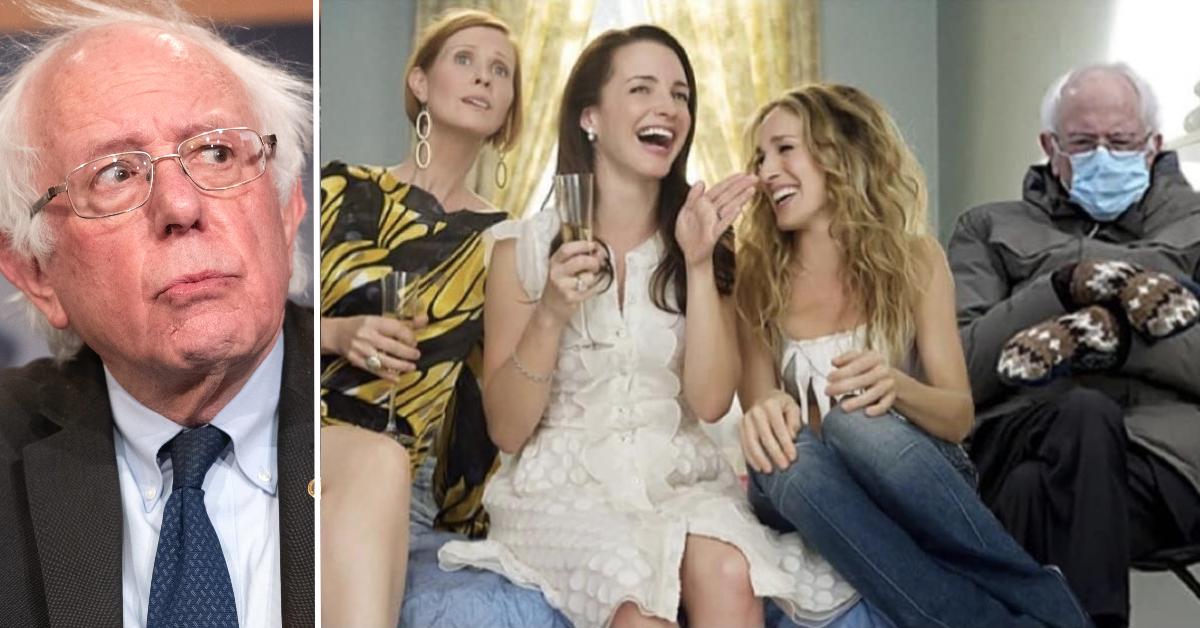 Grab your cosmo and designer heels, Bernie Sanders, because you're now one of the girls!
Sarah Jessica Parker joined in on the Sanders meme fun by photoshopping the now-viral picture of him into a photo with the Sex and The City reboot characters, completing what was once a fierce foursome now that Kim Cattrall won't be returning to the group.
Article continues below advertisement
Article continues below advertisement
"Like a needle in a haystack. X," Parker, who plays Carrie Bradshaw in the beloved series, captioned her witty post on Thursday, January 21. Sanders was situated on the couch next to SATC characters Carrie, Miranda Hobbes and Charlotte York.
Fans immediately flooded Parker's comment section to applaud the actress on her amusing Instagram. Zoë Kravitz commented: "Yesssss i STAN," as a fan jokingly asked: "Is this an official announcement 🤞🏽?"
"YOU DIDN'T 🤣🤣🤣," another wrote while a third added: "The new Samantha Jones 🥳."
Sanders turned into the newest meme star after he was photographed at Joe Biden's inauguration sitting alone in a fold-up chair, all bundled up in a parka and multicolored mittens.
The internet had a field day with inserting the photoshopped Vermont senator into different historic, cultural and artistic locations. Parker was one of the many social media users to take part in the meme fun, along with Ryan Reynolds, Chloë Sevigny and more.
Article continues below advertisement
Parker's comical post comes after the news of the HBO series' return. As OK! previously reported, Parker, Kristin Davis and Cynthia Nixon will reprise their roles for a 10-episode series titled, And Just Like That.
The Hocus Pocus star teased the return of the NYC women in a sneak-peak trailer on January 10.
Sanders may have to fill the shoes of the fab four's final pal, since Cattrall opted out of returning to the show. Cattrall's refusal to take part in the show's revival is speculated to have something to do with her long-lasting feud with Parker.
While the 55-year-old star of the show has tried to downplay the tension between the former co-stars, the blonde beauty hasn't been shy about her feelings towards Parker.
Article continues below advertisement
"I think she could've been nicer. I really think she could've been nicer," Cattrall said when asked if she was friendly with her former costar. "I don't know what her issue is."
Parker's true feelings towards Cattrall, 64, will finally be revealed when fans see how the trio decides to explain Samantha Jones' absence from the revival. A source told OK! that viewers should "expect a very nasty ending for Samantha Jones," since Parker, Davis and Nixon are the stars and executive producers of the show.
"They will get to decide if Kim Cattrall's character literally lives or dies," the source previously dished. "All three of them are sick about talking about Kim, and they are going to make it clear that even if Kim changes her mind and wants to join them for another film down the road, that will not be possible."