PHOTOS
Brad Pitt Galavants Around 'Bullet Train' L.A. Premiere In Mint Green Suit: Photo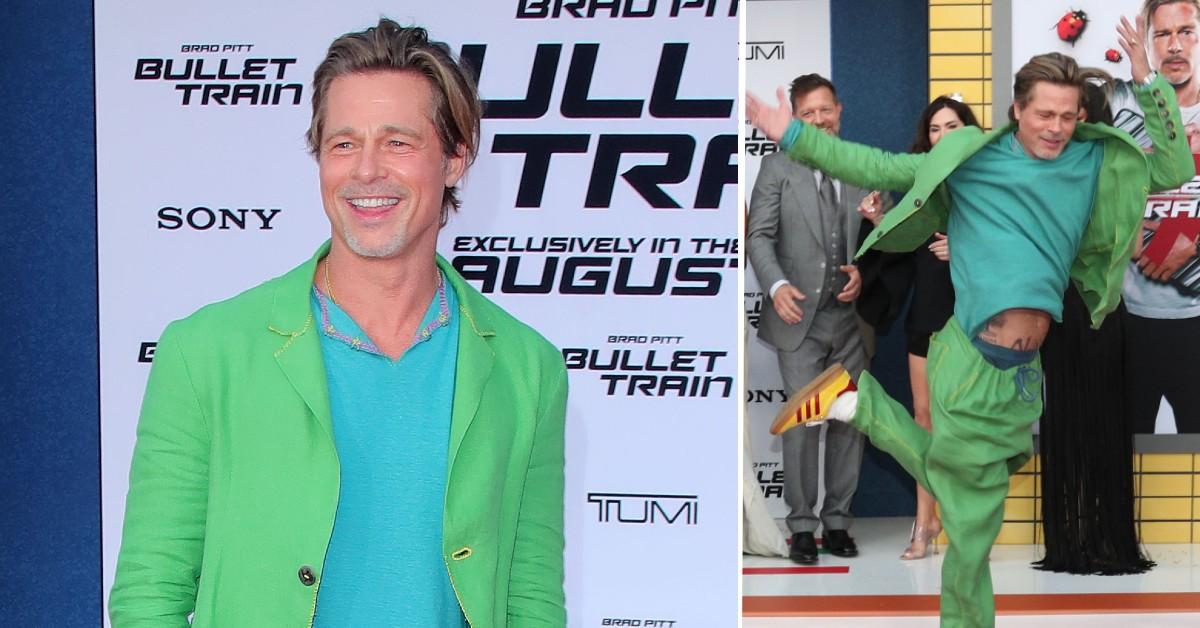 Brad Pitt absolutely stole the show at the premiere of his new action blockbuster Bullet Train.
Taking the red carpet in a stylish mint green suit outside the Regency Village Theatre in Los Angeles on Monday, August 1, the handsome hunk likely left many speechless, as he flashed his pearly white for the camera and galavanted past the crowd with his movie star confidence.
Article continues below advertisement
While discussing his iconic fashion moment with Entertainment Tonight's Nischelle Turner, he quipped of his decision to have fun with his clothes: "I mean, we're gonna die so let's just have some fun before we get out."
*DRESS*ED TO IMPRESS! 7 MEN WHO DEFY GENDER NORMS: HARRY STYLES, DAN LEVY & MORE
Pitt seems to be using the Bullet Train press run to mess around with an array of styles and designs, as he was seen in early July rocking a bright orange monochromatic look for the Parisian premiere. Meanwhile, while in Berlin, Germany, later in the month, the 58-year-old went one step further, choosing to show off his legs in a black skirt.
"The breeze, the breeze," he told a reporter with a smile of why he opted for the daring look, which has become more popular with men as of late with everyone from Harry Styles, Machine Gun Kelly and Timotheé Chalamet choosing to redefine masculinity by challenging gender norms when it comes to fashion.
Article continues below advertisement
Luckily, Pitt's pit stop in Rome didn't disrupt his tour, so fans can expect plenty of fantastic fashion 'fits from the A-lister.
Scroll through the gallery below to see Brad Pitt's latest fashion moment at the 'Bullet Train' premiere.
Article continues below advertisement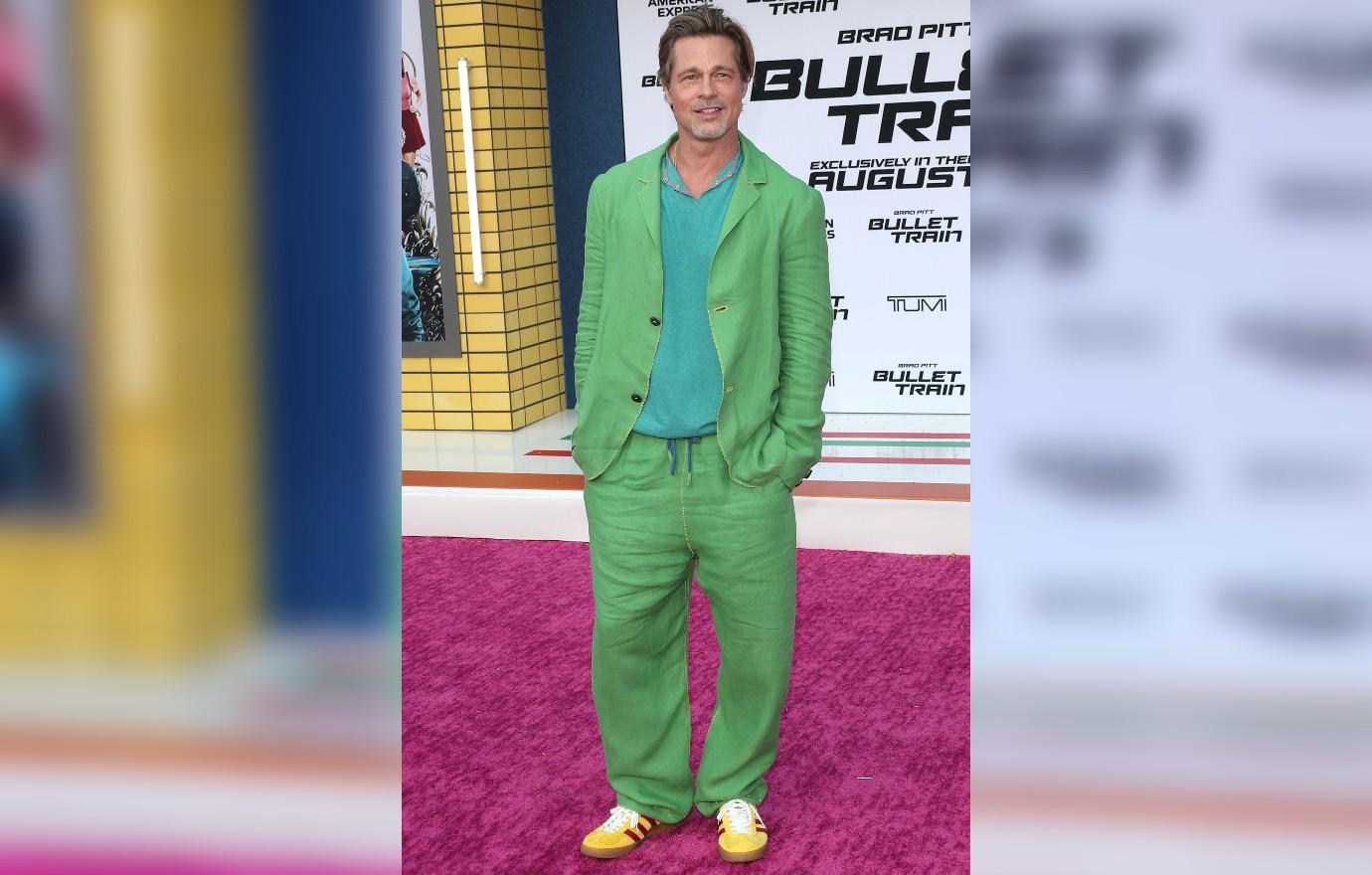 Wearing a teal knit top under a light lime green coat with matching baggy pants, Pitt posed for the flashing cameras.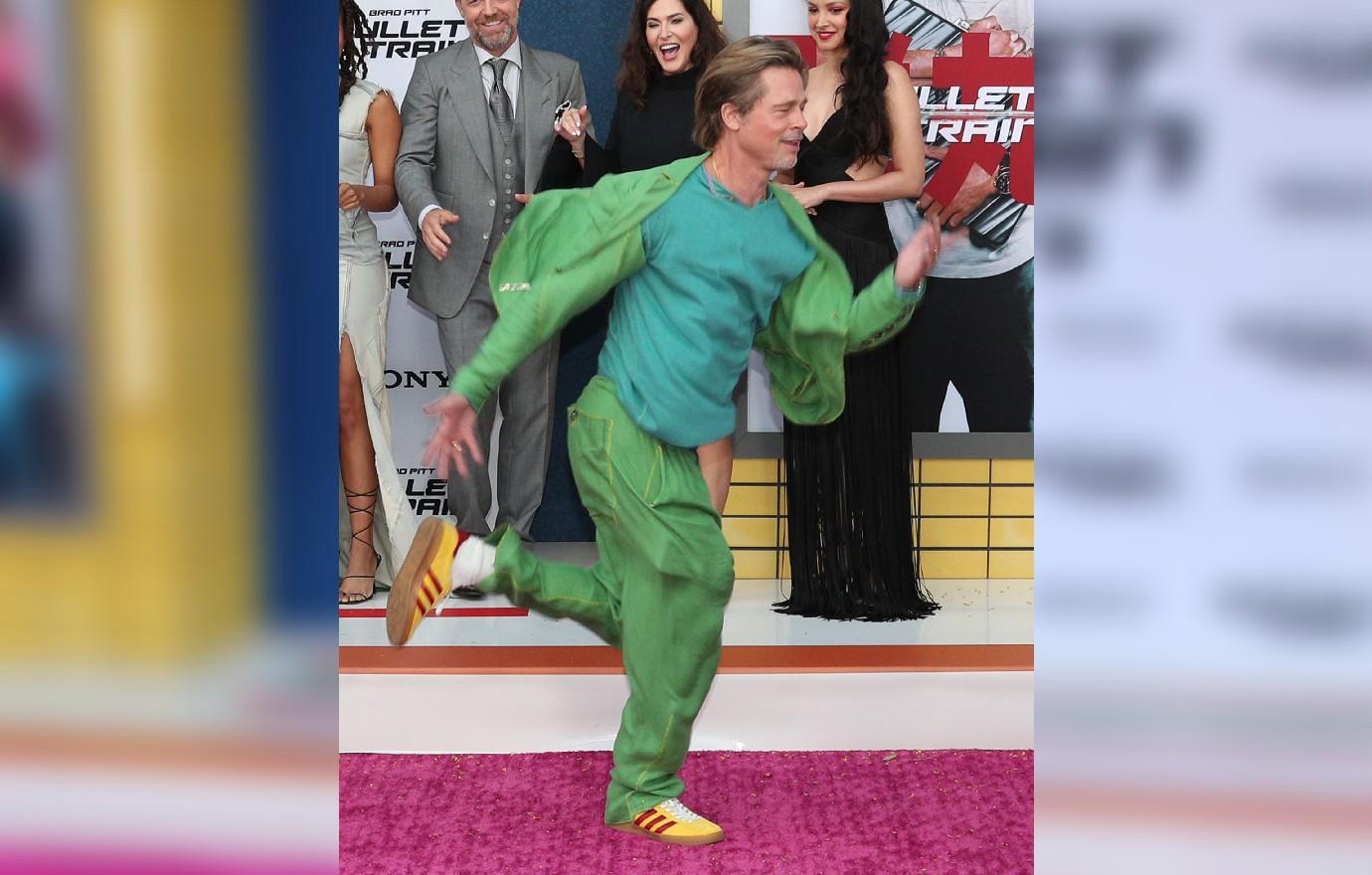 Rather than walking the red carpet like a typical A-lister, Pitt decided to have some fun as he ran around the event.
Article continues below advertisement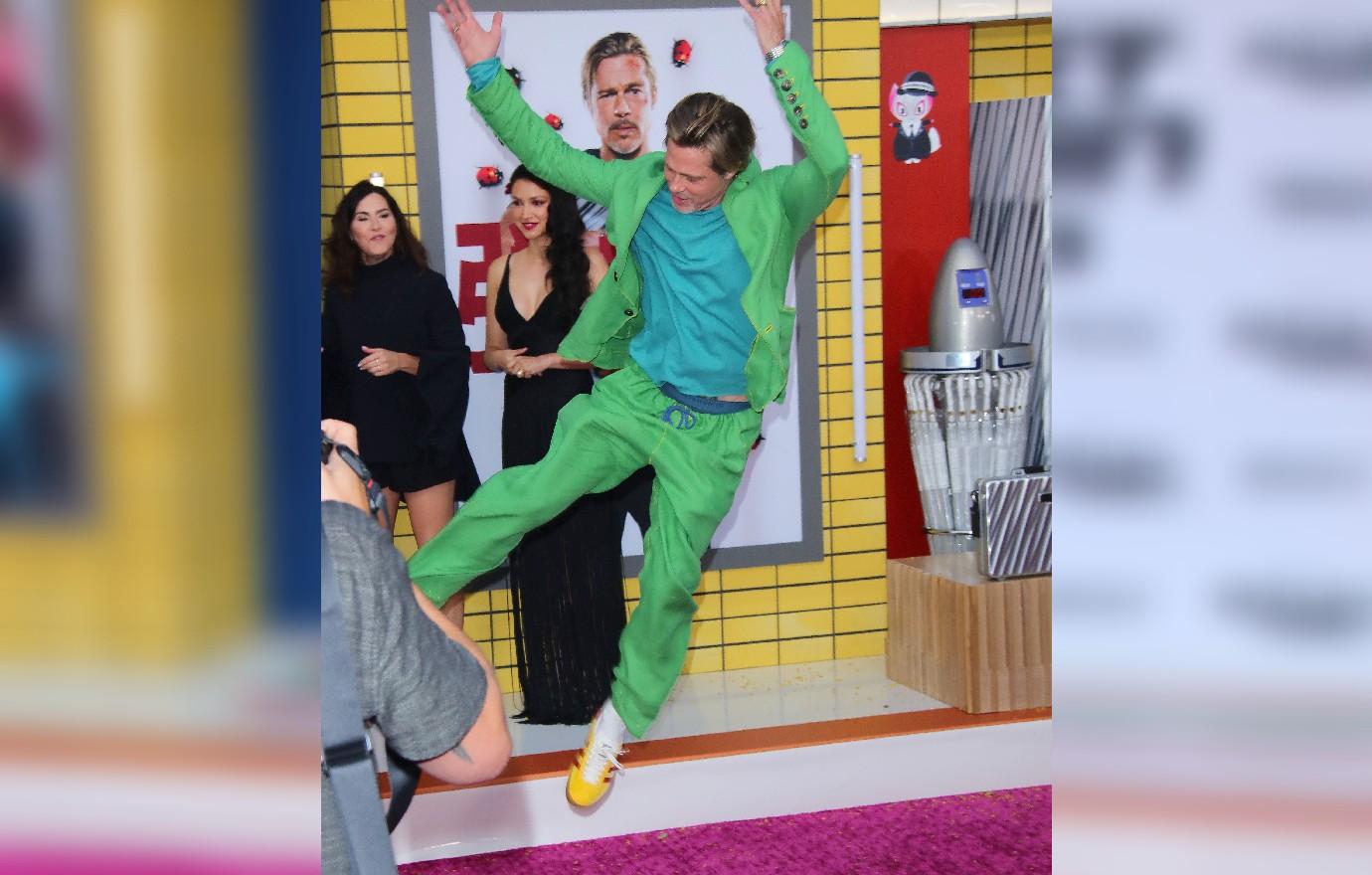 Jumping for joy! Pitt put his kicks on display while catching some air.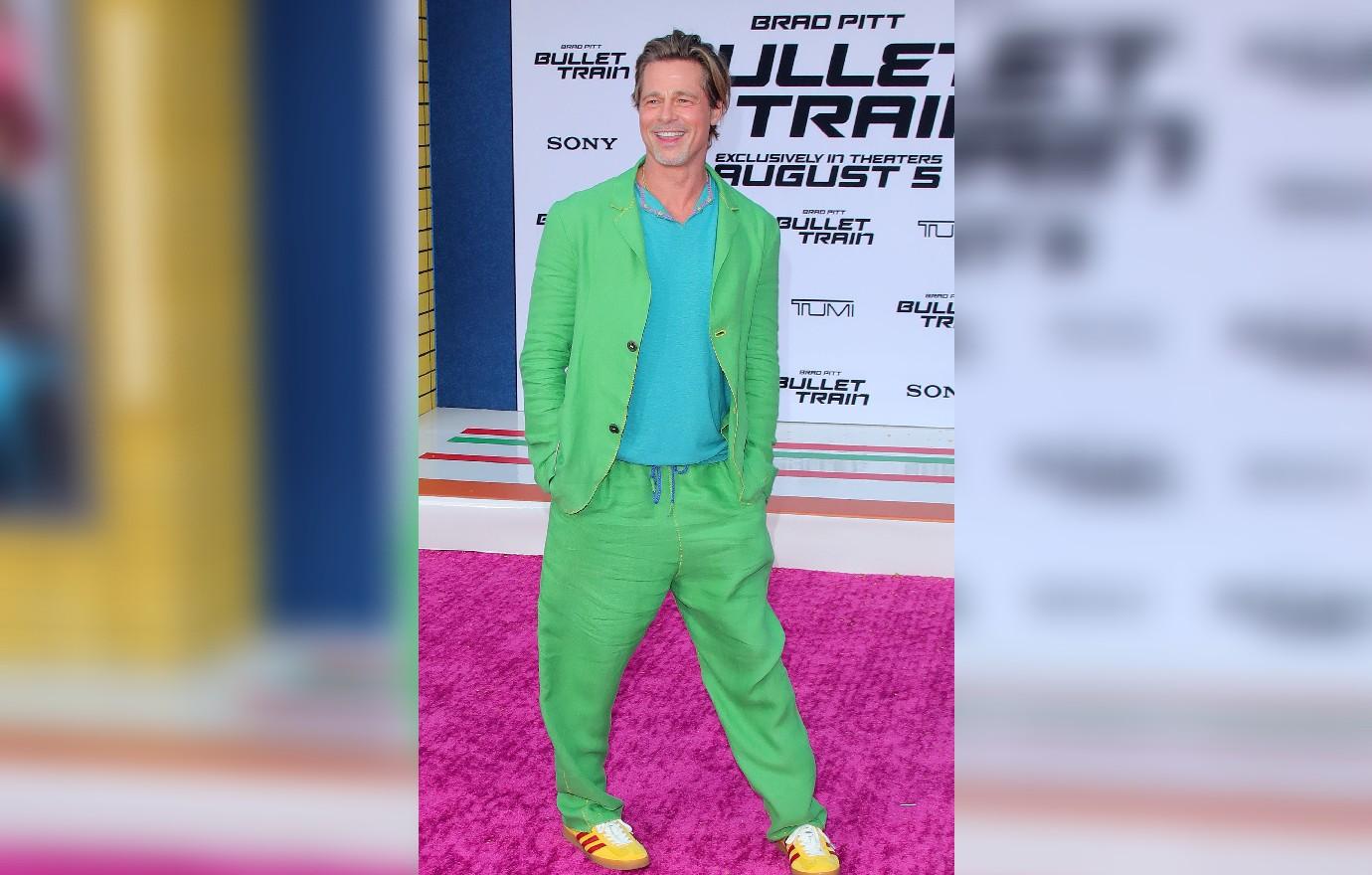 It's hard to tell what shines brighter, Pitt's bright Adidas sneakers or his glistening smile.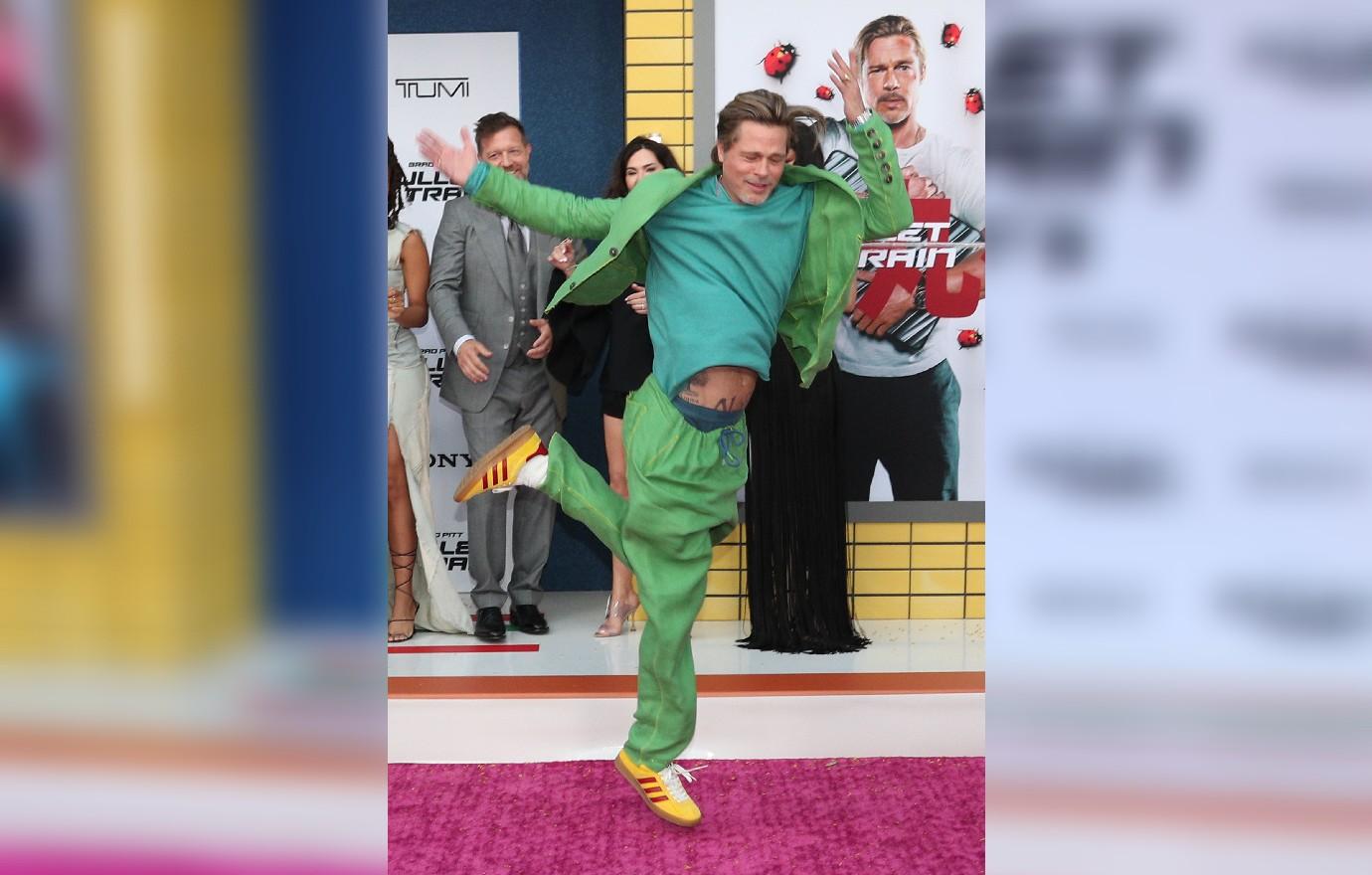 Pitt teased his stomach tattoos during his chaotic premiere entrance, and it's safe to assume fans weren't complaining about the sight.