NEWS
'He Has Never Spoken The Truth': Twitter Erupts After Donald Trump Claims Wife Melania Never Had Plastic Surgery
Former president Donald Trump is known for being a storyteller — whether you believe him or not. Recently MSNBC's Mika Brzezinski claimed that Donald told her in a private meeting at the Trumps' personal residence in Palm Beach, Fla., that his wife, Melania, never had plastic surgery. People on Twitter, however, were not buying it.
Article continues below advertisement
As OK! previously reported, Donald's infamously launched a Twitter attack against Brzezinski in June 2017 — which has since been deleted, following his social media ban — where he mocked her appearance and claimed she was "bleeding badly from a face-lift," sparking backlash from the media and members of his own party.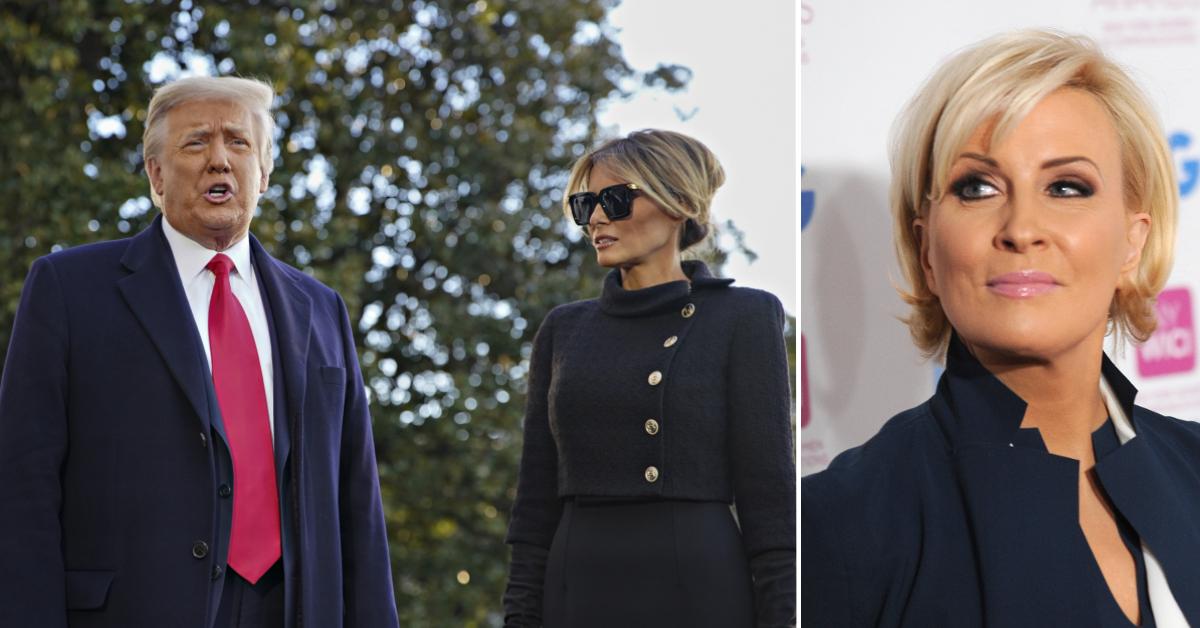 Article continues below advertisement
During a recent chat with host Molly Jong-Fast on "The New Abnormal" podcast, Brzezinski revealed that the scathing tweet originated from a conversation between the political host and the Trumps in their bedroom.  
Article continues below advertisement
Brzezinski and her husband, Morning Joe cohost Joe Scarborough, regrettably (as she put it!) had a working relationship with the former president and would occasionally visit him down at his Mar-a-Lago residence upon Trump's request. 
In 2016, Brzezinski and her husband paid a visit to the former first couple down in Palm Beach, a few days after she had a cosmetic procedure done to reduce the wrinkles under her neck. "I actually had gotten like a thing on the sides of my neck, like I guess they call it like a chin tuck," she told Jong-Fast on April 12. "Four days later, it's New Year's Eve and Trump is calling Joe and he's like 'Where's Mika?' He's always obsessed with me." 
Article continues below advertisement
Still "loopy" on painkillers after going under the knife — and against her husband's advice — she made the trip down and found herself having a conversation with the former FLOTUS about her recent procedure in the couple's bedroom during what she described as a "woman to woman" chat.  
"Melania was very curious about [the procedure]," Brzezinski said. That's when Donald came up and joined the ladies and said, "'You know, Melania has had no work done. She's perfect.' I'm like, 'That's great.'"  
Article continues below advertisement
Donald's claims that his wife has had zero plastic surgery were met with backlash on social media, with many Twitter users saying it's clearly untrue. "Lie!!! It's pretty obvious she had a facelift," one user wrote, while another said: "He has never spoken the truth before why start now. Of course, she has had surgery look at her new nose," they wrote with side-by-side comparison pics of Melania. "Come on!" 
Article continues below advertisement
"She's pretty both ways, but dude be real. Yeah it's a personal thing, but when u live in the public eye and ur pix r accessible everywhere, just admit it or say no comment," a third user wrote, while a fourth commented: "Only cosmetic surgery and Botox could create that appalling look... so much Botox she's lost the ability to use any facial muscles so has the constant look of an angry expressionless mask!" 
Scroll through below to see more scathing tweets claiming Melania has had plastic surgery.  
Article continues below advertisement
Article continues below advertisement
Article continues below advertisement