NEWS
Video Shows Donald & Melania Trump Putting On United Front At $100,000 GOP Fundraiser At Mar-A-Lago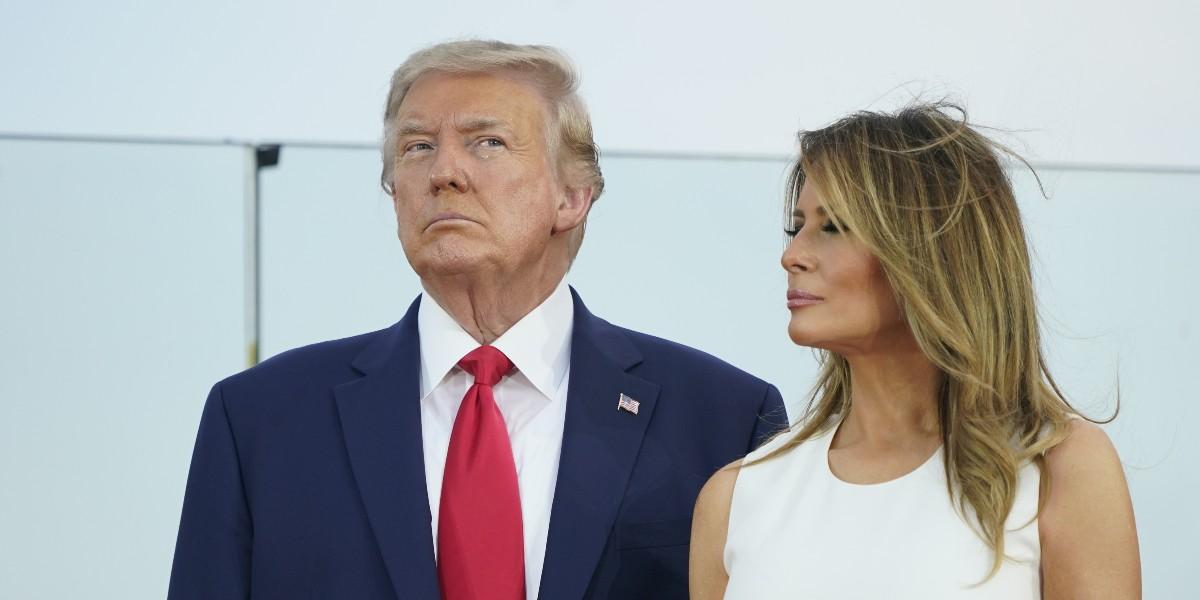 Sticking by her husband's side.
Article continues below advertisement
Melania Trump made a rare public appearance on Saturday, April 10, alongside former president Donald Trump at a GOP fundraiser at Mar-a-Lago resort in Palm Beach, Fla. Attendees were pleasantly surprised to see the former first lady, who has remained ultra private since moving out of the White House in January.
Article continues below advertisement
For the big-ticket dinner, hosted by Trump for Republican National Committee donors, the mom of 15-year-old Barron Trump donned an elegant $1,900 white sleeveless maxi dress by Giambattista Valli, featuring a darted pleated skirt. She accessorized with low white heels and silver jewelry, and she left her brunette tresses down in loose waves.
Article continues below advertisement
According to the Washington Post, the former president spoke for around an hour at the party fundraiser, during which time he told donors that the COVID-19 vaccine should be named after him, referred to the November election in which Joe Biden won as "bulls**t," and said he wished former vice president Mike Pence had possessed the "courage" to send the certification of the Electoral College votes back to state legislatures.
Article continues below advertisement
Despite the fact that the Trumps are putting on a united front in public, some aren't buying it. Life coach and founder of Interpersonal Relationship Coaching (IRC) John Kenny previously said that Melania's body language suggests that she is unhappy with her hard-headed hubby.
Article continues below advertisement
In response to an article that claimed Melania was "bitter and chilly" towards Trump, her team said, "Mrs. Trump is no longer First Lady. She is a private citizen, mother, & wife. Sources in this article are not affiliated w her nor have insight into her thoughts or daily life. CNN's FLOTUS Correspondent choosing to publish false gossip illustrates the media's unhealthy obsession."
Article continues below advertisement
Article continues below advertisement
"Her comment about an Unhealthy Obsession about her relationship is likely because of the emphasis she is placing on it herself," Kenny said. "She might be defending her relationship, as now he is no longer president it is ok for her so speak out. But maybe she is struggling with people highlighting her real emotions."
The Trumps relationship is clearly very different from that of the current First Family. "With the Bidens, we see a couple who are very comfortable with one another and it seems natural for the two to lock hands whether interlaced or palm to palm," Tonya Reiman, author of three books on body language and human behavior, previously told OK!. She added that the Trumps seem like "two individuals who are uncomfortable with each other."