NEWS
'A Sickening & Heartbreaking Sight': George W. Bush Rips Donald Trump Apart After Violent Riots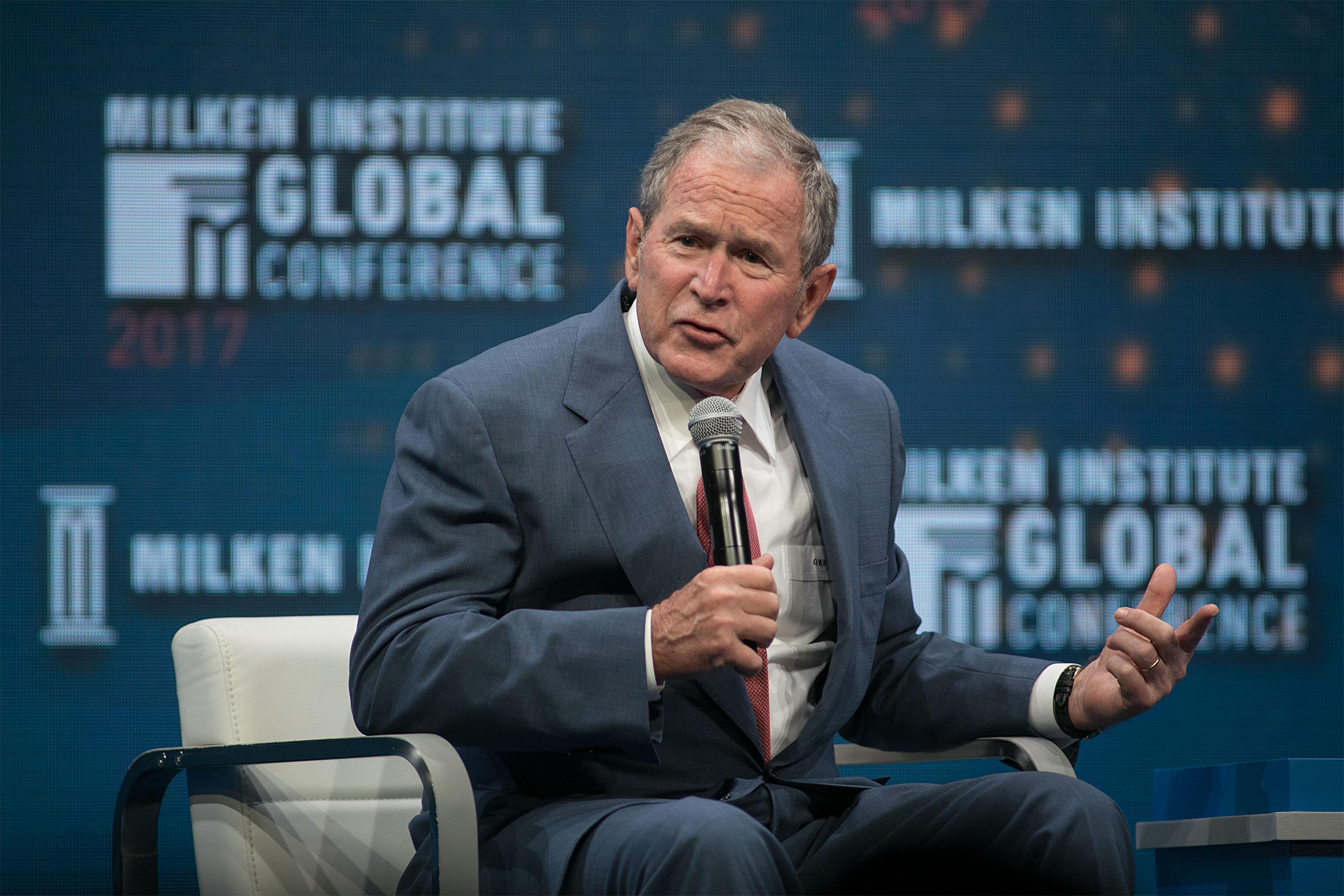 Former President George W. Bush has condemned the riots that took place on Wednesday, January 6, in Washington D.C.
Article continues below advertisement
"Laura and I are watching the scenes of mayhem unfolding at the seat of our Nation's government in disbelief and dismay. It is a sickening and heartbreaking sight. This is how election results are disputed in a banana republic — not our democratic republic," Bush said in a statement.
"I am appalled by the reckless behavior of some political leaders since the election and by the lack of respect shown today for our institutions, our traditions, and our law enforcement."
Article continues below advertisement
According to Bush, the "violent assault on the Capitol — and disruption of a Constitutionally-mandated meeting of Congress — was undertaken by people whose passions have been inflamed by falsehoods and false hopes."
Article continues below advertisement
"In the United States of America, it is the fundamental responsibility of every patriotic citizen to support the rule of law. To those who are disappointed in the results of the election: Our country is more important than the politics of the moment. Let the officials elected by the people fulfill their duties and represent our voices in peace and safety. May God continue to bless the United States of America."
Article continues below advertisement
This came after supporters of President Donald Trump entered the Capitol while Congress was ratifying the Electoral College votes from the 2020 presidential election. At least one person was shot and later pronounced dead, and there have reportedly been several other riots and protests of the same nature across the country.
Article continues below advertisement
While Trump did ask his supporters to leave the building, the President had his Twitter account temporarily suspended and three tweets removed after he released a video where he said, "I know your pain, I know you're hurt. We had an election that was stolen from us. It was a landslide election and everyone knows it, especially the other side. But you have to go home now… This was a fraudulent election, but we can't play into the hands of these people. We have to have peace. So go home. We love you, you're very special."
"The violence and destruction taking place at the US Capitol Must Stop and it Must Stop Now. Anyone involved must respect Law Enforcement officers and immediately leave the building," Vice President Mike Pence tweeted.
Article continues below advertisement
Article continues below advertisement
"I call on President Trump to go on national television now to fulfill his oath and defend the Constitution by demanding an end to this siege," President-Elect Joe Biden said.
Bush is not the only former president to speak out against the rallies.
"History will rightly remember today's violence at the Capitol, incited by a sitting president who has continued to baselessly lie about the outcome of a lawful election, as a moment of great dishonor and shame for our nation. But we'd be kidding ourselves if we treated it as a total surprise," Barack Obama said in a statement.
Article continues below advertisement
"For two months now, a political party and its accompanying media ecosystem has too often been unwilling to tell their followers the truth — that this was not a particularly close election and that President-Elect Biden will be inaugurated on January 20."
Article continues below advertisement
Meanwhile, Bill Clinton said it was "an unprecedented assault on our Capitol, our Constitution, and our country."
"The assault was fueled by more than four years of poison politics spreading deliberate misinformation, sowing distrust in our system, and pitting Americans against one another."
Article continues below advertisement
"Rosalynn and I are troubled by the violence at the U.S. Capitol today," Jimmy Carter said in a statement. "This is a national tragedy and is not who we are as a nation."
Congress has concluded counting the Electoral College votes and confirmed that Joe Biden and Kamala Harris will take office on January 20.