ENTERTAINMENT
Julianne Moore Examines 'Anxieties And Emotions' In 'Lisey's Story,' Reveals She's 'A Big Fan Of Therapy'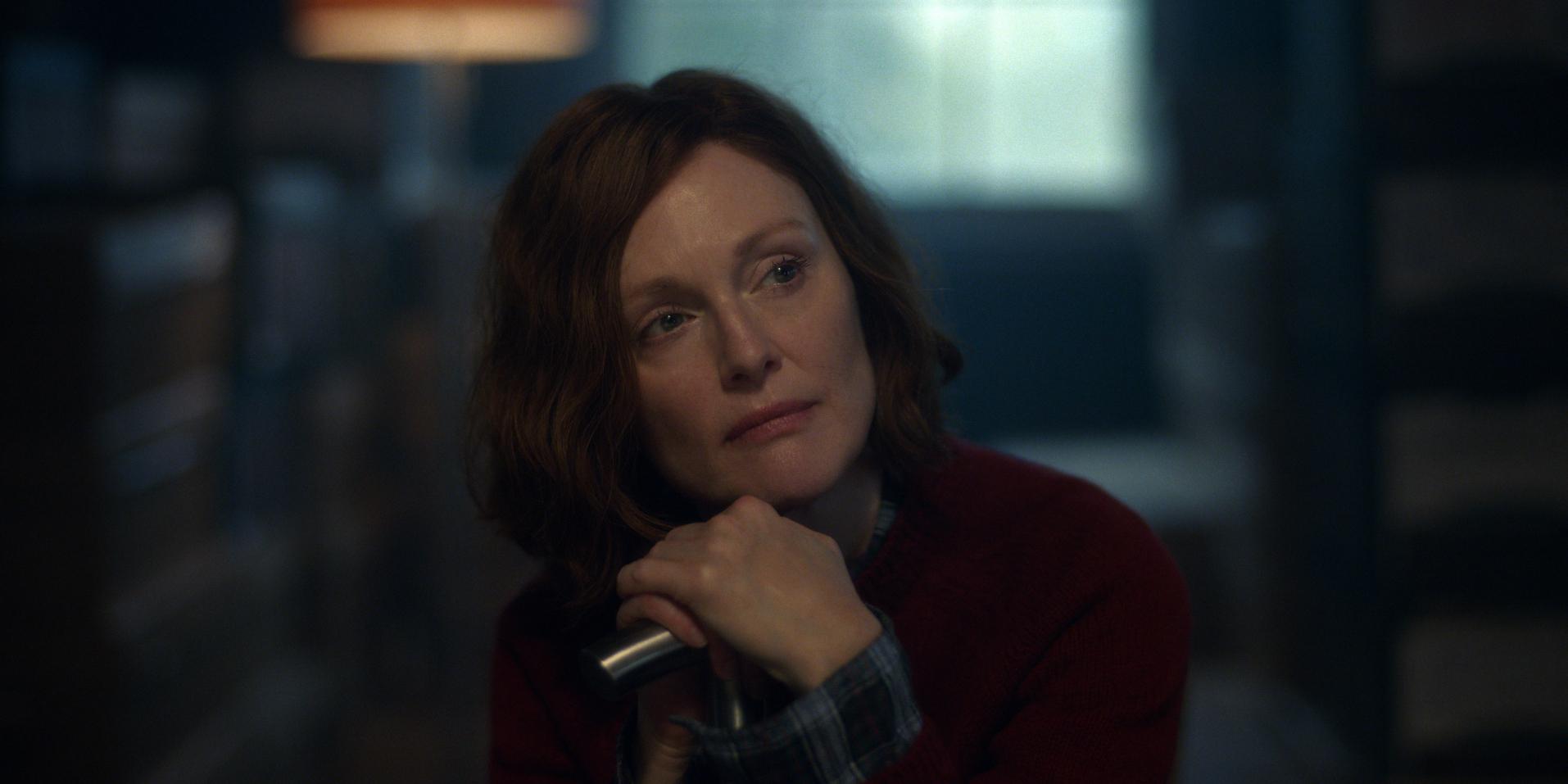 With her breakout role as a vulnerable porn star in 1997's Boogie Nights and her memorable turns as Sarah Palin in Game Change and an Alzheimer's patient in Still Alice, Julianne Moore has established herself as one of Hollywood's most versatile and fearless actors.
Article continues below advertisement
Now, in Lisey's Story, her new Apple TV+ miniseries based on Stephen King's 2006 novel, the Oscar winner plays the widow of a wildly popular writer (Clive Owen), who travels to an alternate world and is forced to face terrifying memories of her marriage that she's long repressed.
Article continues below advertisement
"[Director Pablo Larraín] made us go deep," teases Moore, 60. Here, she discusses the challenges of keeping it real in Lisey's world, how the show relates to her own life — including her 18-year marriage to director Bart Freundlich, 51, with whom she shares kids Liv, 19, and Caleb, 23 — and how scary movies can be good for the soul.
What drew you To Lisey's Story?
I love supernatural and psychological horror because it's about our feelings writ large. These stories are a way to examine our anxieties and emotions, so that was an attraction for me. Also, as an actor, you want to find the reality of a character, and trying to do that when you're dealing with the supernatural was challenging and exciting.
Article continues below advertisement
Are you someone who's good at confronting your anxieties?
Our feelings are fantastic, interesting, wonderful and sometimes debilitating, but we have to keep engaging with them. So I'm a big fan of therapy. One of the things I love about modern life is people's ability to share what's going on with them and not feel so isolated. You think you're the only one with this kind of anxiety or fear, but then you realize, "No, no, everybody has it."
Does it make you anxious when overeager fans approach you?
It feels really great when somebody is like, "Your movie was so meaningful to me and your performance is so much like my life and I just wanted to say hello." You're blown away by it because that's the kind of interaction you want to have. I've had many of them, and I've never found anybody to be too intrusive. Sometimes people are inappropriate, but then, aren't we all!
Article continues below advertisement
Stephen King has said that couples' long-term marriages create a secret place that people on the outside can't see into. Do you agree?
I think that any of us who have been in a long-term relationship knows that it's only the two of you who know what happens inside it. And, of course, with Stephen, he's taken that idea and made that secret world a supernatural place.
Article continues below advertisement
The show also delves deep into family relationships.
I loved that family element. You see Lisey and [her husband's] childhood[s] and their various experiences — what has been wonderful, what has been traumatic, and how it shapes them. And Lisey's relationship with her sisters is so real. They have their difficulties but they also really lean on each other. To see these three women that are still so intertwined as adults was so beautiful and moving.
You served as executive producer for the series. How hard was it wearing two hats?
As a producer, a lot of the work happens before you start shooting. You have conversations with people and make creative decisions together. When you start shooting, that's when you flip to being an actor. So it wasn't tremendous heavy lifting.