Will Khloé Kardashian Leave Tristan Thompson After Cheating Scandal? 'Being Alone Terrifies Her,' Says Source
It seemed like Khloé Kardashian was finally getting her happily ever with Tristan Thompson — but everything changed when Instagram model Sydney Chase claimed she hooked up with the NBA player after he and the reality star reconciled.
Article continues below advertisement
Not only had Kardashian and Thompson rekindled their flame over the summer after quarantining together with their daughter, True, but he also reportedly gave her a giant diamond ring (which she has since been seen without in light of the drama).
Article continues below advertisement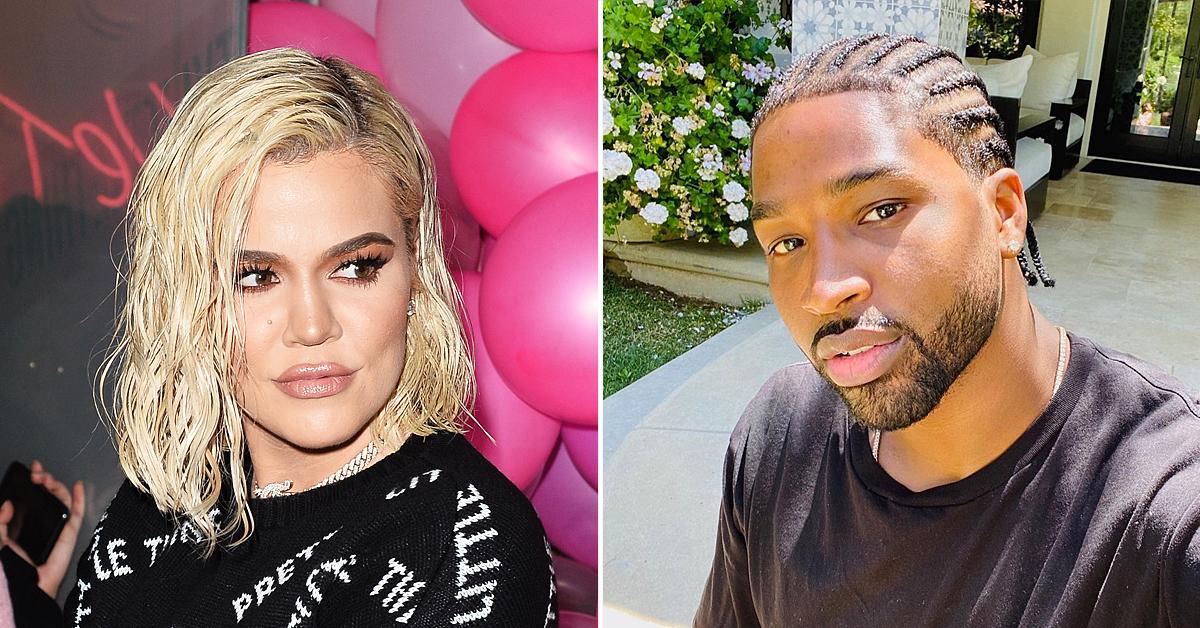 Everything changed on April 22 when Chase claimed she had a relationship with Thompson during her appearance on Adam22's "No Jumper" podcast. According to the model, their affair began last November.
Article continues below advertisement
The 23-year-old made more shocking claims, revealing dirty text messages that were allegedly sent from him, following the initial interview, leading many to wonder why Kardashian is still sticking around the athlete, who cheated on her twice before.
The KUWTK star is "a wreck," an insider told Life&Style for the May 17th print issue, explaining that "Khloé knows she should kick Tristan to the curb, but the thought of being alone terrifies her."
Article continues below advertisement
History may be repeating itself, as Kardashian took Thompson back after he famously cheated on her in 2018, just days before the reality star was due to give birth to their daughter. One year later, it was revealed he kissed Kylie Jenner's ex BFFL, Jordyn Woods, at a party.
Article continues below advertisement
And after going "ballistic" when the allegations first made headlines, Kardashian is now debating what to do next. "They had been planning a wedding, but there's no way she's going to walk down the aisle any time soon after this," an insider told InTouch for the publication's May 17th print issue.
However, being caught hasn't stopped "Tristan from groveling for yet another chance," they added. And while her famous family is urging the Good American co-founder to walk away from her on-again-off-again boyfriend for good, "Khloé can't just switch off her emotions."
Article continues below advertisement
During the scandalous interview, taped April 8, Chase opened up about how her romance with the Boston Celtics player began. "He told me he was not in a relationship anymore. I literately said, 'Are you single?' [He said] 'Yes,'" she recalled of their alleged conversation.
Chase claimed: "we talked, hung out multiple times, we went out together, everything." However, she "cut it off" with Thompson when she found out "he was not single," Chase said on the podcast.
Article continues below advertisement
As OK! reported, Thompson didn't warn Kardashian about the interview, even though Chase allegedly told him about it before it aired, because he "didn't think he would actually get caught," a source said. Therefore, Kardashian found out about the cheating claims with the rest of the world.
Article continues below advertisement
She was "blindsided," an insider alleged, adding that she was "still deciding which side of the story to believe," after the bombshell was first dropped. And while she tried to get to the bottom of the claims — she reached out to Chase directly — it seems Kardashian still has no clarity.
The mother-of-one allegedly direct messaged Chase on Instagram DMs asking to have a "confidential" chat. Chase allegedly threw Kardashian's request out the window, as she posted a screenshot of the notification from the reality star to her Instagram, The Shade Room reported.
Only time will tell if Kardashian will be able to forgive Thompson after he allegedly cheated on her publicly for the third time now.