COUPLES
Is Khloé Kardashian's Cryptic IG Message About Tristan Thompson's Cheating Rumors? 'KUWTK' Star Says 'Think Healing, Think Happiness'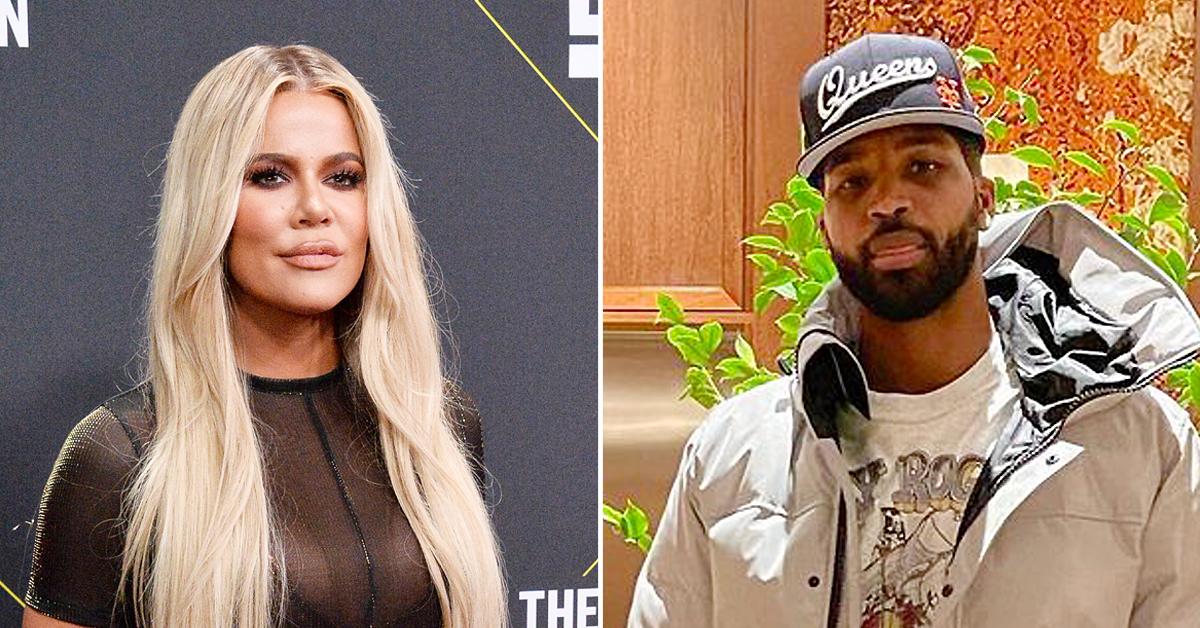 Despite the cheating allegations surrounding Khloé Kardashian's boyfriend, Tristan Thompson, the KUWTK star is reminding herself to remain calm and positive during this time.
Article continues below advertisement
After she made the initial cheating claims during a podcast interview last month, Chase discussed her alleged romance with Thompson on two separate occasions. She claimed he reached out to her twice since finding out about the interview and revealed dirty text messages that were supposedly sent from him — going so far as to say that Kardashian wasn't his type!
Article continues below advertisement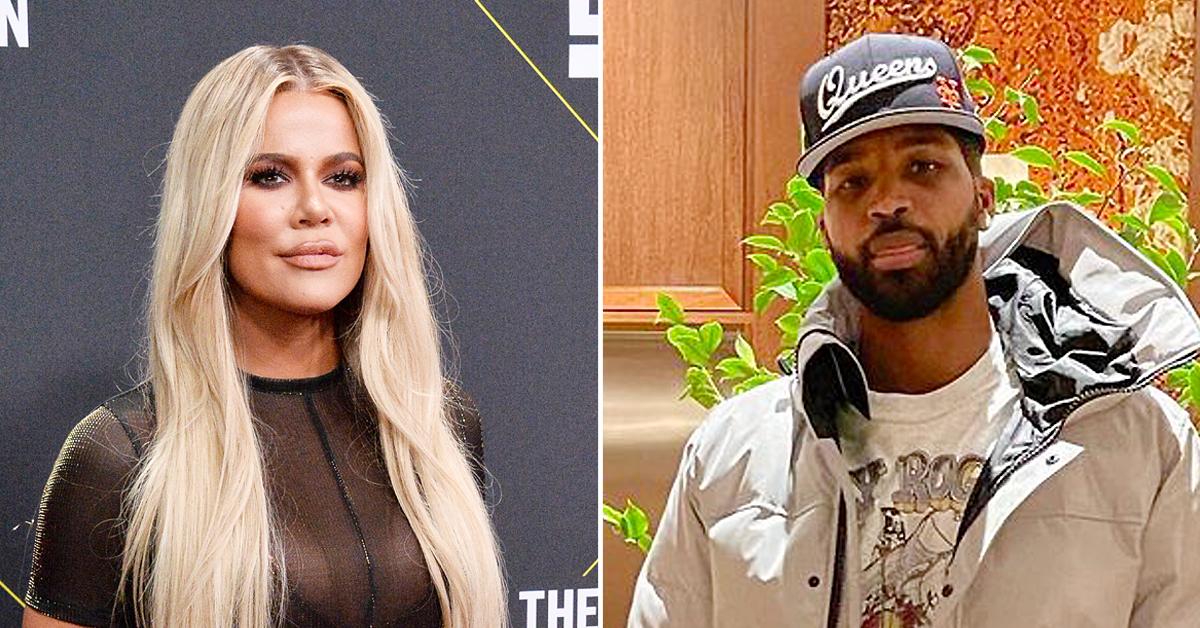 According to Chase, their relationship began last November and she "cut it off" immediately after finding out he was still with his 36-year-old baby mama.
Article continues below advertisement
While Thompson, 30, nor Kardashian have addressed the rumors, Kardashian seemed to hint at where the two stand via cryptic messages posted to Instagram.
Most recently, the mother-of-one shared an inspirational quote, leading fans to suspect she was alluding to the scandalous claims made about her on-again-off-again boyfriend.
Article continues below advertisement
"Speak positive words into your life every single morning," the reality star wrote to her 143 million followers. "Think big. Think healing. Think success. Think peace. Think happiness. Think growth mindset. Always start the day with positive energy — you deserve it."
Article continues below advertisement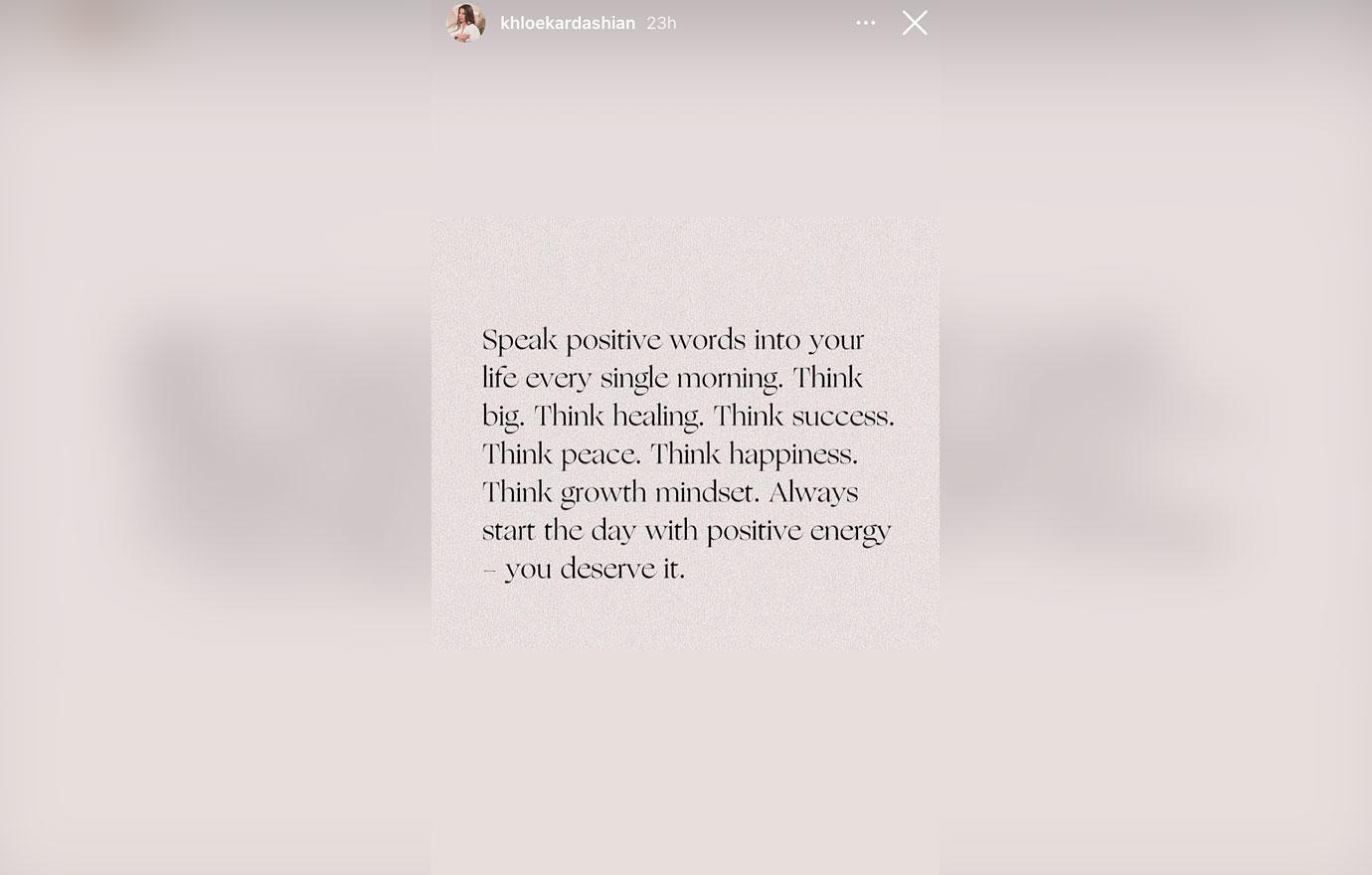 While Kardashian may be hinting at positive thoughts regarding her relationship with Thompson — who previously cheated on her twice, one time being right before she was due to give birth to True in 2018 and another time with Kylie Jenner's ex-BFFL, Jordyn Woods — her past cryptic posts sent a different message.
Article continues below advertisement
Days after Chase's interview on Adam22's "No Jumper" podcast aired on April 22, Kardashian took to her Instagram Story to share a quote. "When thinking about life, remember this: no amount of guilt can change the past and no amount of anxiety can change the future," her post read.
As OK! reported, Kardashian was "blindsided" by the cheating claims, since Thompson "did not tell Khloé" because he didn't seem to think it would get out," an insider previously dished. (Chase claimed to have warned Thompson about the interview before it aired.)
Article continues below advertisement
Since Kardashian has been burned in the past, she decided to do some digging on her own.
Article continues below advertisement
Earlier this month, Kardashian allegedly reached out to Chase via Instagram DMs, asking to have a private chat and for it to "remain confidential." However, Kardashian's desired talk didn't go as planned, since Chase reportedly shared a screenshot of the notification from Kardashian to Instagram. While she quickly deleted the post, The Shade Room caught it.
And after Thompson sent Chase and the podcast a cease and desist — with his lawyer, Marty Singer, calling the 23-year-old a "liar" and insisting she never had any relationship with Thompson nor did he ever send her messages — Kardashian was spotted without her massive diamond ring (which was believed to have been given to her by her baby daddy). At the time, she showed off her new fiery nails via her Instagram Story with her rock noticeably absent from her hand.