NEWS
Nike Granted A Restraining Order Against Lil Nas X's 'Satan Shoes'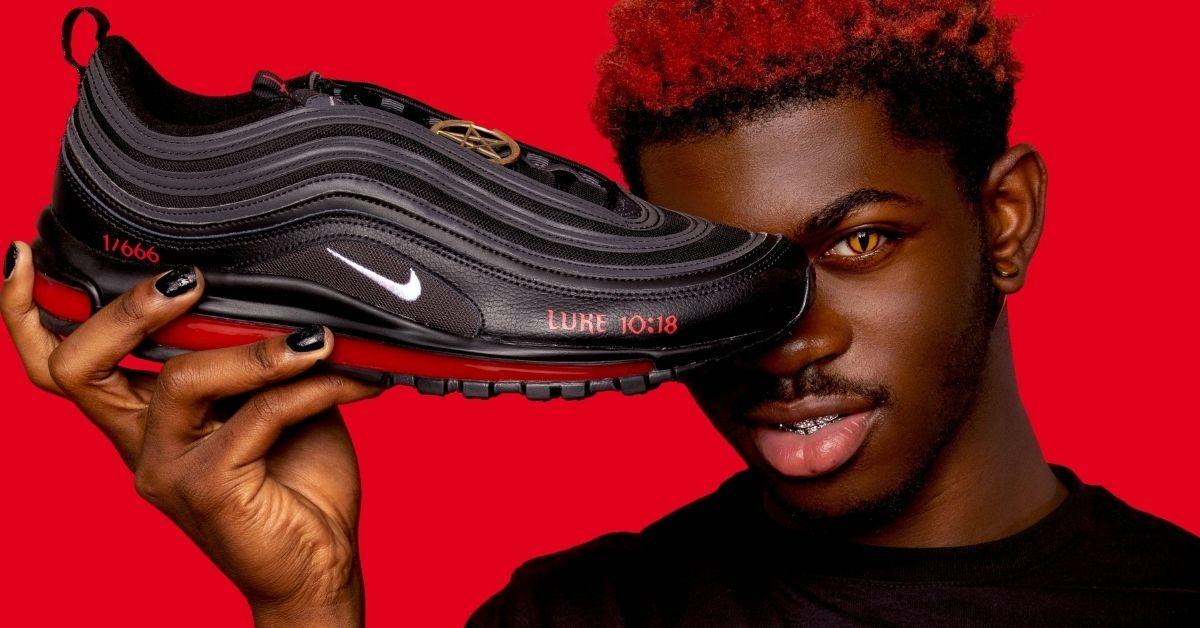 Lil Nas X's "Satan Shoes" are still stirring up a fuss. Nike has managed to temporarily block the sale of the sneakers, which contain a drop of real human blood. 
Article continues below advertisement
On Wednesday, March 31, Nike's request for a temporary restraining order against MSCHF, the art collective that collaborated with Lil Nas X on the shoes, was approved by a U.S. District Court in New York after 666 pairs of Nike Air Max 97s were modified for the collection. 
Article continues below advertisement
"Nike filed a trademark infringement and dilution complaint against MSCHF today related to the Satan Shoes," Nike told CBS News in a statement. "We can tell you we do not have a relationship with Lil Nas X or MSCHF. The Satan Shoes were produced without Nike's approval or authorization, and Nike is in no way connected with this project."
Article continues below advertisement
While the court order says that MSCHF cannot fulfill any orders, their lawyer said that over 600 pairs have already been shipped, which makes Nike's claims irrelevant. However Nike's lawyer had "some serious doubts" that MSCHF shipped 665 pairs of shoes within days but even if they had, that would not eradicate the "irreparable harm" they caused.
According to Nike's attorney, shipping the shoes did not eliminate the "post-sale confusion and delusion" experienced by Nike customers because MSCHF featured Nike's logo without a public disclaimer. As a result, Nike said some customers had begun a boycott because they thought the brand was associated with Satan and want MSCHF to recover all orders currently in transit. 
Article continues below advertisement
MSCHF said that the shoes are an art piece to criticize collaboration culture and how "Nike will collaborate with anyone," with reference to the "Jesus Shoes," which made "just as big of a societal impact." 
Article continues below advertisement
Earlier this week, Nike said the shoes are "likely to cause confusion and dilution and create an erroneous association between MSCHF's products and Nike."
Article continues below advertisement
"We look forward to working with Nike and the court to resolve this case in the most expeditious manner," MSCHF told CBS News but said the company "strongly believes in the freedom of expression," and "nothing is more important than our ability, and the ability of other artists like us, to continue with our work over the coming years."
The 665 pairs of sneakers sold out in just one minute on Monday, March 30. The final pair of the "Satan Shoes," which was priced at $1,018, was held for a giveaway that has since been put on hold. "Sorry guys i'm legally not allowed to give the 666th pair away anymore because of the crying nerds on the internet," Lil Nas X, who was born Montero Lamar Hill, said. 
Article continues below advertisement
The black shoes have a pentagram on them, and the price tag was a nod to the Bible passage Luke 10:18, which says, "I saw Satan fall like lightning from heaven." The release coincided with Lil Nas X's new single "MONTERO (Call Me By Your Name)," which was just as controversial, as the 21-year-old appeared to descend to hell and seduce the devil in acceptance of his sexuality. 
Article continues below advertisement
"I haven't been upset until today, i feel like it's f**ked up they have so much power they can get shoes cancelled. freedom of expression gone out the window. but that's gonna change soon," Lil Nas X tweeted.