Olivia Rodrigo Is 'Flattered' Courtney Love Knows Who She Is, Despite The Rocker Slamming Her For 'Stealing' Hole Album Cover Concept
Courtney Love may have had a brutal response to an Olivia Rodrigo promo piece that resembled Hole's Live Through This album cover, but the 18-year-old is just happy to be on the rocker's radar.
Article continues below advertisement
When asked about the two's alleged rift, Rodrigo told GQ in a story published on Wednesday, August 4, that she was "just flattered that Courtney Love knows that I exist." However, the "good 4 u" singer steered clear of mentioning the plagiarism accusations in the interview.
In June, the High School Musical: The Musical: The Series star released promotional artwork for her "Sour Prom" live stream concert film, with one of the images depicting Rodrigo in tears while wearing a prom dress and a tiara, as she held a bouquet of flowers in front of a purple background. The image is similar to the cover of the Hole frontwoman's 1994 album.
Article continues below advertisement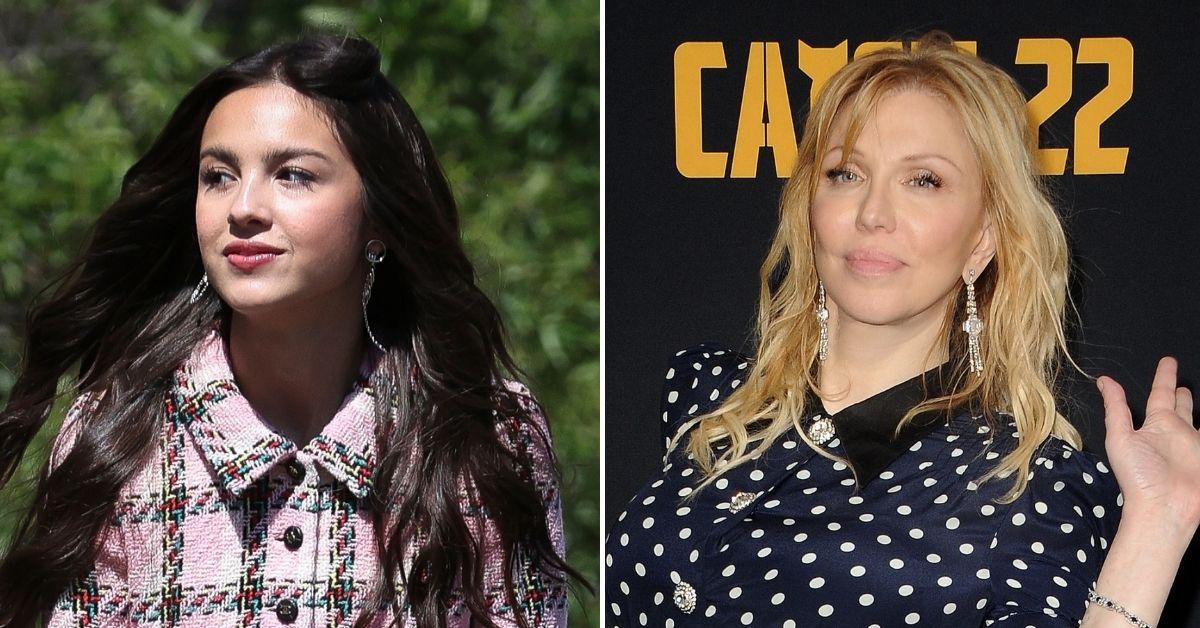 Article continues below advertisement
"Spot the difference! #twinning! @oliviarodrigo 😉👸👸," the 56-year-old originally captioned an Instagram post with the two images side-by-side. "love u and live through this sooooo much," Rodrigo commented in response.
Article continues below advertisement
At the time, the "Celebrity Skin" singer also commented on the matter on Facebook.
"it was rude of her , and geffen [Records] not to ask myself or Ellen von unwerth [Live Through This photographer] . It's happened my whole career so I d c . But manners is manners !" Love told one fan who had said that the promotional photo was a "total rip-off" of Live Through This.
Article continues below advertisement
"Stealing an original idea and not asking permission is rude. There's no way to be elegant about it . I'm not angry . It happens all the time to me," Love told another fan, and later commented that she is honorable to other artists and expects the same in return.
Article continues below advertisement
"It's on GEFFEN," Love wrote in another comment at the time. "I've informed her I await her flowers snd [sic] note . I sure hope it's long . Does Disney teach kids reading and writing ? God knows. Let's see . Yes this is rude. Rage inducing ? Honey if I had a dollar for everyone this happens ? I'd be real rich !"
Love is not the only artist Rodrigo is flattered by: In the GQ interview, Rodrigo admitted she was starstruck when it emerged that Ed Sheeran is a fan of her music.
Article continues below advertisement
"I think he's one of the best songwriters ever. It's weird to think about people like that looking at my Spotify and turning on my songs. That's so crazy. But yeah, I'm excited to meet my peers too," she gushed about the "Shape of You" singer. " I haven't met many people, so that will be fun."
Article continues below advertisement
Having gotten her start on Disney Channel, Rodrigo told the outlet that she was following Britney Spears' ongoing conservatorship story closely and said she could relate to some extent to what Spears went through.