REALITY TV
Ramona Singer Locks Horns With Kenya Moore, Kyle Richards & Melissa Gorga Investigate A Leak: 5 Of The Most Dramatic Moments From 'The Real Housewives Ultimate Girls Trip' Premiere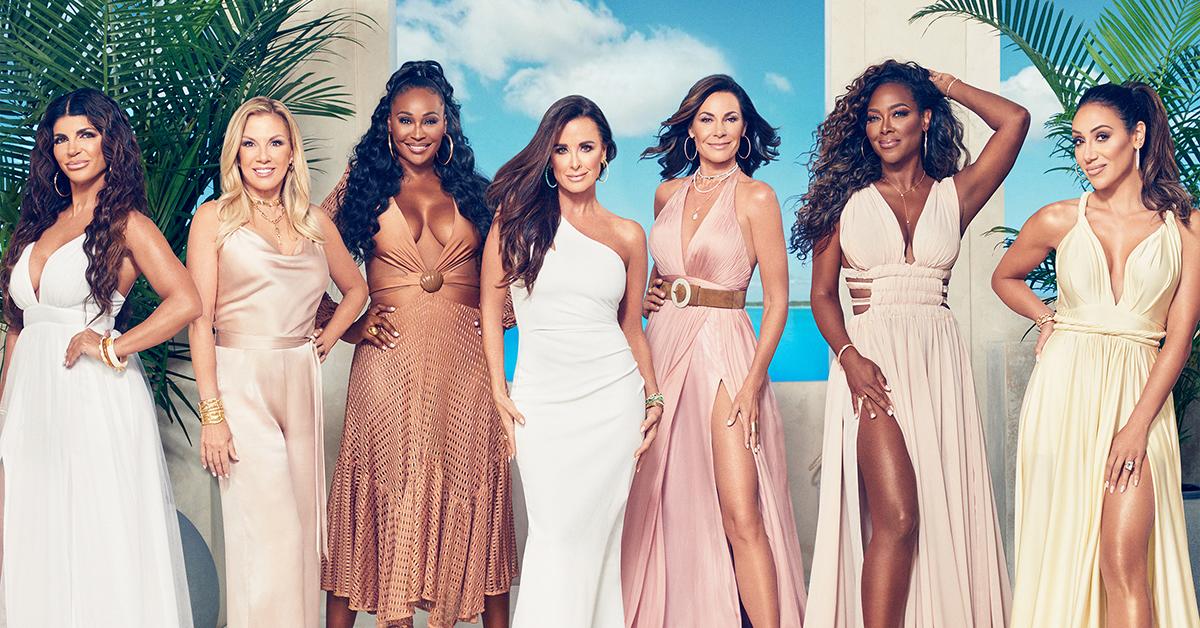 This is not a drill! Peacock has dropped The Real Housewives Ultimate Girls Trip two days early — and it's even more entertaining than you imagined.
Article continues below advertisement
Two of the series' stars previously gave OK! a hint into what fans can expect. "It is one of the funniest trips I have ever been on. I've never had that much fun on a New Jersey Housewives girls' trip as I did on this one," Gorga told OK!. "This one is one for the records. They brought all their big personalities and we just go for it."
Article continues below advertisement
Still, nobody knew what to expect when you get a bunch of Housewives from different cities in the same place. (Even Gorga muses, "This is like, interesting. I always wondered how it would be with all of us together.")
Article continues below advertisement
Well, now we know: Lots of laughs, chaos — and drama! Read on for our recap.
Article continues below advertisement
Melissa Informs Teresa That Ramona Dissed Her
It begins! As soon as the RHONJ stars get in their car heading to their jet, Gorga informs her sister-in-law that Singer has been throwing shade. "Kyle called me while I was packing and she said she spoke to Ramona and Ramona like, called you the scarecrow," she reports, explaining to the mom-of-four that the iconic Wizard of Oz character has no brain.
Article continues below advertisement
"If you kind of look at her and the way she acts, she looks like she doesn't have a brain," Giudice answers. "She looks like the tin man that needs a brain."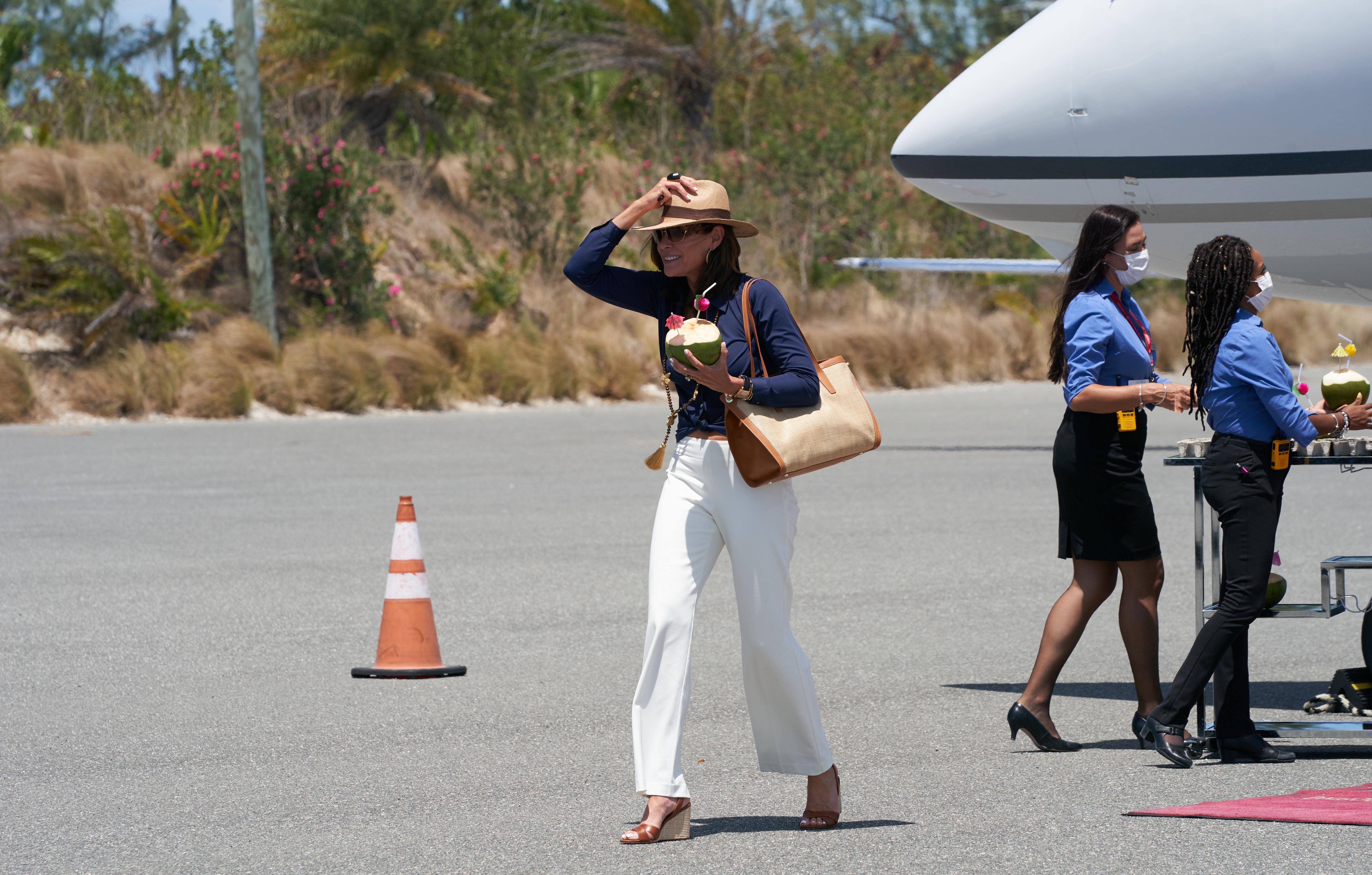 Article continues below advertisement
Ramona Kicks Things Off — And Then Some
As the ladies get comfortable on their jet, it took what appears to be a few moments before Singer boasts that "[RHONY] put Bravo on the map with a franchise."
The cast couldn't hold back their doubt: "It's like saying, because of me, you are here right now" de Lesseps winced, while Giudice shot back, "Call me when you invented a move that defines a franchise: I literally invented table-flipping." (In one snappy moment, Moore questions whether dementia is the reason Singer believes her series spearheaded the franchise.)
Article continues below advertisement
While recounting a moment from season 7 — in which Singer unapologetically pursues a man at Conch Shack — she explains she was flirting with the man while in the midst of a divorce.
"I was into him. I was flirting," Singer explains. "That is when I decided I couldn't be with my ex-husband anymore, it was over." As Moore pressed on about Singer flirting with another man while married, Singer shoots back, "Yeah, because I was getting f***ing divorced, b**ch!"
Article continues below advertisement
Obviously this doesn't fly with Moore, who says: "That is unacceptable, what you're not going to do on this trip is call me a bitch," adding: "I don't know how … you are in New York, but b***h you are not going to disrespect me."
Though the tension is palpable, Moore ultimately decides to be the bigger person and let it go — for the time being.
Article continues below advertisement
Later in the car en route to their destination, Bailey, Richards and Moore discuss the drama that just went down, with the RHOBH star noting: "The funny thing is, I was looking at things online of all of us coming here, and they were like, [Ramona's] going to start calling Kenya 'Porsha' [Williams]. I didn't know what that meant and then today she did." The episode then cuts to a scene where the RHONY star refers to Moore using her nemesis' name.
"I think it was an honest mistake," the mom-of-one says in a confessional, smiling, "but she shouldn't do it again."
Article continues below advertisement
Fighting Over Rooms
Of course, it wouldn't be a Housewives trip involving Singer without a little room-choosing drama. As the ladies search for their temporary, yet idyllic, digs, they come across the Life on the Ramona Coaster author, who has already decided where she will lay her head. "I'm the most senior here. All my fans are saying, you better get the best room," the 64-year-old explains in a confessional. "Well, maybe I should get the best room, maybe I should care, I gotta support what my fans think."
Article continues below advertisement
Still, the other franchise stars are shocked by Singer opting to choose her room without discussing it with them first. "I'm so used to being embarrassed by Ramona that I'm not fazed anymore," de Lesseps admits. "It's kind of nice to see her being called out, finally. Karmas a b***h, isn't it?"
However, Richards has had enough with witnessing the squabbling. "Guys, I can't be fighting for a room, it's beneath me," the Halloween Kills actress says. "I'm not going to fight with people, I don't care. We have beautiful homes in L.A."
Article continues below advertisement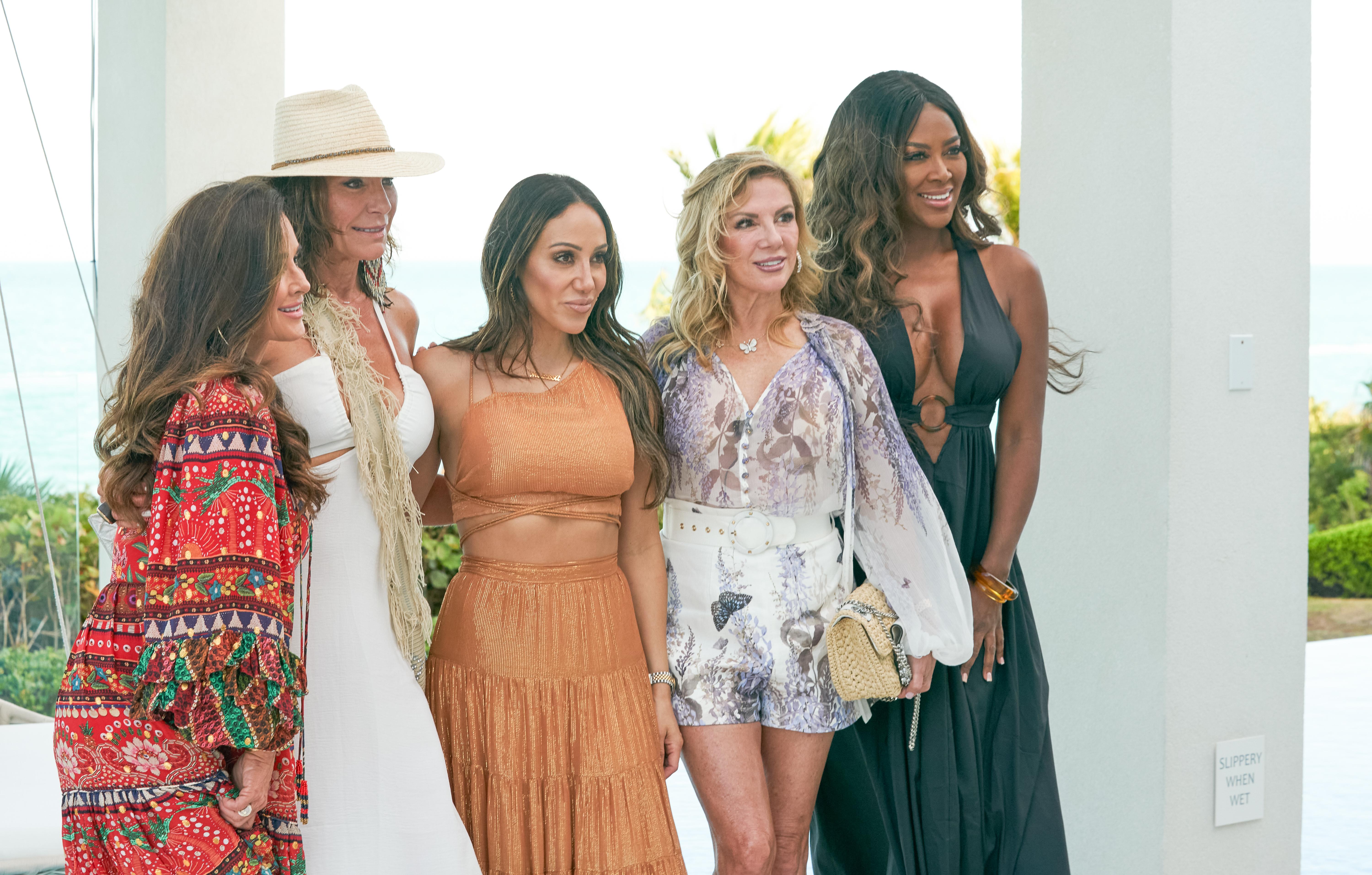 Ramona's Exhibitionist Side Gets Old Real Quick
Bailey and Moore attempt to chat with Singer about the situation — only to find that she's already made the room her own, and is showering in plain view. "I haven't known this lady a day, and now I've already seen her naked. Really?" Baily laughs.
Article continues below advertisement
Giudice also attempts to speak with Singer — with Michael, the villa's concierge, in tow — and walks out shocked. The Standing Strong author informs the group of what she's just witnessed, and asks Michael if he liked what he saw, to which de Lesseps quips, "You didn't sign up for a senior citizen, did you?"
Later, as Ramona is pleading her case to Michael and the kitchen staff about the room situation, Richards remarks, "Oh my gosh she's naked. Her butt is hanging out. Why do I have to see her ass crack when I'm eating right now?" (Singer clarified she was wearing a cover-up and underwear.)
Article continues below advertisement
Who Is The Leak?
Gorga points out to Richards that someone on Twitter is reporting what is going on during the trip "verbatim" — including Singer choosing her room — prompting them to check out the person's social media accounts. They notice Moore follows the man in question, and there is a photo of them together.
Article continues below advertisement
Richards brings it up later at dinner, and Moore casually offers, "I know Anthony." Gorga responds, "You have a picture with him on your Instagram — to which Moore reiterates: "I know Anthony," before Gorga questions: "but you're not talking to him at all?"
"No, why would I call him from Turks and Caicos?" Moore answers. However, the other ladies don't seem too convinced. "I ain't saying Kenya leaked it, all I'm saying, I know she knows Anthony," Bailey says.
Article continues below advertisement
"Whenever a story like this comes out, you always have to think, who does this benefit?" Richards says in a confessional. "Getting my detective hat out now."
The attention eventually turns back to Singer after Moore mentions that she was informed the mom-of-one has a habit of "running to the room every time," which of course led into another argument between the two.
Article continues below advertisement
But after a chat with Bailey, Singer sees the errors in her ways. "I really started off on the wrong foot when we got to the house and I made the energy bad," she tells the group. "We're all here together to have a good time and it wasn't my intention to be this person you aren't receptive to … I did the wrong thing."
Singer also apologizes to Giudice, explaining her "scarecrow" remark: "I really love smart women, I only surround myself with smart women, and I wasn't sure how bright you were."
Article continues below advertisement
"It's like whatever, sometimes you just gotta accept people for how they are," Giudice later says. "I'm a New York Times bestselling author, I wrote six books, so I know I definitely have brains up there."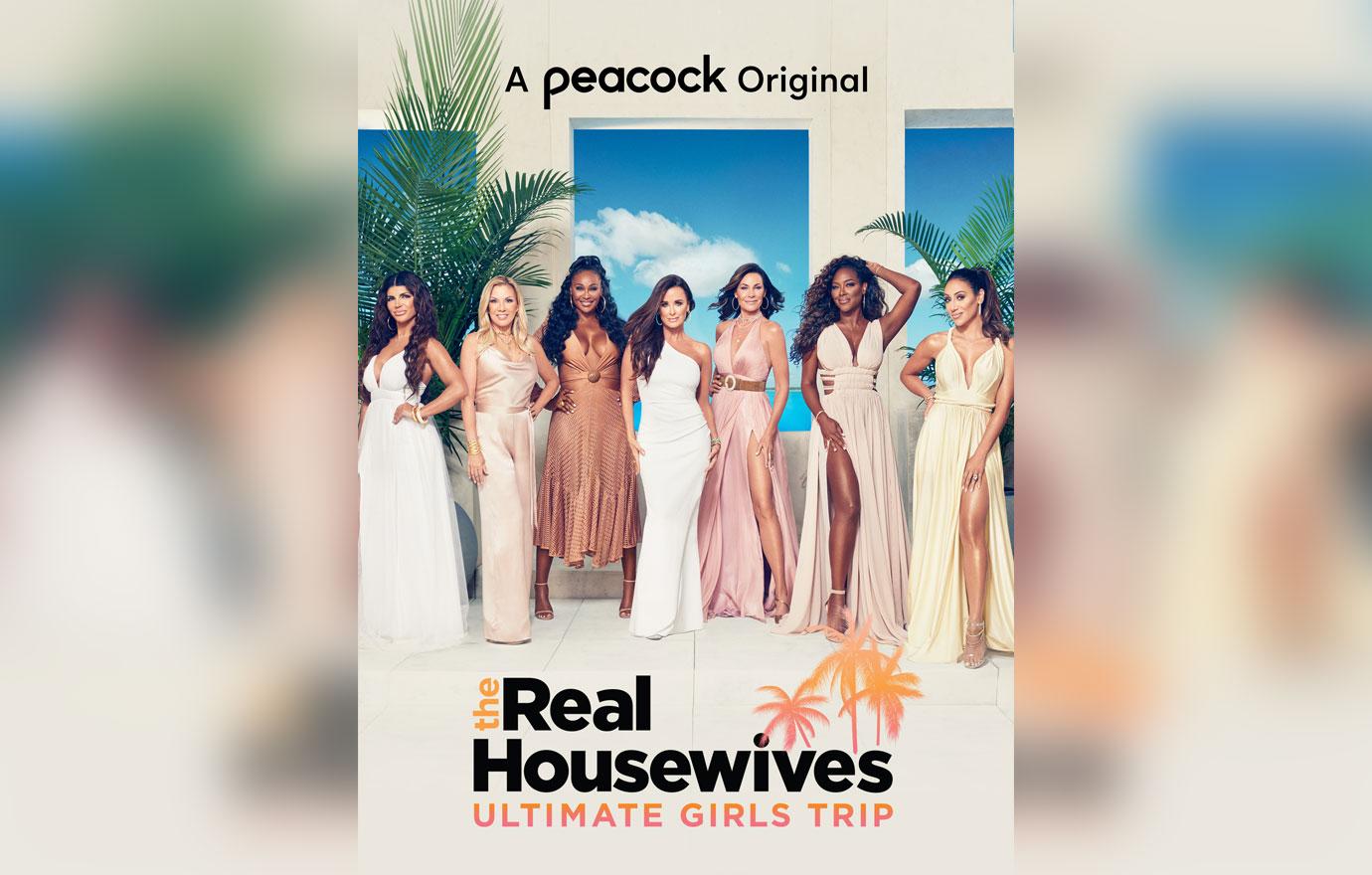 Article continues below advertisement
As the premiere wrapped up, the episode cut to five days later in a moment featuring Moore bringing up an incident in which Singer allegedly tried to blackmail de Lesseps.
In addition to the first three episodes which dropped on Tuesday, November 16, Peacock will release a new episode of The Real Housewives Ultimate Girls Trip every Thursday morning.