Prince Philip & John F. Kennedy Jr.'s Secret Bond Revealed: Duke Of Edinburgh Provided Comfort Following JFK's Tragic Assassination
Following the sad passing of the Duke of Edinburgh, Prince Philip, on April 9 — author Paul Brandus shared a sentimental story of how the beloved royal comforted a grieving John F. Kennedy Jr. following his father's assassination in 1963.
Article continues below advertisement
Brandus tweeted a touching moment from the book The Death of a President between Queen Elizabeth II's husband and a 2-year-old JFK Jr. after the Duke flew to D.C. to attend President Kennedy's funeral.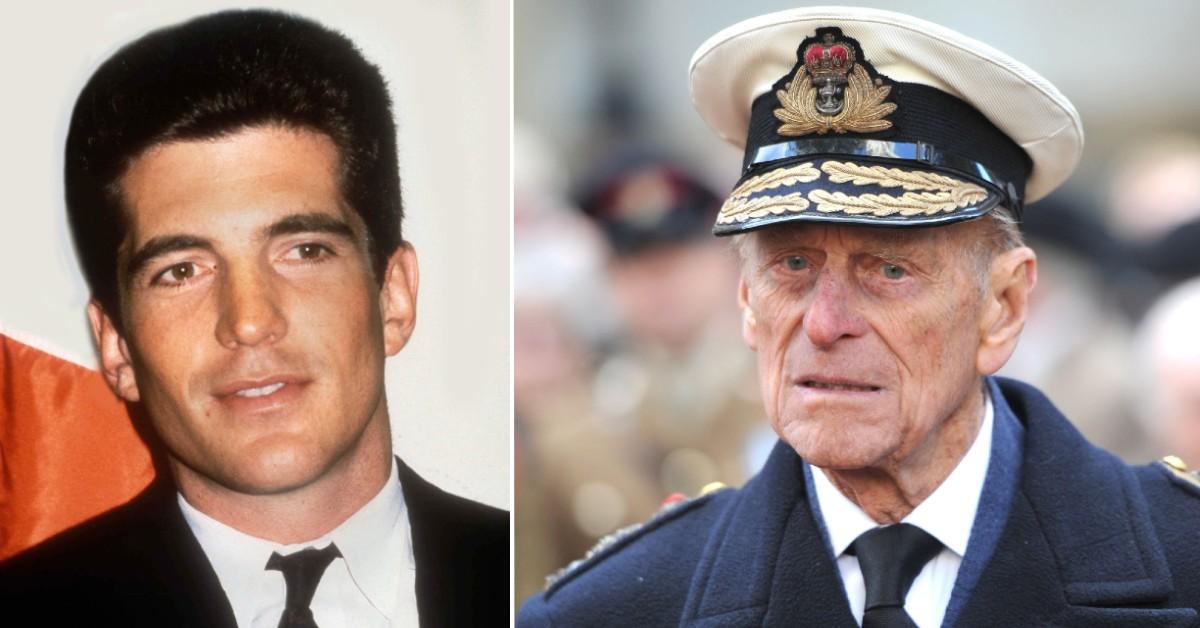 Article continues below advertisement
"A story about Prince Philip, who died today at 99," Brandus wrote on April 9. "The weekend of the Kennedy assassination, [Philip] flew to Washington for the funeral. At the White House on Sunday, Nov. 24, 1963, Jacqueline Kennedy was looking for John Jr. and opened the door to his playroom," he continued.
Article continues below advertisement
"There she found the Prince sprawled on the floor, playing and laughing with the murdered president's son. Days from his 3d [sic] birthday, John had said earlier that he 'didn't have anybody to play with' (also: 'where's Daddy?') and her Majesty's husband decided that he would entertain the boy. RIP," Brandus tweeted.
The Under This Roof: A History of the White House and Presidency author also shared a heartwarming photo of the late Prince Philip holding JFK Jr.'s hand nearly a year and a half later during a special memorial ceremony in the U.K., in honor of his murdered father.
Article continues below advertisement
"In May 1965, the British government gave an acre of land to the United States for a memorial to the murdered president at Runnymede - site, 750 years earlier, of King John signing the Magna Carta," he wrote. "Here, John Jr. holds hands with his Mom and the Prince."
Article continues below advertisement
As OK! previously reported, Prince Philip died at 99 last week — making him the longest-serving royal consort in British history. A funeral for the beloved royal is scheduled to take place on Saturday, April 17.
Due to the ongoing coronavirus pandemic, OK! learned that the funeral will be considerably smaller than normal royal funerals, and the guests will wear face masks and sit six feet apart. Only 30 people will reportedly be in attendance.
Article continues below advertisement
Article continues below advertisement
Amid the turmoil surrounding Meghan Markle and Prince Harry's bombshell Oprah Winfrey tell-all, OK! reported that the Duchess of Sussex will not be in attendance at the funeral, as she was not given clearance by her doctor to fly since she is pregnant with her and Harry's second child.
Article continues below advertisement
Since stepping down from royal life last year, Harry and Prince William's relationship has remained strained. OK! recently reported that the brothers will not walk alongside each other at their grandfather's funeral this weekend. Buckingham Palace confirmed that their cousin Peter Phillips, who is Princess Anne's son, will walk in between them as they walk behind the Duke of Edinburgh's coffin.
For the second procession to St. George's Chapel in Windsor Castle, William will walk with Peter, while Harry will walk behind them with David Armstrong-Jones, who is Princess Margaret and Antony Armstrong-Jones' son.